Weekend crime sweep in Delft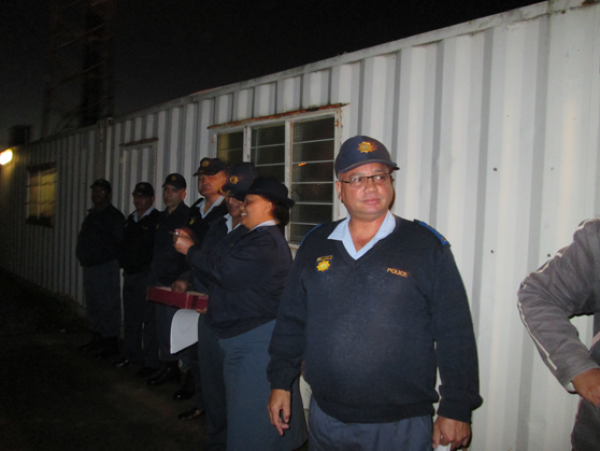 Bad street lighting, poor numbering of streets and bushes affect policing in Delft, according to Brigadier Hendrik Jansen, who is the Acting Cluster Commander.
Jansen spoke to GroundUp before embarking on a crime weekend sweep in the area with police and members of community-policing forums.
At least 38 suspects were arrested for various crimes ranging from murder, assault with the intent to commit grievous bodily harm, drunk driving, domestic violence, outstanding arrest warrants, illegal possession of dagga, illegal possession of TIK, illegal possession of Mandrax, theft, child neglect, and the possession of suspected stolen property.
Jansen vowed that police would "going to take back our community, make Delft a safe area for people to move without fear and free this area from gangsters and drug dealers."
During the operation police seized about 58 parcels of dagga and 20 stops of dagga, 10 Mandrax tablets, 25 sachets of tik with an estimated street value of R8 000. They also confiscated knives and other sharp objects, a pistol and electronic equipment, including computers, worth R30 000.
But Jansen said their efforts were hampered by challenges. "There is bad street lighting in some parts of this area because it has developed rapidly, but the infrastructure development has not been able to match that."
Poor numbering of streets was another issue, he said. "When you get a call to a particular house number you get there to find out it's another house of the same number down the same street."
Bushes in the area were another crime hotspot,where gangs could hide. " This is also where rape and other crimes against women and children happen the most."
He attributed some police successes to community mobilisation. "They help us to trace house robbers and we have found stolen goods in possession of suspects through the relationship we have with the community," Jansen said.
Dodgy people are suing us. Please support us by contributing to our legal costs and helping us to publish news that matters.
© 2016 GroundUp.
This article is licensed under a
Creative Commons Attribution-NoDerivatives 4.0 International License
.