UWC students to meet Chancellor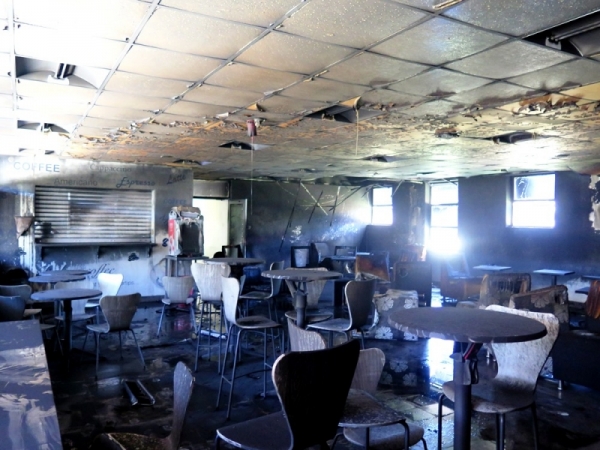 The FeesMustFall movement at UWC is to meet the university's Chancellor Archbishop Thabo Makgoba. This was according to Lindokuhle Mandyoli, a representative of the #FeesMustFall movement, who addressed students today.
The meeting was to take place later today or tomorrow, he said.
Mandyoli and other #FeesMustFall representatives had returned from the Cape Town High Court where the hearing on the interdict against damage to property secured by the university a week ago was postponed until March.
Mandyoli warned fellow students not to damage property inside the residences as this could lead to the university evacuating all students.

Furniture and plastic dustbins from residences were torched at the University of Western Cape today. Photo by Ashleigh Furlong.
Earlier today, fires were started in two buildings, and plastic bins and furniture were burned. There were reports that three students had been arrested.
At the meeting with Archbishop Makgoba, the #FeesMustFall delegation would call for timeframes to be given, stating by when the university must respond to their demands, Mandyoli said.
The students are calling for a special council meeting, an end to the outsourcing of workers who work at the university but are employed by outside companies, and the cancellation of student debt.
Mandyoli said the students needed to "gain momentum" and "consolidate victories".
Later this week, a night vigil has been planned where students, parents and religious leaders will listen to students' stories.
The university has cancelled all exams except those of final year students who are writing at an off campus venue, or can write in January. Other students have the choice of using their continuous assessment marks as their final mark or going for an assessment in January.
A student at UWC told GroundUp that she was still on campus because "the comrades are fighting for us, and we must be there to support [them]". Another student dismissed claims that protesting students did not want to write exams, saying that the protests were simply more important.
Yesterday, statements were released by both staff and parents of students at UWC, calling for a special council meeting.
The "urgent call for mediation at UWC" released by some staff at UWC said that the events of the past week put the "very existence and future of our university" in doubt. The staff who penned the letter called for a process of "mediation and open conversation", facilitated by "neutral external third parties".
The staff said that though they recognised that the SRC was the democratically elected student body they believed that "all relevant student interest groups" should be involved in the mediation process.
They condemned the violence by student protesters last week but said the "heavy police presence and securitisation of campus has contributed to a cycle of violence that ranges from rubber bullet injuries to the sexual harassment of female students."
The staff said students in residences were feeling "highly exposed, vulnerable and under siege".
"These appalling conditions have contributed greatly to tensions on campus."
In their statement the parents expressed support for the #FeesMustFall campaign. "We know our children. They are not violent or hooligans. We strenuously reject, the crude propaganda of University management to cast them in this light. This is nothing short of attempting to criminalise the student struggle so as to avoid negotiating with their legitimate demands and grievances."
They supported the demand for a special council meeting, and also called for the removal of all security from the campus, the withdrawal of charges against students, for students to be allowed to stay in residence until January, for lecturers to be allowed to run catch-up classes and for the university not to use interdicts to criminalise "legitimate protests".
The parents said they were "mindful of the deteriorating situation of workers" at UWC and supported the call to end outsourcing of services.
© 2016 GroundUp.
This article is licensed under a
Creative Commons Attribution-NoDerivatives 4.0 International License
.