Students and workers shut down CPUT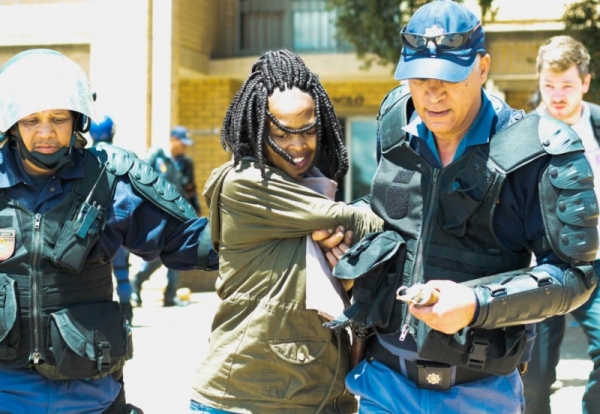 Clashes occurred between protesters and police, and campus activities were suspended after over a thousand students and a number of workers picketed and sang outside the administration building of the Cape Peninsula University of Technology (CPUT) in Bellville.
The CPUT #FeesMustFall movement say there are significant discrepancies between what was agreed to by the university council and what the vice-chancellor and the university administration are now undertaking to do, most contentiously the issue of student debt.
The movement had given the university until today to clear all debts of students (not only students defined as "poor"), for the vice chancellor Dr Prins Nevhutalu to render his resignation letter, and for the acting director of finance, Maresce Geduld-Jeftha, to be removed.
After they did not receive a response from Geduld-Jeftha, students started a fire in front of the administration building and threw stones, breaking its windows. Police dispersed the crowd by shooting rubber bullets and stun grenades. Students ran, taking cover in student residences.

CPUT students blockade the campus. Photo by Masixole Feni.
The police then began a door-to-door search, arresting students.
Asked how they picked who to arrest, a police officer said, "We know who the troublemakers are … We don't just arrest."
Most of the arrested students were wearing T-shirts from various political organisations.
One student could hardly breathe as the police took her out of her room; she said she was having an asthmatic attack. Police said they were not arresting her, but taking her for her own safety.

Lee Ndlovu. Photo by Masixole Feni.
Her friend, Lee Ndlovu, said in tears, "They [the police] are refusing to let me give her the asthma pump; I don't know why, what if she dies? … She needs it."
Another student, Philiswa Dingiswayo, said that they were supposed to write exams and others were supposed to hand in assignments today.
"My mother earns R75 a day and I am over R60,000 in debt; how is she going to pay that? … They must agree to clear everyone's debts and not say only those that are NSFAS beneficiaries."
She said that only when they are listened to will things go back to normal.
Things eventually quietened down on campus, with police patrolling and students looking out of the windows from their rooms.

Students are arrested and taken from their residences at CPUT. Photo by Masixole Feni.
© 2016 GroundUp.
This article is licensed under a
Creative Commons Attribution-NoDerivatives 4.0 International License
.