NEWS
South African blind women in action
Brady Nevins and Barbara Maregele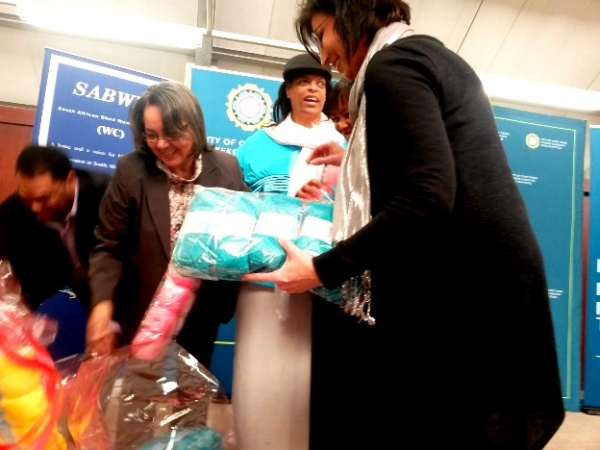 Brady Nevins and Barbara Maregele
Fifteen years ago, Sandra Dreyer was forced to leave her job as an educator after she lost her sight to age-related macular degeneration. Today, she is the head of the Training, Education and Development department at the Cape Town Society for the Blind (CTSB).
"This organisation has given me new life," said Dreyer. "I was in teaching for 10 years, and then I left the teaching profession because of my visual loss. I came to Cape Town Society for the Blind. I retrained and reskilled myself, and empowered myself."
Although Dreyer was visually impaired throughout her youth, she still attended a 'mainstream' high school and university. As a teacher, her vision eventually reached the point that she could no longer grade papers or clearly see the board. It was at this time that she decided to leave her job.
"I had to really have a whole mind shift," she explained. "I was a very independent person … and certain things, I had to give up."
"I have to ask for help, which I hardly do because I like to do it myself!" Dreyer said, laughing.

Sandra Dreyer, head of the Training, Education and Development department at Cape Town Society for the Blind. Photo by Barbara Maregele.
After coming to CTSB, she learned to use computer software designed for blind and visually impaired people. She now teaches others to use it.
"I love teaching. I love educating … That's my passion."
Dreyer was one of several blind and visually impaired women who attended an event yesterday at CTSB where Mayor Patricia de Lille applauded the work of South African Blind Women in Action (SABWIA), an organisation offering business and entrepreneurial skills, of which Dreyer is the chairperson.
As part of Women's Month, De Lille donated R10,000 worth of groceries and knitting items for the organisation's outreach and small business unit.
"Despite the physical challenges you face every day, you make a daily decision not to be victims of your circumstances," said De Lille.
Another attendee at yesterday's event was a former student at CTSB and the current secretary of SABWIA, Elizabeth Mabhike.
Mabhike lost her sight in 2002 from hypertension. She had to drop out of school after grade 11, but she is now studying public relations and communications.
"I'm going to be a full-time student next year," Mabhike said proudly. She wants to go into journalism.
The CTSB can be reached on Tel: 021 448 4302 or email: info [at] ctsb.org.za
© 2016 GroundUp.
This article is licensed under a
Creative Commons Attribution-NoDerivatives 4.0 International License
.