Silver lining for evicted farm tenants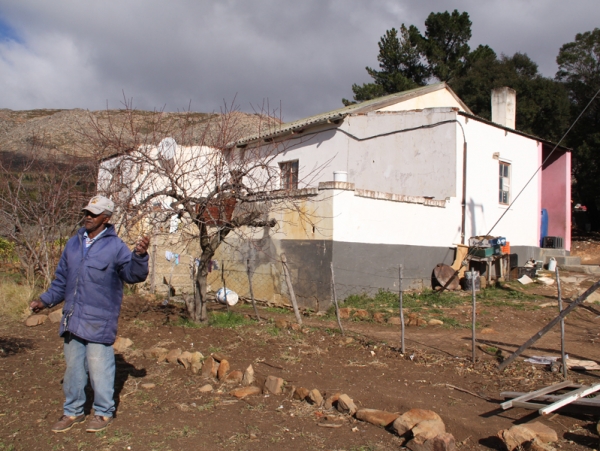 There is a glimmer of hope for Andries Joostenberg and his family who, earlier this month, were evicted from the farm where they have lived for 50 years. As they near the prospect of becoming homeless again, a Stellenbosch attorney, Johan van der Merwe, has agreed to appeal the eviction order which put the family out on the street.
Van der Merwe is of the opinion that there are strong grounds for an appeal. But, he did not want to provide details before the court process is under way.
On 5 August, the Joostenbergs were forcibly removed from Langdam farm, outside Montagu. Farmer Charles Raymond ordered that the roof and doors be removed from the house to ensure that the family do not reoccupy (as they did after the first court ordered eviction in June). Since then, Van der Merwe has received a commitment in good faith from the farm's lawyers that no further demolition would take place.
The fate of the family of eight has been uncertain ever since the eviction. They were saved from destitution by a neighbouring farmer who offered them a place to stay temporarily in a two-bedroom cottage. This offer expires at the end of next week. To date, the family have no alternatives.
"It is not through lack of trying that we have not found anywhere to stay," said Lea Joostenberg, Andries' wife.
"We have inquired all through the farming region here, in the towns as well Ashton, Robertson, Montagu. There is nowhere for us. Nowhere."
The closest the family have come to finding a place to stay is a bungalow in Robertson which is on the market for R26,000. But, without adequate savings and a combined monthly pension of R2,700 to sustain four grandchildren and an adopted daughter, the couple fear that they would never be able to pay off a debt incurred if they decided to loan money to buy the bungalow.
Constant attempts by GroundUp to get comment from the Langeberg Municipality on the status of their emergency housing plan, and what measures are in place to protect evictees from homelessness have been futile. What is confirmed is that the municipality suffers from a perpetual housing backlog.
Financial insecurity has forced Andries out of retirement. For extra income he now does odd jobs for the farmer who temporarily took in his family.
© 2016 GroundUp.
This article is licensed under a
Creative Commons Attribution-NoDerivatives 4.0 International License
.