"Sex work should not cost me my life"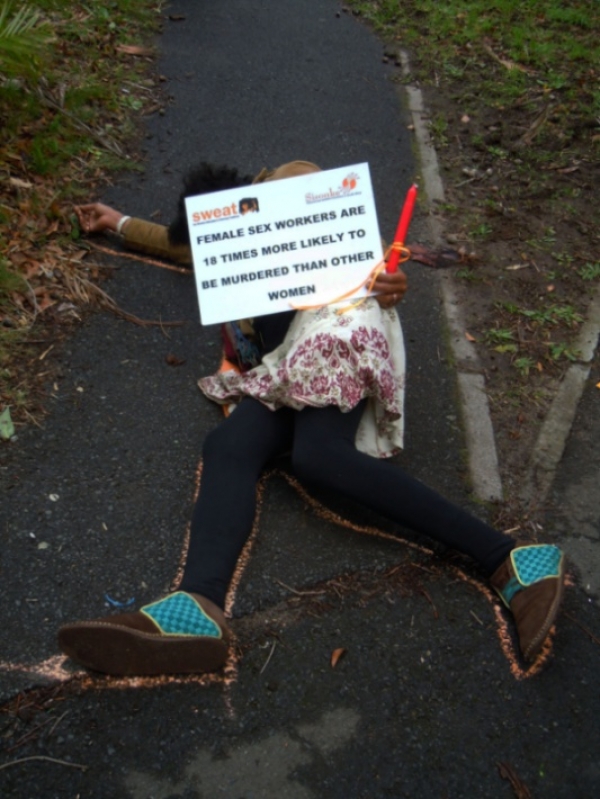 On a wet and windy Tuesday morning on the corner of Oak and Main roads in Kenilworth, people gathered to sing and dance on the pavement, many in bright orange T-shirts with the words, 'Sex work should not cost me my life' written across their fronts.
Chants of "Viva sex workers, viva!" and "Amandla Awethu!" came from the members of the Sex Workers Education and Advocacy Taskforce (SWEAT) and Sisonke National Sex Workers Movement. As cars drove past, the demonstrators waved posters in the air calling for the decriminalisation of sex work.
Flowers and ribbons had been tied to the nearby trees.
One year ago on Tuesday, 19-year-old sex worker Shemise "Kleintjie" Gordon's lifeless body, punctured with multiple stab wounds, was found on this corner by residents. The case, like that of other sex workers whose murder files are gathering dust in police stations around the country, has yet to be solved.
Lesego Tlhwale, SWEAT's Media Advocacy Officer, said the demonstration was intended to reclaim the space and serve as a memorial to Gordon.
SWEAT hopes to expand the initiative to other provinces during August, Women's Month, in order to create awareness of the murders of sex workers. The culmination of this will be at SWEAT's annual general meeting.
"On 26 August we are launching our new decriminalisation coalition called 'Asijiki'," saidTlhwale. The coalition will include SWEAT, Sisonke, the Women's Legal Centre and Sonke Gender Justice.
Dudu Dlamini, a Sisonke organiser, said it was not easy for sex workers to access justice. "Sex workers experience rape and it is not easy for them to report these cases [to the police]," said Dlamini. She said many sex workers had died trying to put food on the table for their families.
"Sex workers are selling services. They are not selling their bodies," said Dlamini, "She (Gordon) didn't deserve to die like this. We are fighting for the right to safety, health and dignity."
Sex workers should be recognised in labour law, she said.
When a police van pulled up and informed the demonstrators that no more than 15 people could demonstrate together because the local authorities had not been notified, several simply crossed the street and continued singing and dancing.
The memorial coincides with another appearance in the Wynberg Magistrates' Court of Tim Osrin on a charge of assault with intent to do grievous bodily harm. Osrin apparently mistook Cynthia Joni, the woman he attacked, for a sex worker.
Another court case related to sex worker rights is that of artist Zwelethu Mthethwa, who was charged with murdering Nokuphila Kumalo in April 2013. The case is set to resume in the Cape Town High Court on 19 August.
© 2016 GroundUp.
This article is licensed under a
Creative Commons Attribution-NoDerivatives 4.0 International License
.