Philippi seniors "tell it like it is" during storytelling workshop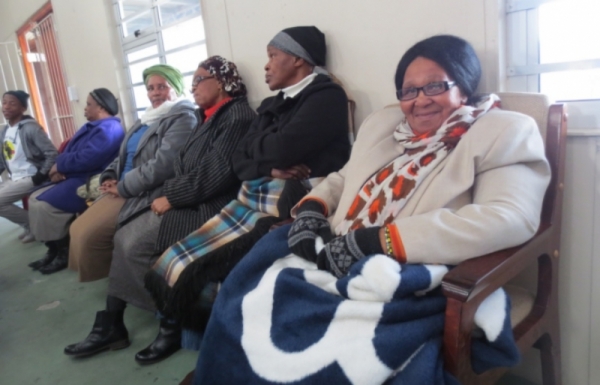 Philippi resident Cleopatra Qukula used hand gestures and sounds as she recalled one her "most traumatising" experiences — more than 50 years ago — when she was hospitalised for three months to recover from a dog bite.
"I was walking home and it [the dog] just came for me and bit my leg. I shouted 'help me' and one of the neighbours came to help me. It was his dog and he just let it go … I'm still scared of dogs now in my old age," she said.
Qukula was part of a group of elderly people from Ikamva Labantu and young adults from the Harambee Youth Employment Accelerator who took part in a storytelling session at the Masiphumelele Seniors' Club in Philippi last week.
The project, "Our story, Your story", formed part of an eight-week workshop hosted by non-profit organisation Clowns Without Borders.
The group were taught storytelling skills and encouraged to share one of their own stories.
About 40 community members from the surrounding Philippi area listened attentively last week as the group told their stories. Incidents from the recent and the distant past were brought to life by the elderly women as they laughed, became tearful and used animated gestures while recalling their story.

Philippi resident Cleopatra Qukula whose fear of dogs started when she was attacked by her neighbour's dog at the age of 15. Photo by Barbara Maregele.
Sixty-seven year-old Qukula said the incident had traumatised her for life.
"My uncle took me to the doctor, where we heard that the wound on my leg was infected. I was the only young girl in the ward at Butterworth Hospital in the Eastern Cape. I cried every day because my aunt didn't come visit me. My uncle came to see me after a month," she said.
"I started talking to the other ladies and they used to send me around and give me some of the sweet things they got when their families visit them. When the time came for me to be discharged from hospital, I cried because it had become my home where people cared for me," she said.
Qukula said she hoped her story would encourage people living in townships to take proper care of their pets.
"Township people don't take proper care of their dogs or other animals. People just let them walk around. They don't go on regular visits to the vet or get the injections they need. I hope my story will make people think about this and tell people they know about it. I feel so relieved telling my story," she said.
Another participant, Nomfundo Ngalo, 78, from Philippi, made the audience laugh with her vivid recollection of her first airplane trip in 2005, to Johannesburg.
"I was so nervous, but I enjoyed it so much. I was going to visit my son who lives that side. They just bought me a ticket and told me. I was jumping up and down when I saw how big the plane was," she said.
"I heard all the news about planes crashing and killing some people. I just told myself that I'm going to go no matter what. I saw the air hostesses wearing their navy blue and floral scarves, and the men wore navy pants with white shirts. There were so many people on the plane. I never thought I would have a chance to fly, but my children wanted me to experience it as well," she said.
One of the younger members, Neliswa Jaceni, 28, from Langa, became tearful as she recalled the time in 2008 when she was faced with an unplanned pregnancy, her father's death and a new job.
"Sharing my story with an older generation has shown me that even if I'm younger, we've had very similar experiences. There were so many times during the workshop when people could relate to each other. Programmes like this are extremely helpful to build our community."
"One of the older mamas helped me understand that everything is going to be all right. I hope that by sharing my story, it will teach those younger than me to keep persevering no matter what they are going through," she said.
Lisa Cohen of Clowns Without Borders said the aim of the project was to build bridges between communities through storytelling.
"This way people can relate to one another. Everyone has a story to tell, they just need a platform where people will listen," she said.
© 2016 GroundUp.
This article is licensed under a
Creative Commons Attribution-NoDerivatives 4.0 International License
.