NEWS
Police give Lwandle inquiry the "run around"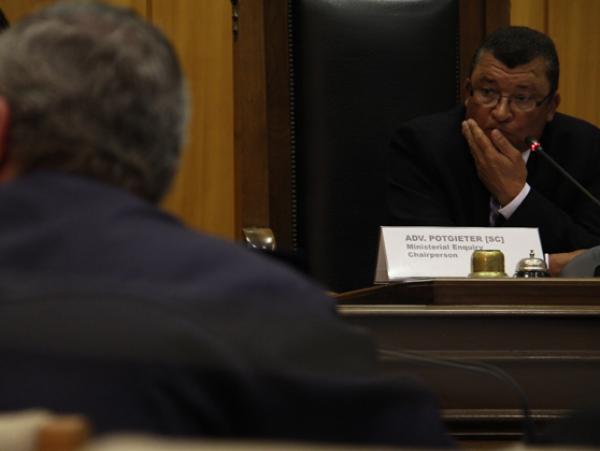 Lwandle inquiry chair Denzil Potgieter on 8 August slammed the police for withholding video footage and key documents relating to evictions at the informal settlement in June. He accused the police of giving the inquiry secretariat the "run around" during its numerous attempts to access the footage.
He said the result was the commission had not had sight of the footage at all. "It leaves us in a less than satisfactory practical and logistical situation. We cannot proceed and, as such, the commission will be postponed until August 26."
A number of witnesses called before the inquiry in recent weeks have accused the police of undue violence and brutality in its eviction of people.
Today was set aside for the police to give their oral representations to the inquiry on their role during the controversial evictions of hundreds of shackdwellers from land owned by SA National Roads Agency Ltd (SANRAL) on 2 and 3 June. Present was Lieutenant Colonel Jimmy Lucas, who was in charge of the Public Order Policing (POP) unit deployed to the site of the eviction on June 2.
Police advocate Ncumisa Mayosi opened the testimony by reading out a submission. The police described its constitutional and legislative role in managing violent crowds, protecting sheriffs of the courts, contractors and members of the public during evictions, and "enforcing the rule of law" if public gatherings turned violent.
Mayosi read out that police had met on numerous occasions with the main stakeholders – SANRAL and the sheriff – before the June evictions.
The submission contends that the police committed POP members only to fulfill their crowd management mandate, and not to assist in evictions or shack demolitions. POP officers were equipped with full body armour, shotguns, rubber bullets, shields, stun grenades, tear gas cannisters, gas masks, hand-cuffs and shields.
The submission described the crowd encountered by police in Lwandle on both 2 and 3 June as "riotous". Protesters apparently blocked roads with concrete and burning tyres and pelted the police with bricks and petrol bombs. Two POP members were injured on 2 June. There were eleven arrests over the two days.
Mayosi concluded the submission with an assessment that the police action on each of the two eviction dates fell in line with their legal obligation to "maintain public order, protect the persons present, and uphold the law."
She informed the commission that Captain Andre de Graaff, who was in command on 3 June, was on leave in the Eastern Cape and could not be present. She handed over 19 CDs of police footage taken during the evictions to the commission.
Potgieter asked that the police hand over documents referenced in an affidavit by Lucas and to ensure that De Graaff is in attendance when the commission resumes.
The commission resumes 10am at 44 Wale Street on August 26. The hearings are open to the public.
© 2016 GroundUp.
This article is licensed under a
Creative Commons Attribution-NoDerivatives 4.0 International License
.