Philippi East foreigners say xenophobic hatred fuelled attacks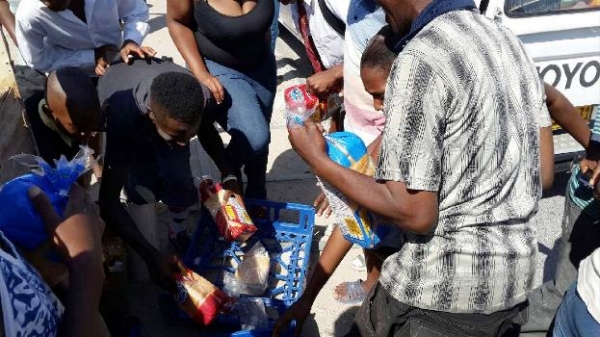 While community leaders in Philippi East's Marikana informal settlement quibble over the cause of Wednesday's attacks on foreign business owners, the victims testify to long-standing xenophobic undercurrents in the community.
Thirty-two-year-old Hassan Ahmed did not know the meaning of most of the slurs shouted at him on Wednesday afternoon as he fled for his life. But, as he ran the gauntlet of looters descending on his Cash 'n Carry in Lower Crossroads, one word brought him starkly back to the attacks he suffered in Khayelitsha in past years - "Voetsek!"
"I know what this means. They want me gone, not just today, but for good. If I had stumbled as I ran, I'm sure they would have killed me," says Ahmed, seated in the waiting area of Philippi East police station where he and fellow countrymen — victims and their supporters — queued to open cases against their unnamed attackers.
In 2006, Ahmed fled war-torn Somalia and made his way overland to Cape Town by bus, taxi and on foot. In 2008, he got the first taste of the new besiegement he faced in South Africa. His Khayelitsha shop was looted and he was left beaten to a pulp on a pavement nearby. It happened again in July 2010.
"So, that is why I moved to Lower Crossroads. I hoped for safety here. But, we know that we are not really safe anywhere," he says.
Outside, Kacan Mohamed, 33, stands guard at a bakkie laden with his stock. Taxis drive past and from these men shout "voetsek" and other horrible and threatening things - in English, presumably so that Mohamed can understand. But, Mohamed stoically ignores them.
His landlord's good standing in the community had seen him unscathed by the first round of looting on Wednesday. On Thursday, he was asked to leave, and did so. Under police guard, with hundreds of residents looking on passively, Mohamed and three of his "brothers" packed his stock into the back of a van. As they readied to leave, he gave a nod of his head and, with that, dozens of people scrambled to grab loaves of bread and 2-litre Twizza bottles which Mohamed has left on the pavement as a grim gift of appeasement to his South African neighbours. The Somali men drove to the police station. Teenagers with bread under their arms ran down the street.
As groups of Somali men waited at the police station, their abandoned shops lay ruined and unprotected. At one scene, young men could be heard hammering in the bedroom above a ground level shop. They stripped whatever fittings they couldl salvage. A film of slippery, soiled flour covered the ground floor and ran onto the pavement. On top of this covering lay dozens of rubber bullet casings - evidence of the police's belated effort to drive the looters back on Wednesday afternoon. With a foreign owned spaza shop on every other corner, it merely meant the mob crossed paths with other victims.

The doors to this foreign business owner's shop were pried open before it was looted on Wednesday. The shop now lies open and abandoned. Photo by Daneel Knoetze.
Police cannot give estimates of the extent of the looting, but Jama Abdulahi, 20, says he has counted 20 affected shops. It is his first experience of casual, street level xenophobia (he has grown used to insults from his customers) erupting into violence.
"How do you think I feel? I fled my country and left my mother when I was still a child because even then I wanted a better life," he says. "I wanted peace. If we did not have a need for peace why would we have come so far?"
Community leaders from Marikana informal settlement (where the looting started) claim variously that the looters represent a minority in the community and were not motivated by xenophobic impulses. Earlier on Wednesday, marchers from Marikana had congregated at Bellville Magistrates Court for the sentencing of the leaders from Ses'khona Peoples Rights Movement. Ses'khona activists were recently convicted for dumping faeces at Cape Town International Airport during a protest in June 2013.
Outside the court, a Somali man apparently drove into one of the marchers. Anger over this incident escalated into violent clashes between Somali shopkeepers and marchers in Bellville CBD - an area known colloquially as Little Mogadishu. There, the Somali businessmen reportedly defended themselves and averted widespread looting. So, as the marchers arrived back at Marikana, they were baying for revenge.
"This is not xenophobic, because it was not aimed at pushing our Somali neighbours out," said Chairmaine Mkoni of the Ses'khona-aligned Marikana Development Forum. "The people were angry because of what happened in Bellville, so they just reacted. It is not like they hate Somalis simply because they are foreigners; it is because they were fighting with us in Bellville."
The killing of Lihle Komanisi, an 18-year-old schoolgirl who was allegedly shot by a Somali shopkeeper at the site of looting on Symphony Way, exacerbated the looting spree.
Community leader Gcinikhaya Ngqaqu, who rivals Ses'khona's and has influence in the section of the settlement where Komanisi lived, has laid the blame for the death of an "innocent girl" at the feet of Ses'khona's leadership and supporters.
"They have undermined peace and stability in the community at every turn," he said, adding that a small number of agitators have the ability to contrive a riot or a looting spree. The majority of people living in Marikana are good people who do not condone the violence seen in the area over the last two days, he said.
But the victims of these looting sprees remain convinced this was a widely supported attack on them purely because they are foreigners. A "hatred" towards all foreigners is pervasive, said Nigerian shopkeeper Femi Akinseye. An incident, like a Somali man bumping someone with his car, merely provides a catalyst for that hatred to come to the fore in the form of widely endorsed violence.
"Why this focus on Somalis? This is a crisis for us all," said Akinseye, who similarly escaped as looters descended on his shop on Wednesday afternoon. Seated at the police station, he cradled his swollen left hand which was struck by a crowbar as he tried to lock the gate to his store. He was barefoot, having fled with nothing but the shirt on his back, shorts round his waist and his South African identity booklet in his pocket. He opened and held up the booklet for all to see.
"I am a Nigerian, but I am also a South African. I have married a Xhosa woman. I have two South African sons and I have given my heart to this community. But, it seems, it is not enough. They will even steal my shoes, so that I must walk the streets barefoot without a home or business to return to. They will never accept me, as long as I live."
© 2016 GroundUp.
This article is licensed under a
Creative Commons Attribution-NoDerivatives 4.0 International License
.