Operation Fiela: I saw soldiers moving towards my stall, says trader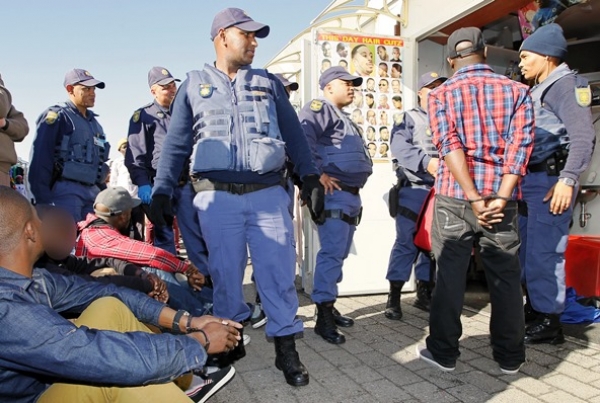 A Nigerian trader arrested at Cape Town station during Operation Fiela on World Refugee Day has described how he was accused of drug dealing.
"When I saw soldiers moving towards my stall, I moved away because I knew my papers were not in order," said Abiodun (not his real name). "I wanted to find my way out of the station but to my surprise all exit and entry points were closed."
A total of 86 people were arrested during the raid on the station on June 20, 81 of whom were allegedly undocumented migrants. An attempt by Lawyers for Human Rights to have Operation Fiela declared unconstitutional was struck off the roll in the Pretoria High Court on 23 June.
Abiodun said he tried to get away via the taxi rank on the top deck but was stopped by police who searched him.
"Two police officers approached me and took my wallet. The female police officers accused me of selling drugs, yet they had no proof of that. Later they gave me back the wallet and the R8,000.00 which was in it."
According to Abiodun the police officers did not give him reasons for his arrest. He and others were bundled into a police vehicle and driven to the Central police station in Cape Town. He stayed for two days in police cells.
"We were around 30 in one cell. For the days I was in the cells I did not eat anything though bread and pap was served. I am not used to that kind of food."
He was released when officials from the Department of Home Affairs came to the police station and called people out of the cell.
"Immigration officers called us in turn and that is when I was released. I was asked to report to Home Affairs for settlement of my permit," said Abiodun, who has been in South Africa since 2007 and has applied for asylum. He sells pap, beef and drinks at Cape Town Station.
Abiodun said if Operation Fiela was an attempt to weed out criminals the government is doing its job. But he blamed Home Affairs for delays in processing documents.
A 24-year Zimbabwean hairdresser who works at one of the salons at the station top deck was also arrested.
"The officers approached me while I was busy at work and asked for my permit. They were not very rude to me, but I noticed when they approached males they used some force," said the woman, who did not want to be named. She said her application for residence had been rejected. She was also released after two days and told to visit the Department of Home Affairs to sort out her papers. "I was surprised when one police officer questioned Home Affairs why there were only black foreigners in the cells," she said.
Chief Pfekedza, Western Cape treasurer of Zimbabwe's main opposition party, the Movement for Democratic Change - Tsvangirai (MDC-T), said he was worried about the whole operation.
"Only the South African government knows why it is carrying out such an operation," he said.
Pfekedza helped a fellow Zimbabwean who phoned him during the arrests. He brought his friend's passport, which contained a valid permit, to the station where his friend was being held by police, and his friend was released.
Dodgy people are suing us. Please support us by contributing to our legal costs and helping us to publish news that matters.
© 2016 GroundUp.
This article is licensed under a
Creative Commons Attribution-NoDerivatives 4.0 International License
.