Most Mfuleni tent children back at school
| Mary-Anne Gontsana
News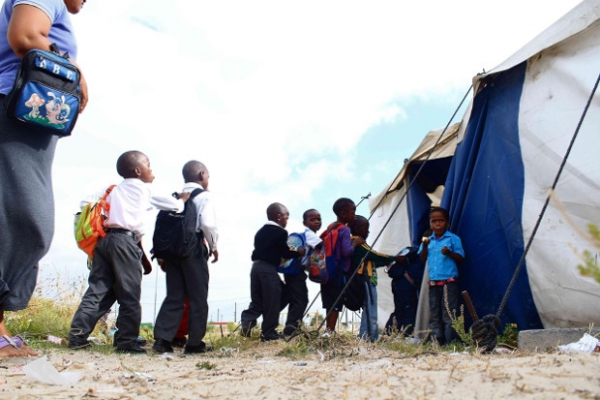 Arrangements have been made to accommodate most of the Mfuleni learners who were using a tent as a school, according to the Western Cape Department of Education.
GroundUp reported last week that parents were using a tent which is usually a church to hold classes for more than 400 learners who had been turned away from schools in the area which were too full.
Jessica Shelver, spokesperson for Debbie Shafer, the Western Cape MEC for Education, in an email to GroundUp said the WCED had organised a registration drive at Bardale Primary School last Saturday. A total of 433 learners of school going age had been registered as well as 150 learners who were not of compulsory school going age.
"The majority of the learners are in Grade 1, with just over 160 learners looking for placement. Approximately 60 of these learners will be placed at a local primary school." said Shelver.
"The WCED has also sourced three mobile classrooms that will be placed at one of the local primary schools in Mfuleni. We are still currently looking at options, however these mobile classrooms will accommodate an additional 90+ learners. In the interim we are accommodating all primary school learners at Bardale Primary School where tuition is taking place. Additional teaching posts, materials and books have been arranged," said Shelver.
She said of the 23 high school learners, eight had been identified as learners who should be attending Adult Education and Training colleges and had been referred for enrolment. Fifteen high school learners are currently being assisted with placements in the area.
Community leader Bongani Tyembile said about 80 learners were still attending the tent school, while they waited for other arrangements to be made.
"We advised some parents to keep their children at home for now until something concrete is done. Yes there are learners that have been registered and some are at Bardale Primary, but there are still many more learners that need space," he said.
Shelver said almost half of the learners were from other provinces, mainly the Eastern Cape, enrolling in schools in the Western Cape for the first time. Only 42 of the learners were from the Mfuleni area. All other learners were from other areas such as Khayelitsha and Mitchells Plain.
"The WCED is still verifying the names and grades of the learners and whether they were previously enrolled at schools in Mfuleni and other areas," she said.
© 2016 GroundUp.
This article is licensed under a
Creative Commons Attribution-NoDerivatives 4.0 International License
.