Mitchells Plain marches against violence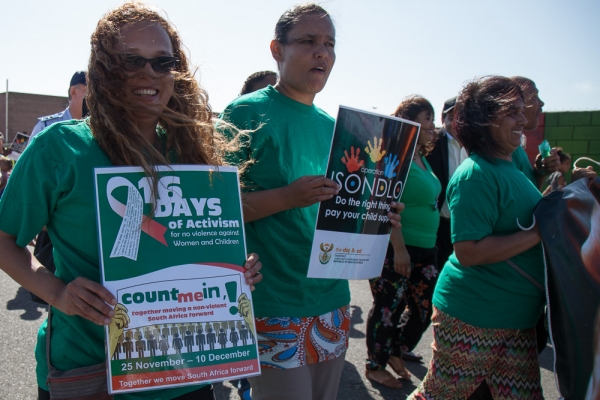 About 150 people from Mitchells Plain, supported by many organisations, marched against gender-based violence to start the annual 16 Days of Activism for No Violence Against Women and Children campaign.
South Africa has notoriously high rates of rape and sexual assault. And according to the Western Cape Department of Community Safety a child goes missing every six hours. There are over 100 cases of child abuse reported every week.
The march was led by the Chrystalis Academy Marching Band, followed and supported by organisations such as People Against Gangsterism and Drugs (PAGAD), SAPS (South African Police Service), Operation Isondlo, the Department of Justice & Constitutional Development and the Department of Community Safety. The march ended at Freedom Park followed by speeches and a performance by the band.
"We believe that drug usage amongst our youth and our fathers is part and parcel of the contributing factors of domestic violence," Mogamet Keraan, co-ordinator of PAGAD Tafelsig says.
Mary Jane Windgovel, a resident from Tafelsig in Mitchells Plain tells a story of the mundane crimes that South Africans live with, and the effects it has upon them. Her daughter and friends were held up at gunpoint on their way home, she says. "All their belongings were taken." To many this might seem like a relatively minor crime, but this shows how worryingly normal violence has become in our society. Windgovel continues, "Since 2014 [my daughter] has been traumatised. Every time she gets anxiety attacks, I must rush her to hospital. I am more at the hospital than at work."
The 16 Days of Activism Campaign is held annually from 25 November — International Day of No Violence against Women — to 10 December — International Human Rights Day. The theme of this year's campaign is Safety starts with your family.
The Chrystalis Academy Marching Band leads the procession through Tafelsig in Mitchells Plain.
Children took part in the march, holding up placards condemning violence.
Enthusiastic friends pose for a photo.
A large portion of the march was made up of children from Mitchells Plain.
The march ended at Freedom Park.
Dodgy people are suing us. Please support us by contributing to our legal costs and helping us to publish news that matters.
© 2016 GroundUp.
This article is licensed under a
Creative Commons Attribution-NoDerivatives 4.0 International License
.