NEWS
Marikana: Commuter killed and councillor's house burnt down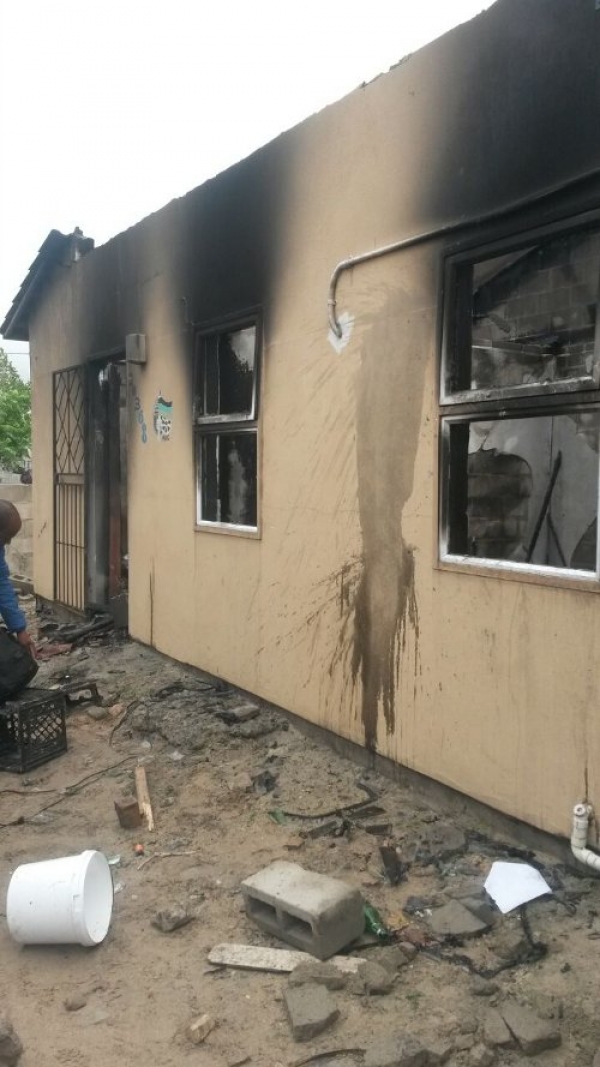 Protests over service delivery for the Marikana informal settlement in Philippi East have turned violent. An ANC ward councillor's house was set alight earlier today, allegedly by protesters from Marikana. Police have also opened a case of murder after a man died on the way to hospital after his car was stoned.
The protests have taken a violent turn over the past three days.
Police spokesperson Andre Traut said that a 68-year-old man in a Toyota Hilux was struck with a brick "and en-route to hospital he succumbed." (GroundUp has not been able to independently verify that this incident is related to the Marikana settlement protests.) Traut also said, "Two male suspects have been arrested for stoning police vehicles. They face charges of public violence and are due in court once they have been charged." He said that since last Thursday eight people have been arrested on charges of arson and public violence related to the current protests.
Councillor Mzuzile Mpondwana says that he was alerted that a group of protesters was planning to burn his house.
"I called police but I didn't have enough airtime. While I went to the shop to buy airtime, the group came and burned my house," said Mpondwana.
He said he lost everything inside his house.
"What I don't understand is why they burnt my house. Maybe they can explain better. I know they are demanding basic service delivery like water, toilets and electricity but the City said they can not implement this because it is privately owned land," he said.
GroundUp understands that the Marikana informal settlement is divided into two sections, a new section called Marikana or Nkandla and the old section called Holihlahla.
The protest is understood to have been led by Ses'Khona People's Rights Movement and consisted primarily of people from the new section.
Holihlahla community leader Ngcinikhaya Ngqaqu told GroundUp that Ses'Khona is now forcing residents from his area to join the protest.
"We received threatening messages. Ses'Khona said they are going to burn our shacks if we do not join the protest but we won't be part of crime. As much as we want service delivery we do not want violence," he said.
GroundUp was unable to get comment from Ses'Khona by the time of publication.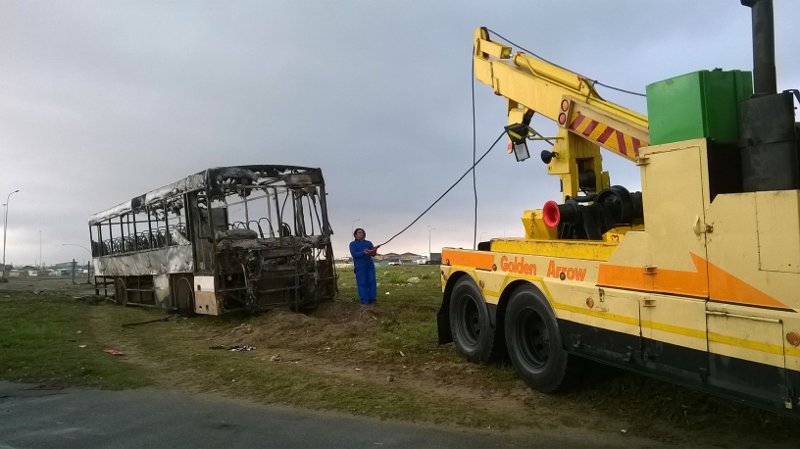 A Golden Arrow bus was torched. Photo by Nombulelo Damba.
The protest which started on Tuesday followed the cutting of illegal electricity connections, which angered residents, who responded by burning tyres, blocking Lansdowne Road and Symphony Way, and stoning passing cars.
On Wednesday night a Golden Arrow bus was torched and a Radio Zibonele staff vehicle was also blocked and stoned before being torched. A private company taxi was hijacked and set alight in the area as well.
Five municipal trucks and six vehicles at a municipal building in Crossroads, opposite Marikana, were torched in the early hours of Thursday morning.
City of Cape Town Mayoral Committee Member for Utility Services, Councillor Ernest Sonnenberg said in a statement that protesters went on the rampage, threatening a security guard with death, setting buildings and vehicles on fire, and blocking roads to ensure that emergency personnel could not initially gain access.
Sonnenberg said it seems that the protest was well orchestrated as roads were blocked off with concrete blocks and rubble to ensure that as much damage as possible was done.
"Metro Police and the SAPS had difficulty gaining access to burning vehicles and property and had to escort security guards out," said Sonnenberg. He said that vehicle damage so far is estimated to be well in excess of R10 million. He condemned the violence.
A Marikana resident who did not want to be named told GroundUp that on Monday there was a community meeting. She said Ses'Khona leaders told them that the City of Cape Town have refused to service the area.
This resident said there was a meeting between the City and community leaders two weeks ago. She said a memorandum was left with the mayor's office two weeks ago. "On that memorandum the City was given only three days to respond to our demands but it failed," she said. "Things got out of hand after some of our electricity lines were cut," she said.
Radio Zibonele Programme Manager Ntsikelelo Gobodo said his staff is still in shock. "I could not believe it when they told me about the incidents. We are a community radio. This really came as a shock to hear that residents have set alight our car," he said. Gobodo said the car was being used to take staff home when they were blocked by a group of residents. "There were four inside the car. All they heard was a woman's voice shouting 'mayitshiswe' (lets burn it). My staff ran for their lives to the nearest police station," he said.
When this reporter went to the area this morning, she noticed that men were leading the protest. They were carrying pangas and going in between shacks calling upon residents to be ready when the protest starts. Within about an hours there were hundreds of people participating. The crowd appeared much angrier and more aggressive than in previous protests. On previous occasions it usually women who have led Marikana protests.
Protests were still ongoing when this report was filed.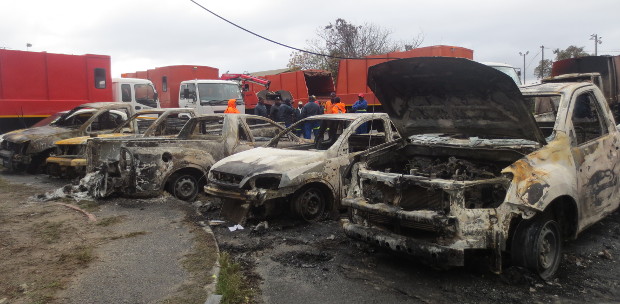 Burnt out municipal vehicles. Photo by Nombulelo Damba.
© 2016 GroundUp.
This article is licensed under a
Creative Commons Attribution-NoDerivatives 4.0 International License
.