Making music stars at Mzoli's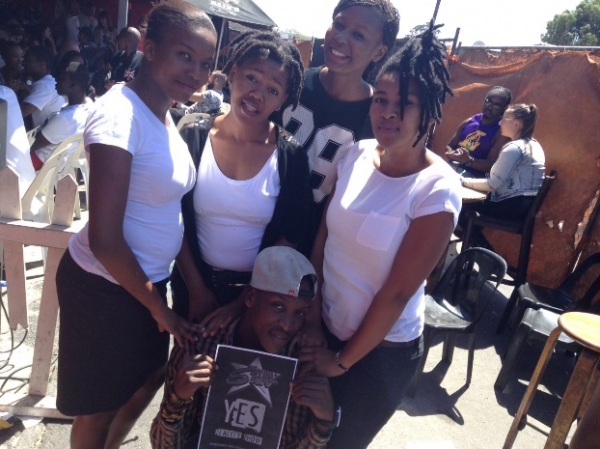 Out of 50 performers, 15 managed to sail through the first stage of 'Make you a star' music auditions held at Mzolis, Gugulethu.
The brains behind the project are Daniel Asuota Ikezahu (CEO) and Jato Ehijator Ugberase (Creative Director) — both from Nigeria — and Cornelius Rudziva (Project Coordinator) from Zimbabwe.
The Make you a star project is about empowering people, especially those in the less privileged communities of South Africa, who find it difficult to develop their music skills into a career.
"This is a very good initiative especially for the youth who find it difficult to secure employment," says Mzoli Ngcawuzele, owner of the popular hangout, Mzoli's. 'It takes our youth off the streets, where they spend time engaging in criminal activities."
"I am so much thrilled by this event. I did not believe that I could sail through this first stage," says Nwabisa Mland, 24, from Lower Crossroads.
Mland says, "I have tried several times to join gospel music groups, but failed to break into a music career. This did not stop me from practising as an individual. I hope I will make it to the finals."
"It is a good chance for us to show our talents. We got what it takes," says Smangele Chiara Makaluz, 24, from the group, Spirit of Worship. The group vowed to give back to the Gugulethu community if their dreams came true.
"We have been playing music for five years, but failing to get someone to place us where we could be seen and turn our fortune into a career," says one of the guitarists from Gugulethu Jazz Band, clad in white pants.
Some participants felt the venue drowned them out.
"I did not make it to the next stage because my voice is very soft. I believe this needed to be done at a quiet place," said Milisa Siswane, 22, from Plattekloof. Siswana is studying marketing at a college in Cape Town.
Two judges, Patrick Tumwesigye and Primrose Mrwebi, felt there was talent, but the challenge was to make those dreams come true.
"Some participants are not aware of the culture of auditions. Others do not listen to instructions," said Mrwebi.
"Remember this is a two side event, either you pass or you fail. Failing does not mean it's the end of the road. We encourage people to continue practising for other chances that may come in future," said Tumwesigye.
Tumwesigye felt some participants were very good, while others failed to show off their true talent.
GroundUp caught up with some Mzolis patrons who expressed mixed feelings about the venue.
"This is not the right place for such events. People come here for different reasons and make whatever noise, which may affect the participants. However, the whole idea is good," said one patron.
But another patron, Shannon Martins, disagreed. "There is nothing wrong with the venue as long as participants are serious in what they are doing."
Similar events will be held in Bellville and Mitchells Plain next month. According to the organisers, finals are expected to be held in June at the Cape Town City Hall.
© 2016 GroundUp.
This article is licensed under a
Creative Commons Attribution-NoDerivatives 4.0 International License
.