Langa's open streets brings people together from across city
|
Mary-Anne Gontsana
News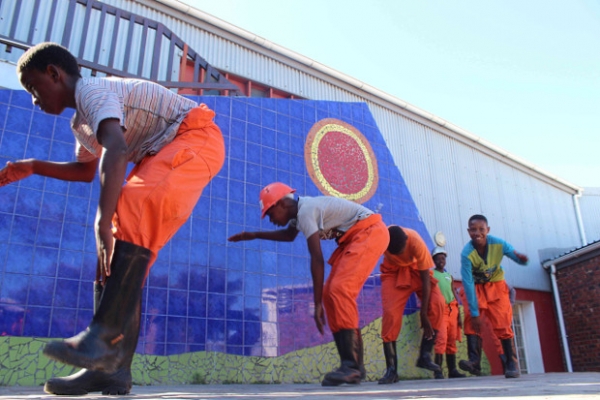 Rubusana Avenue, Jungle Walk and Washington Street, in Langa, were packed on Sunday as scores of people came out to participate in the Open Streets project.
Music bands, gumboot dancing, bike riding, skateboarding, chess playing, traditional dancing and food stalls were just some of the things taking place, in the citizen-driven initiative, which works to change how streets are used, perceived and experienced.
With the sun shining, children could be seen all over enjoying themselves, some playing soccer and cricket.
If you took a walk through the Guga S'Thebe Arts and Culture Centre, you would come across the amphitheatre where a group of boys and girls clad in traditional orange and black clothing, were performing a Tshwane traditional dance. The group belonged to the Happy Feet Youth Project.
Coordinator of the project, Nathi Gigaba said the project was made up of children from age four right up to 21 years. "We teach them dance because we want to impact their minds positively. We mainly focusing on Langa, but anyone is welcome to join Happy Feet. Apart from Happy Feet, we also run township tours here in Langa, and it is through this that we heard about the Open Streets project. It has been an amazing thing, everyone is happy and people say things like these should happen more often."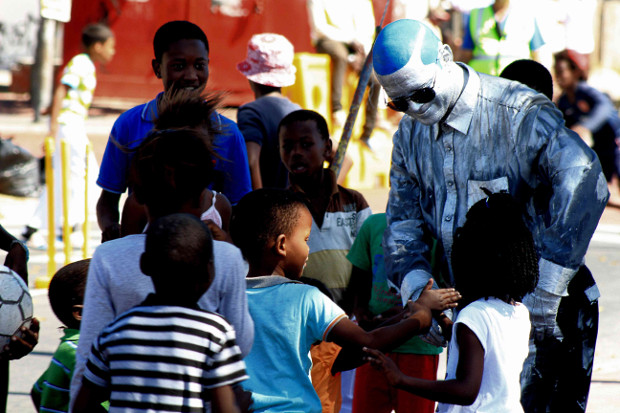 A robot man amuses Langa kids. Photo by Masixole Feni.
Sinazo Mandela, who had a stall of fruit and vegetables together with others selling braaied meat, said the event was great for business because there were many people around which was something refreshing.
While people were having fun in the streets, in one of the Langa houses, Miners Shot Down was screened to raise awareness of the Marikana massacre two years ago.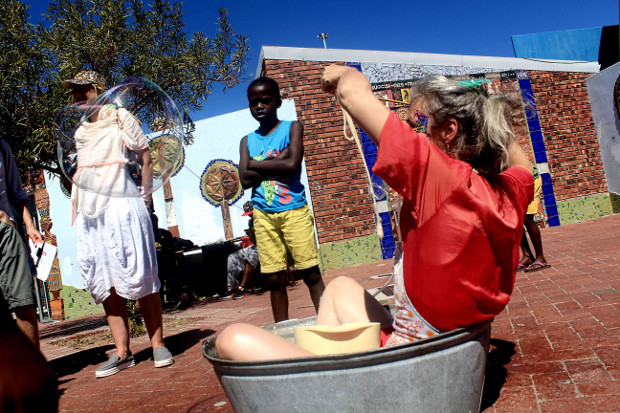 Hila Steinert entertains kids (and some adults) by making bubbles. Photo by Masixole Feni.
The Open Streets team in a statement sent out Monday said "We can't thank everyone enough for helping to make it happen; from our amazing volunteer team on the day and Langa residents who supported us in the planning, to organisations offering in-kind support and our main partner, the City of Cape Town."
The atmosphere was very welcoming, bands hyped up the young and old, and people from different backgrounds could be seen chatting and laughing amongst each other. One man, from Rondebosch was even overheard saying he grew up in South Africa but had never been to Langa until now.
Dodgy people are suing us. Please support us by contributing to our legal costs and helping us to publish news that matters.
© 2016 GroundUp.
This article is licensed under a
Creative Commons Attribution-NoDerivatives 4.0 International License
.