BRIEF
Langa residents and police clash over houses
Masixole Feni and GroundUp Staff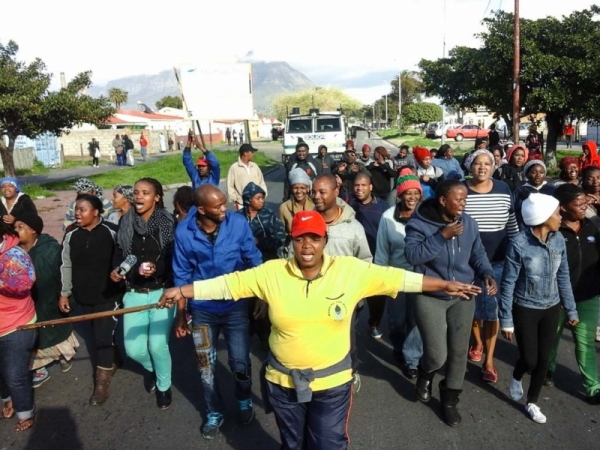 Masixole Feni and GroundUp Staff
People who live in shacks and backyards burnt tyres and rubbish earlier today in Langa. They alleged that other people have jumped the waiting list for units in a new block of flats, leaving them without homes.
A few protesters were arrested for burning tyres. The forty or so protesters also alleged that officials involved in the project are accepting bribes.
The block of flats in question (see photo) is part of the City of Cape Town's efforts to eradicate apartheid-era hostels. According to the City, the 463 units that are being built on the Old Depot Site in Langa are part of the first phase of a project which will construct 1,300 units in the next five years.
A statement released by Councillor Benedicta van Minnen, Mayoral Committee Member for Human Settlements, condemned the "violent and destructive behaviour of a small group of youths who are infringing on the rights of the broader community of Langa and destroying the community facilities in Langa."
The statement said, "While we respect the right of residents to protest, aggressive and illegal behaviour is utterly unacceptable."
The City said, "The first beneficiaries, some of whom have been waiting for decades for a decent housing opportunity, were scheduled to move into units last week. The ongoing protests and instigation by a small group of youths, who are not representing the interest of the broader community of Langa, prevented this from happening. Construction was suspended due to the ongoing protest action in this area." It also stated, "It must be noted that engagements about the allocation of units and the project in general have been in-depth, inclusive and thorough over months. A clear process was agreed upon. … Some of these families have been living in the terrible conditions prevailing in the Langa hostels for the past 40 years and we will not allow this group of protestors, with their narrow and mischievous interests, to delay our project."
All photos by Masixole Feni.
© 2016 GroundUp.
This article is licensed under a
Creative Commons Attribution-NoDerivatives 4.0 International License
.