NEWS
Khayelitsha's emerging chess stars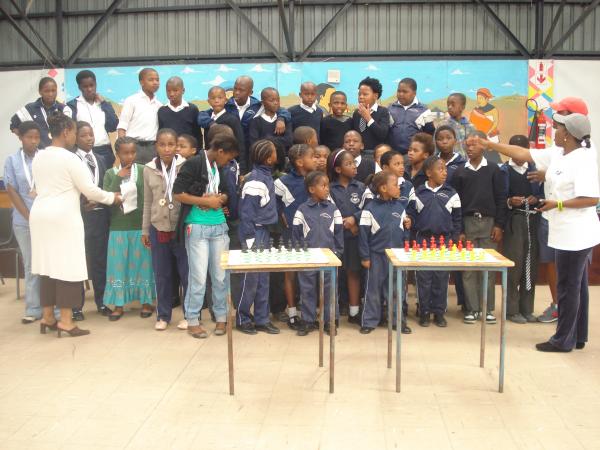 Masiphumelele primary school in Khayelitsha is growing a group of promising chess players. The people driving chess at the school believe it has an important educational role.
This school took 3rd place in the provincial championships held on 17 August 2012 in Kuilsriver. They came back with two trophies, both won by girls' teams.
GroundUp spoke to 12 year old Unathi Philander and 13 year old Sesethu Nondolongo, both grade 7 learners who play chess.
Unathi started playing chess last year and says she likes it because it is different from other sports where you have to work hard and get dirty. She says with chess you only use your mind and hands and that's all. "I will never forget the day, where I finished a game in two minutes and my opponent gave up before the game was over," she recalls fondly.
Sesethu knew nothing about chess, but his friends told him it was an extramural activity at the school. He then went to play and since then has never stopped playing. "In August 2012 I finished all my games within five minutes. A lot of white parents asked me to play with their children to share my skills with them," Unathi said proudly.
Both learners told GroundUp that they used to have a problem with not understanding maths, but as they became better at chess they also became top students in the classroom. They were thankful for the support they received from the school and from their families. They hope to play national or even international chess one day.
Christopher Galada is a maths and science teacher at the school. It was his idea to start chess at Masiphumelele. He got the idea after he bought a chess set to play at home with his son. Following those relaxed games at home, he realised that chess would be an excellent sport to introduce to schools.
Loyiso Mdokwe, a sports manager at the school, explained that the many extramural activities available at the school helped to keep learners away from gangsterism. He said that the school needed support from the community and local businesses. The school doesn't have a sports field. On days when they have to play outdoor sports, learners must walk to the faraway community stadium. This is risky because they have to cross several busy roads. "We also need volunteers to come assist during practices. We only have two people at the moment, myself and the lady who specialises in netball," Mdokwe said.
© 2016 GroundUp.
This article is licensed under a
Creative Commons Attribution-NoDerivatives 4.0 International License
.