Khayelitsha youths punching above their weight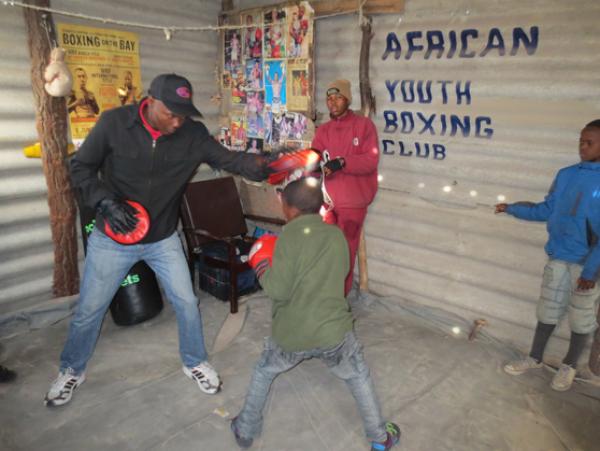 In a sandy part of Khayelitsha called Enkanini, it is a big surprise to find between the shacks one with blue paint on its outside declaring: African Youth Boxing Club.
The club was established in 2011 by Thembani Gqeku. The boxers he trains are aged seven to 16.
As you walk in to the yard, the gym is one foot away from the main house, itself a shack. The first thing you notice when entering the gym is that the floor is sand covered with black plastic that looks like it was once part of a tent. When you look up, you see a frame resembling a soccer goal post made out of tree branches. From this a punching bag hangs. There are two more punching bags on the floor, but no space to hang them.
While one of the young boxers from African Youth Boxing Club is busy with the punching bag, others keep the squeaking frame from falling down while cheering him on. Because the space is so small and there is not enough equipment, they take turns.
Gqeku says, "I started this gym because I saw how youth in the area were growing up. Since there was no boxing club here, I decided to open a boxing gym. Boxing comes with discipline … it was my way of curbing crime in the area."
"We have been asking for support from people and businesses in the area but still today nothing has come [of this] as you can see. We only get support from the boxers' parents who help with transport money for us to go to tournaments. I'm unemployed," says Gqeku.
Coach, as Gqeku is referred to by his boxers, brags that despite all the challenges his club is producing among the best boxers of the age groups he has. One 10-year-old boy who started at a very early age, Luvo "Shuga" Mtonga, has had 42 fights and won all 42.
Mtonga says, "As much as I want to go far in boxing it is difficult when you don't have the equipment to help you. As you can see, the floor is really bad. We need all the help we can get to succeed."
With gangsterism rife in the area, 13-year-old Lutho Gagana says, "I joined the club because I wanted to run away from the "Gurans" gang fighting in the area. But since I've been here, I see other guys leaving the club, because we don't have much. We need a bigger space with good equipment. But most of us won't give up on boxing because of lack of resources."
© 2016 GroundUp.
This article is licensed under a
Creative Commons Attribution-NoDerivatives 4.0 International License
.