Khayelitsha police, community and activists find ways to tackle crime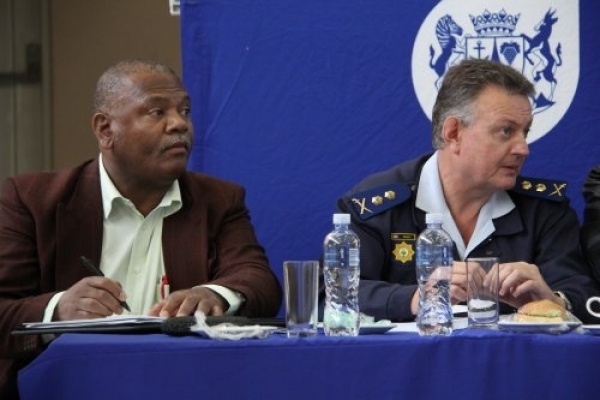 The police, civil society and Khayelitsha community activists are beginning to work together to give effect to the commission of inquiry into policing's recommendations. Here's an update on progress so far, and plans for next year.
Nine sub-forums have been set up in Khayelitsha to individually tackle pressing safety and crime concerns in the township. This comes in the weeks after the commission of inquiry into policing in Khayelitsha wrapped up its work and made wide ranging recommendations for improving crime prevention and community-police relations.
On Thursday, the police hosted the sub-forums at a joint meeting, and led the way in presenting new initiatives for improving responsiveness and crime investigation. Cluster Commander Major General JJ Brand announced that the police would be incorporating a new map of the area, developed by Violence Prevention through Urban Upgrading (VPUU) in Khayelitsha.
In a presentation, VPUU's Chris Berens explained that government departments currently use different, and often outdated, maps for Khayelitsha and that it is generally difficult to pinpoint addresses in the township. This "vagueness" leads to authorities skirting responsibility for service delivery in some areas, and undermines the responsiveness of services like the police to particular addresses when they are called out.
Brand said that the map would be widely circulated, but that it would augment rather than replace the current Geographic Information Systems (GIS) used by the police to manage and define Khayelitsha's policing sectors.
Captain Van Tonder presented on how police investigations on business and street robberies has been developed and fine tuned in recent months. Many of these crimes are committed by the same group of criminals, operating with a specific modus operandi (MO). The police are now profiling these groups and tracking their crimes. They have recently arrested a number of suspects in a business robbery syndicate dubbed the "Inkqwithelo" group. Footage of an unknown gang of four men - dubbed the "Hoodie" group - robbing customers at Nonkqubela train station gave insight into the kind of evidence the police use to build a profile.
The meeting, in F section, also gave the various sub-forums the opportunity to discuss their focus areas and plans for addressing these into 2015. Nine such forums have been established, each corresponding to a focus area: business, transport and road safety, youth, drugs, gangs, liquor, women and children, anti-vigilantism and research.
The research forum are looking at ways to improve police responsiveness through better reporting options (such as social media groups); and structures such as neighbourhood watches (NHW), Community Policing Forums (CPFs) and Street Committees.
The drug forum has surveyed Khayelitsha's problems with drug addiction and have concluded that there are high rates of usage, distribution and production of drugs such as tik, mandrax and marijuana in the township. The worst affected group are men between the ages of 16 and 35, described as the community's potential "bread winners". In January, the forum plans to have a community imbizo, to gauge the problem and to get suggestions for solutions. In the short term, however, the forum will focus on a youth development programme during the December holidays to ensure that children and teens do not turn to drugs in their period away from the classroom.
Finally Craig Oosthuizen, from Ndifuna Ukwazi, spoke of the anti-vigilantism forum's plans for running public education campaigns to counter the scourge of vigilante killings in Khayelitsha. He also emphasised the need for police officers to be better trained and equipped to deal with such crimes and for improving community-police relations.
Dodgy people are suing us. Please support us by contributing to our legal costs and helping us to publish news that matters.
© 2016 GroundUp.

This article is licensed under a Creative Commons Attribution-NoDerivatives 4.0 International License.