Khayelitsha commuters blast Metrorail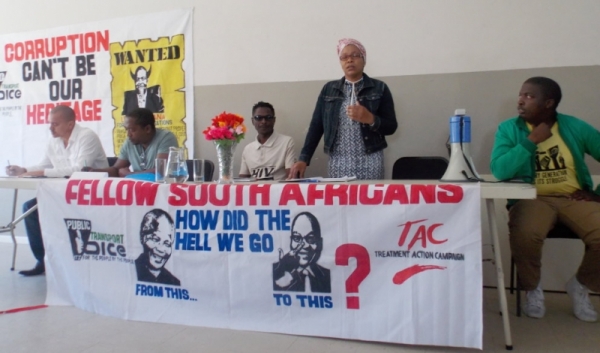 Khayelitsha residents are fed up with the poor public transport servicing the township, especially Metrorail. Activist organisation, Public Transport Voice (PTV), held a public meeting on Saturday at Masibambane Hall in Harare to voice their concerns.
The meeting attendants spoke about the lack of security personnel on the trains which, especially on the third class coaches, puts their lives in danger. They pointed out that the first class coaches are the only ones which have security personnel on their coaches. Commuters accused the Passenger Rail Agency of South Africa (PRASA), which runs Metrorail, of discrimination.
Residents also lambasted PRASA for the lack of visibility of railway police that used to do patrols inside the carriages. Some said they believe that has led to surge of criminal activities on trains.
PTV co-ordinator Khanyisa Ngxothani said the organisation is making an impassioned plea to PRASA to improve their communication systems especially when the trains are delayed because commuters need to be informed. Draped over the table from which she spoke, was a banner with the photos of former president Nelson Mandela and current president Jacob Zuma. The text on the banner read (edited), "Fellow South Africans, how the hell did we go from this [Mandela] to this [Zuma]." (see photo)
Overcrowding on the trains remains a major problem. Ngxothani appealed to PRASA to deal with this problem. She said. "Some of the trains do not even have windows and in Khayelitsha we need more trains especially during the peak hour."
PRASA customer service manager, Cyril Bauer admitted that PRASA is faced with enormous challenges, and the services in Khayelitsha, as well as other areas, are not at the level the state-owned company would like it to be.
Bauer added that they are still grappling with the issue of overcrowding on trains. And he added that cable theft and illegal connections of electricity plays a major role in derailing PRASA from rendering a "great service" to the people of Khayelitsha.
However, he said PRASA has invested an amount of R137 billion to upgrade their structures. PRASA also aims to improve the conditions of their trains as well. He said that they have made some progress improving stations, such as Philippi which is currently being refurbished. He also added that Nolungile station will be renovated.
He said that the safety of commuters is PRASA's top priority. The company has cameras in all of their stations and they have a control room in Cape Town that is solely dedicated to monitoring stations. They have a control room in Langa too, he said.
He suggested that security supervisors attend PTV's next meeting, so that they can update commuters on progress.
"We are working around the clock to implement a strategy that would see doors being locked while the train is in motion."
Bauer said that he was aware that the behaviour of PRASA staff at times is "not appropriate". He said there is an office dedicated to customer complaints.
When asked why PRASA does not providing buses when trains are delayed, he said the company doesn't have enough buses to accommodate the volumes of people that are in a train.
Resident Neliswa Nkwali said she hopes that this public meeting would bring the desired outcomes and their pleas would not be taken for granted. "PRASA each and every year increases prices, but the services it is providing are not getting any better," she said.
As the meeting wrapped up, Bauer said he is going to inform the regional manager of PRASA about the problems raised at the meeting. He urged the community to work with PRASA.
People at the meeting were disappointed that MEC of Transport and Public Works, Donald Grant, and the Commissioner of Transport for the City of Cape Town, Melissa Whitehead, did not attend, even though they were listed on the meeting's agenda. However, Grant's office said that he had informed PTV that he would be attending another event in Knysna. While Whitehead sent an email to PTV saying that neither she nor Mayco Member Brett Herron would be attending.
© 2016 GroundUp.
This article is licensed under a
Creative Commons Attribution-NoDerivatives 4.0 International License
.