How the police are failing rape survivors in Khayelitsha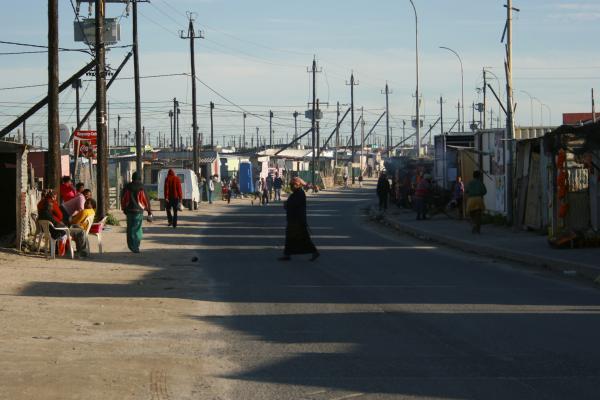 There are severe problems with the way Khayelitsha police are handling rape cases explains Camila Osorio.
It has been nine months since the inquiry into policing in Khayelitsha was suspended. The inquiry was announced in 2011 and was supposed to examine the actions of the SAPS in Khayelitsha. But litigation initiated by the Minister of Police, Nathi Mthethwa, prevented the Commission from proceeding last year until the Constitutional Court decides if he is right or not. In the meanwhile women of Khayelitsha appear to be some of the major victims of this delay.
"We've received seven new cases for the Commission of Inquiry", explained Welcome Makele, a member of the Social Justice Coalition (SJC). "And they are all cases of rape. People are still not aware that there is a rape emergency in Khayelitsha," he said.
According to two members of SJC I spoke to, cases of sexual violence have increased since the beginning of 2013, although the number of rape cases is always hard to measure because many women don't report being victims of sexual violence and there is no statistical data about these cases this year. I also spoke to Rape Crisis and Simelela, two organisations that work with rape survivors. They are not optimistic.
"Many police stations don't have a clue how to treat rape crime," said Joyce Doni, Counselling Coordinator for the Khayelitsha office of Rape Crisis. "There is no proper training being done for the police."
Doni remembers when, for example, a rape survivor was told to go back the next day to report her case because she had consumed alcohol before going to the police station, ignoring that victims of rape have to receive immediate medical attention to prevent HIV infections or unwanted pregnancy.
"When the cops run awareness campaigns they end up saying something like, 'You young girls don't want to get raped, but you don't check what you wear'", a SJC member told me.
Police have also questioned who can be a 'real' perpetrator of rape. "It's been really difficult for the police to acknowledge cases of marital rape, when the perpetrator can be the husband of the victim. Or cases of incest," said Kholeka Booi, Training and Development Coordinator for Rape Crisis. This was the case for Mandisa (name changed), one of the rape survivors who shared her story.
"I told him (the policemen) that I wanted to open a rape case and an assault case. I said that my husband raped me by asking me to have sex with him and that if I didn't he would beat me. I also told him that my husband beat me if I disagreed with him. At this time he beat me after he forced me to have sex with him. The reason why he beat me, he told me, was because I am wet and I am a bitch. [The policeman] responded by saying that what happened to me is not rape. I felt bad when he said that to me because he is a policeman. Then he said, 'fine, I will open the case, but you should know that this is not rape because you agreed to have sex with your husband.'"
There are other aspects of the procedure that police don't adhere to. "We face challenges where our clients—sexual and domestic violence survivors—report lack of sensitivity by the police officers," said Nozwelo Ncube from the Simelela Center in Khayelitsha.
"Some of the survivors are made to describe their rape or domestic violence experience at the [police station] reception where there is no privacy and confidentiality. This is a great concern because police stations have victim support rooms where all cases of sexual violence are interviewed. One of the main reasons of such shortcomings in service delivery by the police is [a lack of] trained staff to deal with such cases. At a rape centre where survivors present with sexual violence cases, we face challenges accessing the Family Violence Child Protection and Sexual Offences Unit (FCS) because of shortages of staff." (The FCS is the police unit through which women should be able to take legal action against their perpetrators.)
According to Ncube, "Despite having legislation, policies and guidelines on sexual offences, we still face challenges with the implementation of services mainly because of lack of resources and trained staff. Until adequate resourcing of this important service is realised, effectively addressing issues of sexual violence will remain a point of serious concern."
There are only three police stations for the whole of Khayelitsha and only one FCS. "In the community dialogues we held, people were concerned about how long it takes for the police to arrest the perpetrator," said Joyce Doni.
Rape Crisis organised community dialogues two weeks ago between members of the Khayelitsha community concerned about the high numbers of rape. The lack of commitment from the state was central to the discussion. "We used to have, in the Western Cape, 35 investigator officers of sexual offence cases. Do you know how many we have now? Nine. If you are talking about the high rate of rape in Khayelitsha, for us only having nine investigator officers is not right", explained Doni.
Not all of the problems prosecuting rape cases are in the police stations: there is also a lack of commitment within the judicial system. Many survivors are not informed how the case against their perpetrator is going and there is a lack of psychological support for them. But the lack of adequate support in police stations remains central for the community of Khayelitsha, since this is the first place that women go to when they have been victims of sexual violence.
The organisations are concerned that, if the police system doesn't work and communities perceive that justice is not being done, women will stop reporting violence.
Khayelitsha, as with many other townships, is a place where gang violence is common, and, according to Doni, where many of the cases of sexual violence perpetrated by gang members are not reported. "Women are afraid to report those cases, because if it's a gang member and he is arrested then the friends of this member can go after that women," she explained.
Cases of sexual violence within families are also often unreported, as the members of SJC and Rape Crisis explained. When it comes to marital rape many cases remain unreported because some women are dependent on their husband's income and have no economic alternatives to leave the house. And sometimes parents of young rape survivors prefer to get an economic agreement with the perpetrator or his family as a form of reparation, since they don't consider that there is going to be any justice by going to the police. "We have also seen some cases of vigilante justice", explained one of the SJC members. "It's a response to the lack of support by the Police"
Rape Crisis invited the Police to their Community Dialogues held two weeks ago. They didn't go. They didn't want to participate in the Commission of Inquiry either, before Mthethwa stopped it. I have also tried to speak to the police since last Thursday but I am still waiting for an official reply. In the meanwhile, the women of Khayelitsha are looking for a quicker response.
© 2016 GroundUp.
This article is licensed under a
Creative Commons Attribution-NoDerivatives 4.0 International License
.