How to buy your driver's license
| GroundUp Staff with assistance of the Cape Times
News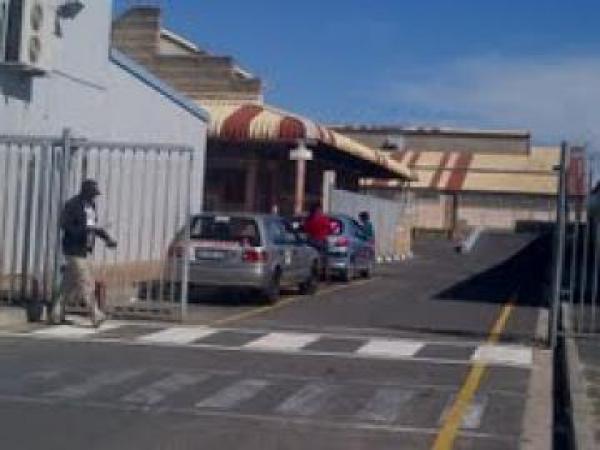 Attempts to clean up corruption at the Lingelethu West Traffic Station in Khayelitsha appear to be failing. GroundUp went undercover and recorded an offer of a bribe by an outside operator, and also spoke to others who were either asked to pay a bribe or who did bribe their way to being allowed behind the wheel.
You can cheat your way to a driver's licence for as little as R2,500, according to outside operators who arrange deals with insiders at the department. Called a "Stay Soft", this "service" will ensure the traffic officer testing you on the day of your license will explain and guide you verbally while you drive, and warn you of what you're doing wrong and how to correct your driving to avoid hitting the cones. Officials sometimes monitor the part of the driving test that takes place inside the centre, so if you hit the cones, you fail. Corrupt officials at the department will assist to get a close date to redo the test. In the part of the test that takes place on the roads outside the centre you can make errors, such as going over a stop street, and you will not be failed.
For R1,100 you can buy your way to a learner's licence. For an extra R350, a closer date can be arranged.
These bribes were explained to GroundUp by a number of sources, including one woman who described in detail how she bribed her way to her learner's and driver's licences in Khayelitsha three years ago, and another who was asked to pay a bribe by a contact outside the station this year, but declined.
Going undercover, a GroundUp journalist went about acquiring a learner's and driver's licence. The journalist phoned the number given to her from a woman who had been recently asked to pay a bribe. A man, Mr X for the purposes of this article, answered. He insisted on a face-to-face meeting outside his house in Ilitha park, a well-off section of Khayelitsha.
At this meeting, which the journalist recorded, Mr X confirmed how the process works. He first asked the journalist if she had a problem with her eyes, because he could organise for the eye-test to be by-passed. Since the journalist did not have an eye problem, she declined this offer. He then phoned someone from his cell phone at the Khayelitsha station and, speaking Afrikaans (Mr X is Xhosa-speaking), organised for the journalist to write a learner's exam. Mr X asked the person to look for the closest date to write a learner's test. The closest date was in June. Mr X complained that the date was too far, and the person said he would let him know if a closer date became available.
Mr X told the journalist that he would inform his contact person about her and he would not fail her. He said a pass was "guaranteed." He explained that the journalist would not even need to learn for the learner's test, and that even if she simply sat down without writing the test, she would pass the test. He said that "someone will write the answers for you." He cautioned that the one thing that could result in a fail is if "the boss" walks into the testing room. Then the deal could not proceed on that day, but a new date "as soon as possible" would be organised.
Mr X explained that that the journalist would have to pay him R1,100 outside the traffic station after getting her learner's licence. If he succeeded in getting an earlier date than June for her, it would cost an additional R350.
Mr X also explained the process of getting the driver's license, including how the person giving the test would help the journalist pass. He explained that the price of this bribe is R2,500. Mr X also offered driving lessons.
Mr X advised the journalist to go to the Khayelitsha Traffic Department and book a date to write the learner's, but insisted that before making a payment she should call him on his cell phone first. The journalist went to the traffic department, filled in the application, took an eye test and provided ID photos.
She then called Mr X, who told her to go inside "the yellow door" and to the man at the third booth. Mr X gave the name of the person behind the booth, who in this article we call Mr Y. Mr Y was uneasy and asked how she knew his name. She told him Mr X had sent her. Then Mr Y's cell phone rang. He answered it and it was clear from the conversation that he was speaking to Mr X. He then smiled and his attitude changed. The date was set for June, but Mr X is currently working to get the journalist a closer date.
The 30-year-old Mfuleni woman who got her driver's licence illegally three years ago said that she did so out of frustration with the official system. Every time she failed her learner's, she had to re-apply for another date which came six or more months later. She claimed that the system was designed to encourage people to resort to bribery to get their licence. "This carried on for about three years and cost me a lot of money," she explained.
She wrote her learner's at multiple traffic departments, but always failed. She got so frustrated, that she found someone linked to the Caledon station who guaranteed her a definite pass, for about R1,200. This involved being given the answers on a piece of paper and then being driven to the traffic department in Caledon, where she filled in the answers and passed.
She booked her driving lessons and moved to the next step of acquiring a driver's licence. She spent about R3,000 on driving lessons. She booked her driving test, but failed three times, travelling as far at Malmesbury Traffic Department. "At Malmesbury, the traffic officer told me my car had rolled back when it did not. At that point I knew I'd have to acquire my licence illegally yet once again."
In Khayelitsha, she found a person who promised the whole package: driving lessons and a testing car for about R1,800. The contact person worked with a traffic officer at the Khayelitsha traffic department. On the day of her driver's test, the officer monitored her and guided her throughout her test, instructing her on what to do to avoid hitting the cones. "I eventually got my driver's licence and was now a legitimate driver. I was not going to let not having a driver's licence stand in the way of improving my employment prospects," she explained.
Another woman, Phumeza, 24, passed her learner's licence at Khayelitsha Traffic Department in February. Phumeza, who feared having her full identity published, says she will "never take my driver's licence at the Khayelitsha department because I know they will fail me unless I pay a bribe."
She claimed that people stand outside the traffic department and watch who comes out of the learner's testing rooms. They then approach and offer a guaranteed pass for a learner's or driver's licence.
This happened to her when she wrote her learner's licence. Two men asked if she had passed, and when she said yes, they offered her a guaranteed pass for her driver's licence for just R2500, calling it the "Stay Soft" option. "These guys work together with the traffic officers at the Khayelitsha station to ensure that you pass your driver's test," she said.
Mandla Majola is a community leader in Khayelitsha and run's the Treatment Action Campaign's (TAC) office there. He and several other TAC members told GroundUp several stories of bribes being paid to obtain driver's licenses at Lingulethu West, but said people were too scared to come forward. Majola explained, "We are concerned about corruption at the traffic station. In order to pass the driving license test at Lingulethu West you usually have to bribe your way. Without money, it is very difficult."
According to The Cape Times in 2007 a traffic officer from Khayelitsha was suspended over an alleged learner's licence scam. Two other officials were also suspected of being involved. At the time the South African Police Service raided the Khayelitsha traffic departments where dozens of boxes containing fake learner's licences were seized.
The Cape Times spoke to Kelvyn Visser, the City of Cape Town's Deputy Traffic Chief for licensing. He admitted it was difficult to detect when applicants were coached, "but we are in the process of erecting cameras at all our centres to observe this type of corruption. It would however still remain a challenge to monitor this all the time on the road tests." Visser also explained that a a management representative was appointed at every centre to check and report any incidents of corruption. "They must inspect all documentation including test reports daily to ensure compliance with relevant legislation. They must also from time to time conduct ad-hoc checks in the learner's class and check identity documents and general compliance issues,"
The City's Executive Director for Safety and Security, Richard Bosman, told the Cape Times there had been sporadic incidents of corruption at City traffic departments over the last few years. In the last six months, three traffic officials were suspended for changing bookings without permission. One member resigned before his hearing commenced while the disciplinary hearings of the other two staff members are still in progress. "We are currently investigating a matter at Joe Quabi (Philippi) where it is alleged that a testing officer conducted a test shorter than was required in terms of the regulations," Bosman added. He urged members of the public with information on corruption to call the City's fraud hotline. The hotline number is 0800 323 130.
Some names have been withheld to protect sources. GroundUp did not conclude the corrupt deal as it would have required the journalist to commit a crime. Please read the accompanying editorial: Investigate and stop mundane everyday corruption
Letters
Dear Editor
Is it a crime if I'm trying to buy a driver's license? What I need right now is to learn so that I can get my driver's license,and I want to book now.
GroundUp Editor's Response
Yes, it is a crime to buy a driver's license. The purpose of the driver's license test is to show that you are a competent driver. If you buy your driver's license without passing this test, it means you have not proven you are competent to drive. This puts both you and others at risk. It is truly worthwhile learning to drive properly before doing your driver's test. Unfortunately, we understand that the system to get your driver's license is slow and often inefficient.
© 2016 GroundUp.
This article is licensed under a
Creative Commons Attribution-NoDerivatives 4.0 International License
.