Homeless man killed by Cape Town officer was part of a gang, court told
Defence in murder trial says evidence by the state witness is "tailored"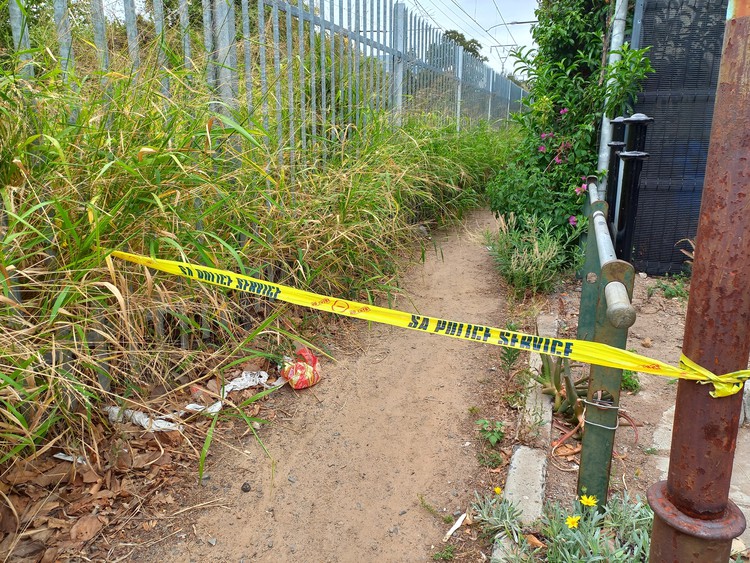 Dumisani Joxo, who was shot dead by a City of Cape Town law enforcement officer, was part of the 28s prison gang, his partner said in court.
Joxo's partner Christin Coleridge was testifying during the trial of law enforcement officer Luvolwethu Kati.
Coleridge also said Kati had provoked another man to a fight when the shot went off that killed Joxo.
Kati's lawyer argued that she was changing her story to conceal Joxo's involvement.
Dumisani Joxo, who was shot and killed by a City of Cape Town law enforcement officer last year, was part of the 28s gang, the Wynberg Magistrates Court heard on Wednesday.
Luvolwethu Kati shot and killed Joxo in Rondebosch in January last year after an alleged argument between Kati and another homeless man, Linda Mbuqe. Mbuqe has testified that he had boiled water in a pot over a fire and made pap, and that law enforcement officers had arrived and kicked over the pot.
In her testimony, Joxo's partner Christin Coleridge said Kati had knocked Mbuqe with his elbow. Joxo had approached them, but Kati had pushed him away, she said. Coleridge said she had held Joxo back, but he pulled away from her and headed toward Kati, when the shot went off.
In his cross-examination, Kati's attorney John Riley asked Coleridge if Joxo was part of a prison gang.
Coleridge initially said Joxo told her that although he was the leader of the 28s in the area. "He explained to me that they are a number but they are not a gang, and he is in charge".
But this raised confusion in the court and magistrate Heather Paulse asked Coleridge to clarify what she meant. "We all know and can accept as a fact," said Paulse, "that when we talk about the 28s, especially in court, we are not talking about the number 28 but the 28 gang. Can I accept, from what you know, that when we talk in Cape Town about the 28s, 27s or 26s, it's with reference to a gang?"
Coleridge said yes. "He (Joxo) explained to me that you are either an American or an HL (Hard Livings), then you are in a gang. And he said that they are not just a number".
"So can the court accept that the deceased was the leader of the 28 gang that was living in that area?" Riley asked. Coleridge nodded and said yes. She also told the court that Mbuqe was part of the same gang as Joxo. She said although Joxo and Mbuqe had fallen out, they always "stood together like brothers".
Coleridge told the court that when she came out from her tent she saw Mbuqe on his way to fetch a pickaxe. She said Kati took out his firearm before Mbuqe fetched the pickaxe and pointed it towards him. Kati denied this, Riley said. He further said that the only time the firearm was out was when the shot was fired.
Coleridge also told the court that Kati was provoking Mbuqe. "The law enforcement officer told [Mbuqe] to hit him and said he said he smaaks to kill someone today." Kati denied this, said Riley.
In her testimony on Monday, Coleridge said after she told Joxo what was happening between Mbuqe and Kati, Joxo left their tent and told her he was going to urinate.
Riley argued that Coleridge's evidence was "tailored to protect the deceased's involvement in what happened there".
"The problem I have with this story of the deceased having to go urinate where they were arguing with each other is that if you look at the photos, that area is close to another spot where he could have relieved himself.
"What seems to be clear is that the deceased was intent on going to the law enforcement officer," Riley told the court.
He argued that Joxo and Mbuqe had attacked Kati and intended to take his firearm from him when the shot went off. He said that according to Kati, Mbuqe had the pickaxe in his hand the entire time and it was not taken by Kati's colleague, as Coleridge and Mbuqe had claimed. Coleridge denied this.
Turning to the statement Coleridge made to police after the incident, Riley pointed out that she had only given a statement in June 2022, five months after the incident. He said she had completed it over three days with one to two-week intervals in between.
"I had to go through it two or three times with the detective because I was emotional," Coleridge told the court. "He didn't even go through the statement with me, he just told me to sign."
Riley pointed out discrepancies between the version Coleridge gave to police and her testimony in court.
In her police statement, Coleridge said that Mbuqe first picked up the pickaxe. When Kati saw Mbuqe do this and approach him, he took out his gun. In court, Coleridge said Kati's gun was already out and pointed towards Mbuqe before he went to fetch the pickaxe.
She admitted that parts of her police statement were incorrect.
Riley read out the rest of Coleridge's statement where she said, "After the shot was fired by the officer, Linda ducked and Dumisani was behind Linda and unfortunately the bullet hit Dumisani". Coleridge shook her head and said, "That's not right. At no stage was Dumisani right behind him".
"I say this with the greatest of respect," Riley told the court, "What is important about your evidence is that you described my client as extremely provocative and taunting Linda. You described him waving around the firearm, and threatening by saying that he feels like killing someone on that day. But none of that was in your statement."
Coleridge said what the detective wrote in her statement was not what she told him. "I don't know if it's the breaks in between that made him not write this correctly, but this is definitely not how anything happened."
"What you're saying is highly improbable and not the truth," Riley said, as he concluded his cross-examination.
The matter is expected to continue next Wednesday.
© 2023 GroundUp. This article is licensed under a Creative Commons Attribution-NoDerivatives 4.0 International License.
You may republish this article, so long as you credit the authors and GroundUp, and do not change the text. Please include a link back to the original article.
We put an invisible pixel in the article so that we can count traffic to republishers. All analytics tools are solely on our servers. We do not give our logs to any third party. Logs are deleted after two weeks. We do not use any IP address identifying information except to count regional traffic. We are solely interested in counting hits, not tracking users. If you republish, please do not delete the invisible pixel.