Gay and lesbian activists protest Holomisa's call for review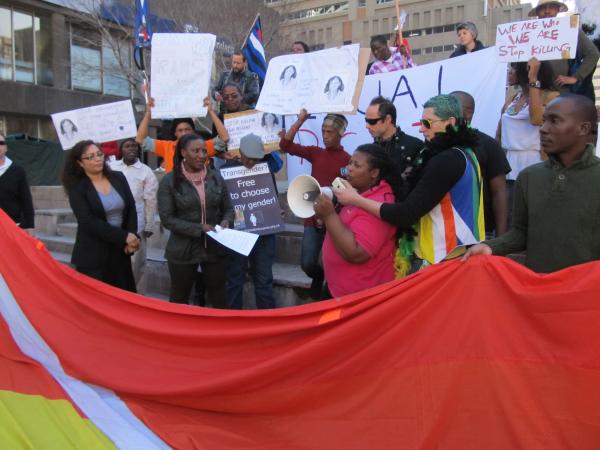 Last Wednesday, gay and lesbian rights organisations handed a memorandum to the ANC Western Cape representative, Songezo Mjongile.
About 180 protesters marched with different banners and a 60 square-meters "Gay flag of South Africa" down St George's Mall, before chanting, singing, and dancing in Thibault Square at the bottom of the ANC Cape Town offices.
The memorandum objects to comments by Patekile Holomisa, chairperson of Parliament's constitutional review committees, and calls for feedback on a petition submitted on 19 May 2012. It condemns Holomisa's call for review of the constitutional rights of gays and lesbians. It states, "Holomisa serves on both CONTROLESA & the Constitutional Review Committee (CRC), which he also chairs. This is a blatant conflict of interest. Any member of the CRC should uphold their duties to the constitution and only add to protections for vulnerable groups to promote an equitable and dignified South Africa."
The memorandum also highlights the basic human rights of lesbian, gay, bisexual, and transgender individuals. It also mentions the increase in hate crime murders, and escalating brutality of these attacks.
One of the organisers and designers of the huge flag, Eugene Brockman, said, "Pathekile Holomisa is a prominent ANC member. Though the ANC distanced themselves from Holomisa's views, they have not made an outright condemnation of such a homophobic proposal to strip rights from a highly vulnerable group. The ANC has also stayed silent on the severe surge in brutal murders and mutilations that rocked our queer community since Holomisa's proposal on removing gay rights."
Boniswa Seti of AIDS and Rights Alliance for Southern Africa (ARASA) said, "I am very angry the government does not care and take us seriously. For instance, they just sent a PA who looked clueless when she was handed the memorandum. As citizens, we have to be respected no matter if we are gay or straight."
GroundUp could not get comment from Pathekile Holomisa in time for our publication deadline.
© 2016 GroundUp.
This article is licensed under a
Creative Commons Attribution-NoDerivatives 4.0 International License
.