Dunoon parents start own school
|
Nombulelo Damba-Hendrik
News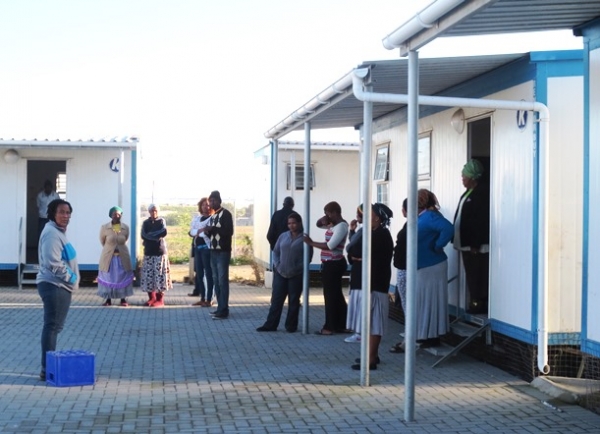 Dunoon parents have turned to the Equal Education Law Centre for help after their children could not find spaces in the nearest schools. The community has now occupied temporary classrooms and started their own school while they wait.
While other children are enjoying their second term school holidays, about 114 children from the Dunoon area are in empty mobile classes previously used by the Sophakama Primary School before it moved to a newly built school on 6 July.
According to parents, their kids have been on a waiting list for the two primary schools in the area since last year. They claim that the Western Cape Education Department (WCED) promised to find them spaces. The parents say they are tired of waiting for the WCED and are asking the Equal Education Law Centre to intervene.
Equal Education Law Centre attorney Solminic Joseph said they had a meeting on Friday with parents in Dunoon who were concerned about their children. The parents gave a list of children from grade R to grade 7 who had not found a school this year.
"I believe it is the education department that must make a plan for these kids to be at school. Maybe for grade R it is not a big issue, but for others like the 15-year-old, it is compulsory that they should be at school," he said.
Joseph said on Monday Equal Education Law Centre would write a letter to the WCED.
Dunoon parents told GroundUp that they decided to occupy the mobile classes before the WCED removed them. Nokubonga Cukani, a mother of a six-year-old and a 12-year-old, said a decision to open the school was taken at a public meeting in the area. She said her children have been on a waiting list for Sophakama Primary School since late last year.
"I went there in November last year to register my children. I was told that there's no space, but my kids will be put on a waiting list."
Cukani told GroundUp that they found teachers in the community who agreed to volunteer until the WCED comes up with a plan.
She said she and seven other parents went to the WCED offices in Parow last month looking for answers.
"It pains me to see my children going around Dunoon not knowing what to do when they are supposed to be at school. Next year, we will experience the same thing," she said.
Lumkile Gcwabe, the father of a seven-year-old, said that as parents they were working together in order to see their children go to school. Since the school started, he has been cleaning the toilets for the kids.
"I'm here with my son and seven other children from my street because their parents are at work. The year is coming to an end and our children have not started schooling," he said.
GroundUp visited the school last Friday. Most of the kids said they were happy to be in school after such a long time sitting at home doing nothing.
A Xhosa teacher, Nolusindiso Mgwatya, said she had combined grade five to grade seven in her class. The school she said helped her keep busy while she was looking for work.
"I'm a trained teacher. I worked as a teacher, but I'm struggling to find a permanent job. At least while I'm looking for another job, I can help these children who are longing to be at school," she said.
Jessica Shelver, spokesperson for Debbie Schäfer, the MEC for education, said a task team has since been appointed to obtain the details of the learners currently at the site. She said the classrooms occupied had been leased temporarily from the City to accommodate learners while Sophakama Primary was being built as a replacement.
"We cannot assume that the learners are not enrolled at a school as learners are currently on school holidays. The team will investigate which children are of school-going age and whether or not they are already enrolled in schools," said Shelver.
She said that when the WCED visited the place, they were provided with an old waiting list for Sophakama Primary dating back to 2013.
"Spot checks revealed that the learners concerned were already in school. The activists gave our district office a list of 437 learners. [Checks on] 145 names on the list has revealed that 115 are already enrolled at other schools, including Sophakama, Dunoon, Marconi Beam, and Meulenhof (Philadelphia) primary schools, and one in Khayelitsha. Six had deregistered or exited the system. Twenty-four were listed as Grade R learners, or were younger than the school going age. The spot checks did not reveal the names of any new children of compulsory school-going age," said Shelver.
She added that the task team would continue to work through the list and obtain details of learners at the site.
"It is not clear why the activists provided the out-of-date list. They have not provided an updated list, as claimed. Nevertheless, the department will place any children needing accommodation by the start of the third term on 20 July," she stated.
Dodgy people are suing us. Please support us by contributing to our legal costs and helping us to publish news that matters.
© 2016 GroundUp.
This article is licensed under a
Creative Commons Attribution-NoDerivatives 4.0 International License
.