Building a business out of old bricks
| Siphesihle Matyila
News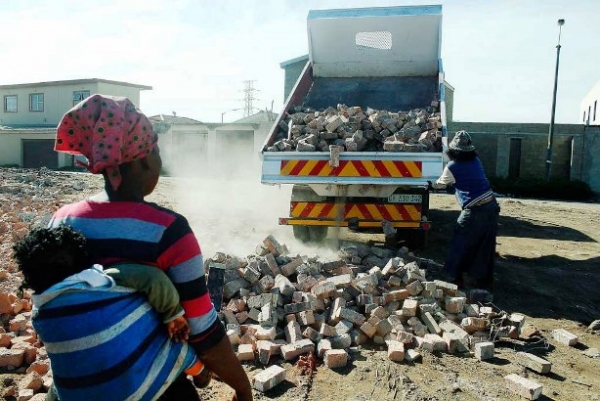 At Sweet Home Farm in an area known as Etheni near Brown Farm in Philippi, a number of families are making a living by selling recycled bricks for R1.50 a brick. New bricks retail for around R6.95.
Mbuyiseli Rhasawe, a member of one of about four families recycling the bricks, says they sometimes get the bricks for free, but sometimes drivers want money for the bricks.
"The prices vary … We sometimes buy a truck load for R300 or R500, then we sell for R1.50 a brick," says Rhasawe.
As with any other informal trading business, some days are better than others. "We work out doors so we depend mostly on the weather. If it rains, we cannot work," he says.
A young man, Rhasawe looks after his mother and his siblings. He says his family depends on whatever he can bring home.
There are four stands in the site. Each one has to compete for the bricks when a truck arrives.

Zodwa Gelem and her child, Sophumelela, sit on the side of the road waiting for buyers. Photo by Masixole Feni.
Nontsha Mbangi, 58, has been in the business the longest – 15 years. She lives with her husband, six children and five grandchildren. Their only source of income is the money she gets from her business and child support grants for two of her grandchildren.
"The money that I make here is really not enough for me and my big family, but it is better than sitting at home and doing nothing," says Mbangi.
Her children are all unemployed so they help her with cleaning and piling the bricks.
One of the young men working at recycling bricks is 19-year-old Mpho Dyadya. He said he only works when he needs money for drugs.
"Things are very bad back at home. My family hates the sight of me. They don't even give me food because they say I'm a good for nothing. Whenever I eat their food, they always chase me out of the house," he said.
Dyadya dropped out of school when he was in grade seven. He is struggling to find proper work and he has turned to drugs.
He receives R1 per brick. He has to push for at least 100 bricks a day to buy essentials such as soap and toothpaste. The rest he spends on drugs.
"I only come here to make a quick buck for myself. I get about R100 a day, depending on how hard I push myself," says Dyadya.

A truck offloads bricks after the scramble for its cargo. Picture by Masixole Feni.
While GroundUp was interviewing Dyadya, a truck pulled up and everyone ran to negotiate with the driver. Swear words were flying. Nontsha Mbangi managed to negotiate with the driver and gave him R300.
A buyer, who asked to remain anonymous, said he prefered buying bricks from Etheni as he supports "the hustle". He gets 200 bricks for R300. "I buy material here every day because I run a business. I'm a builder, so whenever I have a client, this is where I get my material for a reasonable price."

The place known as Etheni where the recycled brick sellers operate. Photo by Masixole Feni.
© 2016 GroundUp.
This article is licensed under a
Creative Commons Attribution-NoDerivatives 4.0 International License
.