Drumming up support for vegetable gardens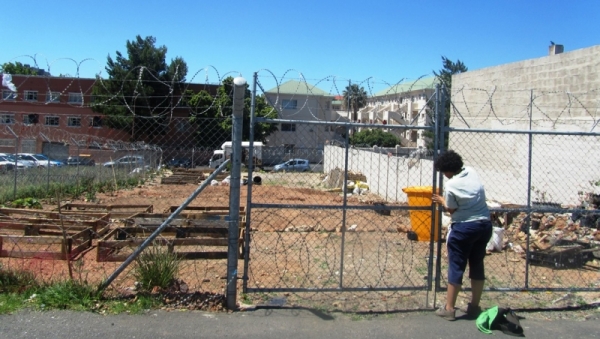 Plans to grow vegetables on school land, with voluntary gardeners from the homeless in the city, and using water from Table Mountain that otherwise goes to waste, are at an advanced stage says Jessie Khulisa, strategic partnership manager at Khulisa Social Solutions (KSS).
KSS is a non-profit organisation that operates from Canterbury Street in Cape Town and has for years assisted vulnerable people to reinvent their lives.
"We are busy preparing vegetable garden areas at Trafalgar High School, and another one just a few metres away from the Fruit and Veg City next to us," says Khulisa.
At the 350 square metre garden in front of Fruit and Veg City, homeless people prepare boxes for planting vegetables. A total of 39 boxes, each two metres by one metre, are expected to form the garden.
The plan is to fill 500-litre drums with water from the mountain that runs through the school grounds, load them on a dolly and hand push them to the garden near Fruit and Veg City. There they will pipe the water into a 2,500 litre tank. An irrigation system will be fitted to water the garden.
At Trafalgar school, a plot of about 500 square metres is being prepared for beds. KSS has signed a five-year contract with the school for growing vegetables at the premises. The school has about 600 pupils. The garden will be attended most of the time by the schoolkids, while homeless people will work on a separate day, once a week.
The Department of Agriculture in the Western Cape is involved in kickstarting the project. According to KSS, the department carried out a chemical analysis of the mountain water and found it suitable for irrigating vegetables. The yield of the water source, recently measured by the department, was 45,000 litres per day. The Khulisa project would only use around 3,000 litres of water a day.
Food Basket for Africa, a company that works with communities, will assist KSS with the choice of vegetables. Depending on the season, Khulisa says they will plant beans, beetroot, broccoli, cabbage, carrot, cauliflower, cucumber, pumpkin, lettuce and melon.
The vegetables will be sold in stores. But, says Khulisa, "We would rather put more effort in selling our harvest to individuals since this brings more profit."
GroundUp spoke to several homeless people who work in the garden.
Lenny Gqwaru, 29 years old and originally from Durban, has been living on the streets since last year. He said, "The R1,275 [I get from Khulisa] is not enough for my needs because I would like to go back to school. I have to squeeze to save for furthering my education … Living in the street is tough."
Gqwaru was in his third year at university when he was thrown out due to family disputes. He regrets how he behaved back then. "I would like to advise other young people to go along with their parent's advice," he said.
Zoleka Kakaza, 24, has been on the streets for several years. She says she loves working in the garden. "Garden work is good for me. It brings me peace of mind. Though I am paid R1,275 per month, I find it better than going begging and stealing," she said.
Zamuxolo Masabalala, originally from the Eastern Cape, has been homeless since 2010. He said, "I was married, but we had a dispute and so I was kicked out of the house … I decided to be in the streets."
In his childhood, he used to garden, and thanks to the project, he is again using that experience.
Dodgy people are suing us. Please support us by contributing to our legal costs and helping us to publish news that matters.
© 2016 GroundUp.
This article is licensed under a
Creative Commons Attribution-NoDerivatives 4.0 International License
.