Dispute over jobs sparks protest in Barcelona informal settlement
|
Nombulelo Damba-Hendrik
News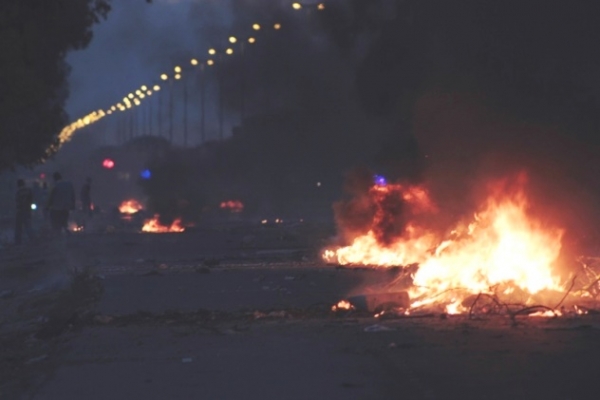 A battle over jobs at Mawose Cleaning Services, contracted by the City of Cape Town to clean Barcelona informal settlement, sparked a protest which cut off a section of the N2 highway on Sunday night.
The protest started around 7pm. Protesters closed the N2 for nearly three hours with burning tyres.
Ward councilor Mzwakhe Nqavashe is accused of hiring people close to him. This comes after Mawose took over the City tender. The company was supposed to start collecting rubbish on 6 July, but a dispute arose after Nqavashe and management from Mawose visited the area to inform residents about the 16 people the company had hired.
Residents accepted eight of the 16 and accused Nqavashe of having influenced the hiring of the other eight people.
Sakhela Faku, the manager for Mawose, said he tried to explain to residents that all the names were taken from the database as per City policy. Residents did not accept his explanations.
Faku told GroundUp that Barcelona is divided into two, which makes things very difficult for his employees.
"The people in Barcelona have their personal issues. All the people I hired are from the area, but for personal issues which have nothing to do with collecting rubbish, residents do not want them. Two are accused of not attending general meetings. One was once accused of rape; now, residents do not want him to work," said Faku.
It is not the first time issues of employment in Barcelona have led to closure of the N2. Last month, GroundUp published a story with the headline, More poo protest looming. This was after residents were prevented by police from closing the N2 with plastic bags full of human waste. The protests came about when the contracts for 45 people hired under the Expanded Public Works Programme ended after two months.
Barcelona community committee vice chairperson Mawethu Thafani said residents have vowed to continue closing the N2 until the issue of employment is resolved.
Thafana said, "Residents are angry. We believe that 18 people were supposed to be hired. We gave them (Nqavashe and Faku) a list of 10 people we want them to add to the eight people we do not have a problem with."
Residents believe that Faku didn't use the database to hire people. Instead, Faku was given names of people Nqavashe wanted hired.
Faku says this is a lie and Nqavashe says he had nothing to do with the hiring.
"These community leaders want [Faku] to hire their families. It is City of Town policy to hire people from a database not mine [list]. I was not involved when people were hired. My job was to check if the people hired still live in the area," said Nqavashe.
He said the matter has been reported to the City and a meeting was to be held this week. After meeting with the City, he will call a general meeting and explain to residents the process of hiring people.
On Sunday night, the City executive director for safety and security, Richard Bosman, said the road had been reopen around 10pm and City metro police were patrolling the area.
© 2016 GroundUp.
This article is licensed under a
Creative Commons Attribution-NoDerivatives 4.0 International License
.