Dance teacher who raped students faces the music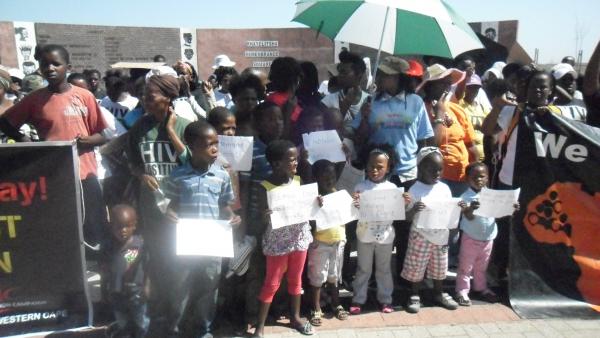 Lulamile Gagu was found guilty on twelve counts of rape at the Khayelitsha Magistrate's Court on 10 October. He will be sentenced on 29 October.
Posing as a dance teacher Gagu lured young girls to dancing camps and raped them during these camps. When one of the children told her mother what was happening at the camps, Pandora's box was opened. Other parents started asking their children questions too. At least eight girls were raped by Gagu.
The case has been in court since 2010 and drew the attention of NGOs such as the Treatment Action Campaign (TAC) and Social Justice Coalition (SJC). These organisations organised protests outside court every time Gagu appeared in solidarity against rape in Khayelitsha.
According to Loyiso Mahomba from TAC it was discovered during the investigations that Gagu also had cases of rape against him in the Eastern Cape. Mahomba says that Gagu was sentenced to five years in prison, but he was released early for good behaviour.
"We have regained our faith in the judiciary system of Khayelitsha now, as compared to Zoliswa Nonkonyana's case [a woman who was murdered in Khayelitsha because of her sexual orientation] which took six years before it was completed, this case took only two years and there was consistent communication and not many delays," said Mahomba.
However Angie Peter from the SJC told GroundUp that during the court hearings the investigating office failed to produce panties that were important evidence in the case. Peter said this seemed like a case of carelessness. "We're just grateful that the disappearance of this crucial piece of evidence didn't mess up our case against Gagu," explained Peter.
Peter said that she hopes that Gagu will receive at least two life sentences because it is not the first time he has raped. She accused Gagu of ruining young girls' futures. She believes that if Gagu receives a harsh sentence it will send out a message to other rapist and child molesters.
The grandmother of one of Gagu's victims, who was just eight years old at the time, said she was just happy that justice has finally been served and that her granddaughter's rapist is behind bars.
Dodgy people are suing us. Please support us by contributing to our legal costs and helping us to publish news that matters.
© 2016 GroundUp.
This article is licensed under a
Creative Commons Attribution-NoDerivatives 4.0 International License
.