NEWS
Congregants demonstrate in support of pastor on rape charge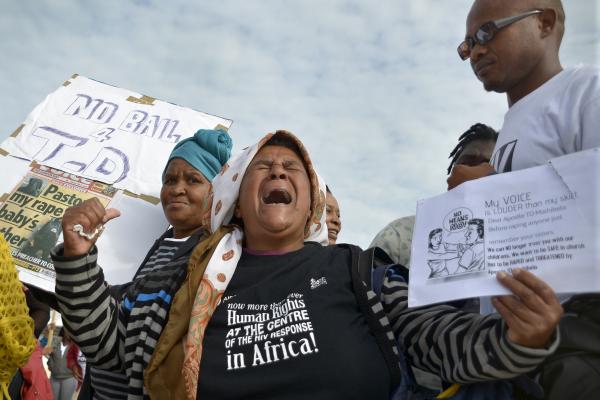 Supporters and accusers of a pastor accused of rape demonstrated outside the Khayelitsha Magistrates Court during his bail hearing yesterday.
The pastor is facing at least one charge of rape after allegedly molesting a 23-year-old member of his congregation over the past three years.
He was arrested earlier this month following complaints that he sexually assaulted the woman, then 19, fathered her child and forced her to give up the child for adoption.
A group of women from the congregation demonstrated outside the court, raising a banner claiming his innocence. One told GroundUp the allegations "are works of the devil."
Another said former members of the congregation had made up the accusations "because they can't live according to the word of God."
Also outside the court were members of the Treatment Action Campaign. Lumkile Sizila of TAC said rape was a big problem in Khayelitsha with at least four cases reported daily.
Sizila said TAC would continue to lobby against the granting of bail for the accused because he had made several threats to victims and witnesses.
"We are concerned also about claims that he had an unprotected sex with his victims. We are shocked by such atrocities because we regard the church as a safe haven."
The rape survivor joined the TAC activists as court adjourned for lunch flanked by the Democratic Alliance member of provincial legislature, Masizole Mnqasela. Mnqasela said he had come to "support the victim" and said people speaking out about sexual abuse needed the protection of the community.
Sizila expressed disappointment at the absence of religious, especially church, leaders in Khayelitsha condemning the incident.
The bail hearing continues on Thursday 29 May.
© 2016 GroundUp.
This article is licensed under a
Creative Commons Attribution-NoDerivatives 4.0 International License
.