City of Cape Town has built fewer than 20 social housing units in the inner city in six years, say activists
City says it has made more than 32,000 square metres of land available but there are challenges, including "hijacking" of buildings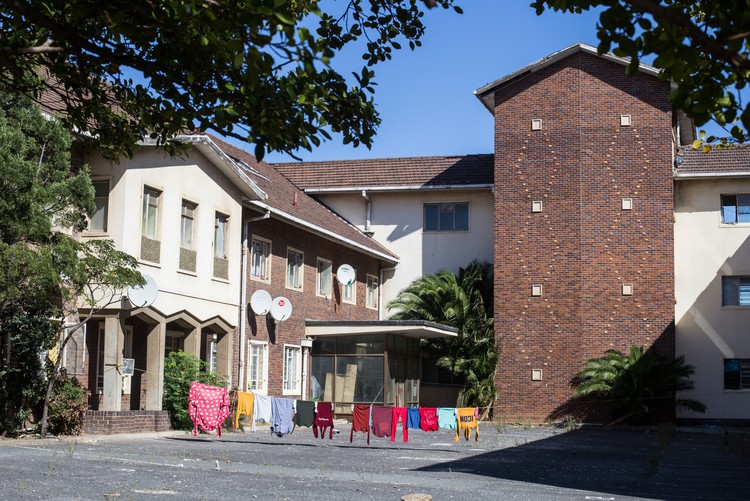 The City of Cape announced in 2017 that 11 pieces of land in the city centre would be used for social housing.
Since then, the City says, it has made more than 32,000 square metres of land available for social housing.
But housing activist groups Ndifuna Ukwazi and Reclaim the City say progress has been slow and fewer than 20 units have actually been built.
The City of Cape Town says it has made more than 32,000 square metres of land available for social housing in the past six years. But civic organisations say fewer than 20 housing units have actually been built.
In July 2017, the City announced that 11 pieces of public land in the city centre, Woodstock and Salt River would be used to develop social and transitional housing. These are located at Pine Road, New Market Street, Drury Street, Upper Canterbury Street, Woodstock Hospital, Woodstock Hospital Park, James Street, Dillon Lane, Salt River Market, Pickwick Road Transitional and Pickwick Road.
In July last year, the City also tabled the release of land for two major social housing projects: in the Salt River Market precinct and the Pickwick Road site. The Salt River site will deliver 216 social housing units in a nine-storey mixed-use development. The Pickwick Road site in Salt River is to offer 600 social housing units in an eight-storey development.
James Vos, the City's acting mayoral committee member for Human Settlements, told GroundUp that in the last six years, 32,666 square metres of land has been made available by the City for social housing. These include: Salt River Market (14,468 square metres), Pine Road (7,239 square metres), Dillon Lane (4,278 square metres) and Maitland (6,681 square metres)
He said the City has also acquired more than 900 hectares of land for its integrated Human Settlements Development purposes, while 6,500 city-wide social housing opportunities are in the pipeline.
But housing activist groups Ndifuna Ukwazi and Reclaim the City say since the 2017 announcement only 19 units of social housing have been completed in the inner city.
"Out of the 11 sites, the Pine Road site has been sitting vacant since 2019. The Salt River Market site was released last year, but there has been no resolution for the relocation of the people living on the site for the last decade which is required for the development to proceed."
They said the "lack of progress on inner-city social and affordable housing projects and ongoing delays in releasing an inclusionary housing policy directly contribute to poor and working-class people being pushed out of well-located areas".
Vos said there were statutory and other hurdles to releasing land for affordable housing. "Additional challenges include building hijacking, as we have seen in Woodstock and Sea Point, for example," he said.
The Woodstock Hospital property had been "hijacked", he said. "This property — and the provincially owned Helen Bowden Nurses Home — were subject to orchestrated building hijackings by Ndifuna Ukwazi's Reclaim the City campaign in early 2017, following the government's announcement of plans to develop social housing there."
Vos said the building's hijacking was followed by "subsequent calls for financial contributions to "sustain and build" the illegal occupation. What was initially claimed by Ndifuna Ukwazi to be a "symbolic" occupation, has spiralled out of control."
He said there are pending eviction proceedings following the Western Cape High Court's 2021 order which granted the City permission to survey the number and individual circumstances of occupants at Woodstock Hospital.
"The City will now be proceeding with the planning and development of social housing, as well as taking engagements forward with unlawful occupants," said Vos.
He said the spotlight should also be placed on land release by the national government. "While the City's advocacy efforts go back years, there has been little progress under successive Public Works ministers," said Vos. He said the City has repeatedly asked national government to release its "large, well-located tracts of land for City housing development".
Several "mega-properties" owned by the national government could potentially yield over 100,000 social housing units, he said. These are located in Wingfield, Youngsfield, Ysterplaat, Culemborg and the Parliamentary Village.
"The release of these national mega-properties for housing would make a huge difference given the sheer scale of the well-located military land compared to the very limited land with housing potential owned by the City and Province close to the CBD," said Vos.
Robyn Park-Ross, a researcher at Ndifuna Ukwazi, said after six years, construction of social housing had still not started in the inner city. "While Mayor Geordin Hill-Lewis has announced the release of land in the City Council, this has little material impact on people's lives until the homes are actually built," she said.
Park-Ross said although proper legal processes to release land did have to be followed, "there is a clear lack of urgency to deliver".
"Each day tenants facing exorbitant rents and rates approach our clinic in search of inner-city affordable housing. These delays are shredding people's connection to place and neighbourhoods, rather than redressing the injustices of the past," Park-Ross said.
© 2023 GroundUp. This article is licensed under a Creative Commons Attribution-NoDerivatives 4.0 International License.
You may republish this article, so long as you credit the authors and GroundUp, and do not change the text. Please include a link back to the original article.
We put an invisible pixel in the article so that we can count traffic to republishers. All analytics tools are solely on our servers. We do not give our logs to any third party. Logs are deleted after two weeks. We do not use any IP address identifying information except to count regional traffic. We are solely interested in counting hits, not tracking users. If you republish, please do not delete the invisible pixel.