Chequebook justice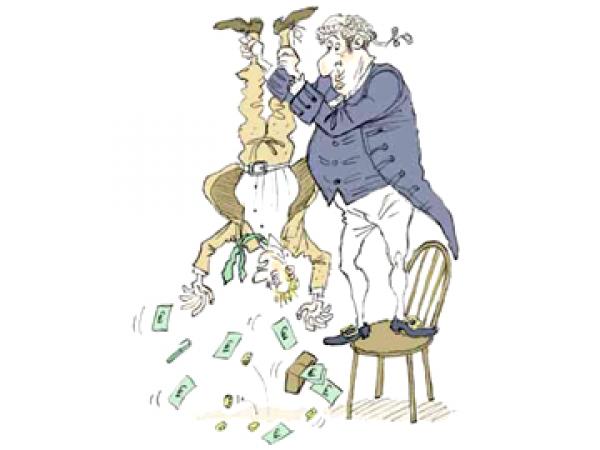 Oscar Pistorius' bail application apparently showed how the justice system works when someone is arrested. But actually his hearing and release on bail were exceptional.
Compare Pistorius' case to Dudley Lee's. Lee was charged with fraud and counterfeiting. He spent four years in Pollsmoor as an awaiting-trial prisoner. After about 70 court hearings, he was acquitted and released. In prison, he became ill with TB and lost his life savings. Today, he survives on a state pension of R1,260 per month. This is not unusual. There are over 46,000 awaiting trial prisoners at least one of whom has been behind bars for over nine years.
What separates these thousands from Pistorius (or Glenn Agliotti and J Arthur Brown) is that they cannot afford to pay for lawyers or bail. Lee was represented (the Constitution guarantees that right) but only for a few hours here and there by lawyers paid mainly by Legal Aid South Africa (LASA).
In the 2012/13 financial year, LASA had a budget of R1.4-billion. It covered the legal costs of over 430,000 people, 87% of whom were facing criminal charges. That works out to about R3,200 per client, without taking into account LASA's other costs. But here's the key problem: that's equivalent to about three hours of a junior attorney's time at a typical law firm.1 If a case is appealed and LASA continues funding the defence, costs go up dramatically because advocates have to be hired. LASA rates for senior counsel start at R11,000 per day.
Gaining access to legal representation in civil matters is even more difficult. The first port of call for a person needing assistance is an attorney's office; a member of the public cannot hire an advocate directly. The big firms typically charge R4,000/h for a partner's time, but the top attorneys in the country can fetch R6,000/h. For the lowest-ranked qualified attorney you're looking at R1,500/h and candidate attorneys are charged out at a bit under R1,000/h. Even at small and medium firms, you should expect to pay about R900/h .
But it is when a case goes to court that the legal costs become stratospheric, even more so when senior counsel is brought in.
The court papers in Dali Mpofu's attempt to get the state to cover his legal team's fees at the Marikana Commission are illuminating. Mpofu asked for the top end of LASA rates, R17,000 per day for his services, or R340,000 per month. The SAPS and Lonmin lawyers earn even more. If the commission proceeds for a year, it will cost over R100-million in lawyers' bills.2 George Bizos, by contrast, has set an example throughout his career. He is paid a salary by the Legal Resources Centre (LRC), equivalent to billing about R3,000 per day.
LASA rates are a fraction of what the highest-earning advocates in the country make. Jeremy Gauntlett, consistently identified by lawyers interviewed for this article as one of the top two or three earners, charges in the region of R40,000 to R60,000 per day.
An advocate at the Cape Bar says this is what the market will pay. But the market justification doesn't wash. The bar (the advocates' union) is closer to a guild than an open members' association. Only those it chooses to admit, after stringent pupillage and exam requirements, are able to compete with existing members.
A senior counsel who does many human rights cases for nothing (pro bono) said, "The fees are generally absurd, and they get ratcheted up all the time through a process of 'competition'. The amazing thing is that clients pay them, sometimes believing that the more you pay, the better the advocate must be. There is an interesting question as to if and how fees should be regulated. But limiting the fees at the top end of the scale will do little to promote access to justice. Poor people in any event can't afford anything like this sort of money."
Advocates have to do a minimum of 20 hours a year pro bono. But the definition of pro bono is broad, and many get around this not by representing poor people, but by allocating their pro bono time to committee activities that they would have done anyway.
This picture of greed is obviously not the whole story. Many advocates, including some top earners, dedicate some of their time to human rights cases and to representing people for free or at heavily reduced fees. Another form of service, which has becoming increasingly popular, is to act on the basis of payment-for-win only (contingency fees).
There are also about 40 public interest law firms across the country. Collectively they handle thousands of clients a year. They employ excellent lawyers at a fraction of what they could otherwise earn. One explained, "I do the job because it's the best and most interesting work." The LRC employs junior advocates who ordinarily earn from R400,000 to R700,000 a year.
Still, the need for legal services far exceeds what the public interest law firms or legal aid can offer. So what has to be done?
Even if all lawyers charged George Bizos' rates, poor people would still not be able to afford them, though the public interest law firms would be able to take many more cases. One lawyer told me we should start by protecting the public interest law firms. These are funded mainly by international donors, but in recent years donors have reduced support for South African projects. "We don't have a culture of individual giving in South Africa like there is in the US. The American Civil Liberties Union has an annual budget of over one hundred million dollars, much of it from individual donations," said the lawyer.
Another suggestion is for law schools to train more practitioners. The system of paralegals has worked well in the US and UK. They are legally-trained, but haven't qualified fully. At much lower cost, they can do some of the work the specialist practitioners do. A further proposal is that graduating law students should do a year or two of community service.
The bar used to set tariffs for counsel but this was stopped because of concerns that it was an anti-competitive practice. There are however set tariffs for what losing parties in court cases can be charged when costs are awarded against them. Unreasonable fees can be, and often are, challenged at Bar Councils. In a case that went to the Constitutional Court, Camps Bay's ratepayers succeeded in having a legal bill reduced from R700,000 to R300,000. The court wrote:
We feel obliged to express our disquiet at how counsel's fees have burgeoned in recent years. … No matter the complexity of the issues, we can find no justification, in a country where disparities are gross and poverty is rife, to countenance appellate advocates charging hundreds of thousands of rand to argue an appeal.
Parliament has been debating the Legal Practice Bill. It will establish a Legal Practice Council, one of whose aims will be to ensure fees are reasonable. But efforts to reduce lawyers' fees will likely meet opposition. Also, there are genuine concerns that the bill reduces the independence of the legal profession.
Some lawyers told me their earnings are fair. They suggested I ask the same questions of doctors, but on average doctors earn much less than lawyers. LASA is essentially all the state provides for poor people when it comes to the law, and it doesn't compare in size to the public health system and many of the best doctors in the country work in the large public hospitals for good but far from obscene salaries.
Section 34 of the Constitution says everyone has the right to their day in court. Perhaps the state should offer legal services on the same scale that it offers health services. But unless legal fees come down dramatically, there is no chance of this being affordable, or real.
Further reading
This article was published simultaneously by the Daily Maverick and GroundUp. There are minor editing differences between the versions. Geffen is the editor of GroundUp. You can follow him on Twitter: @nathangeffen.
Footnotes
---
LASA employs its own lawyers at considerably less than law firms pay. But it is not easy for LASA to attract people. While often competent with a good understanding of the criminal justice system, many LASA lawyers are fresh out of law school and inexperienced. ↩

Would this money perhaps have been better spent compensating the approximately 350 injured miners and families of the deceased with nearly R300,000 each? ↩
© 2016 GroundUp.
This article is licensed under a
Creative Commons Attribution-NoDerivatives 4.0 International License
.