Bus on the way for Masiphumelele students
|
Mary-Anne Gontsana
News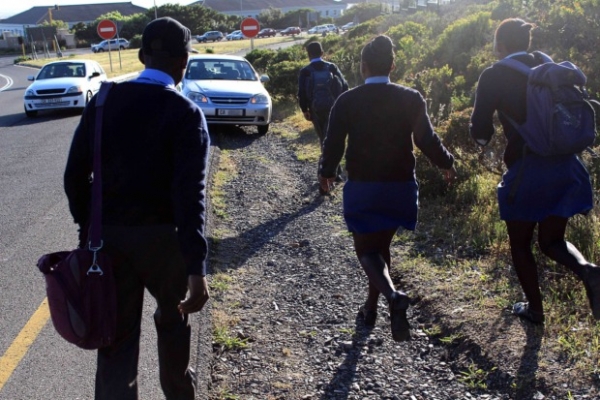 Masiphumelele High School students who have been walking and hitchhiking 15 kilometres to get to school will soon have their own transport.
After GroundUp revealed the plight of high school students from the townships of Westlake and Capricorn who battled to get to school in Masiphumelele, residents in Noordhoek decided they wanted to do something about it. (Our article also noted that there are several good schools, including former Model C ones, much closer to where the students live.)
One of the residents, Stuart James, said they had met the school principal, Mncedi Nelson Mafrika, and "decided to embark on a number of fundraisers to purchase a mini bus so the children had transport".
"We also teamed up with Goodsports Trust so they could take responsibility for the running of it and also utilise the vehicle for other good causes."
James said they had held a fundraising event in Noordhoek on 25 February, soon after reading the GroundUp articles. "It was a huge success, we had an auction, raffle, live music. Anything that could bring in money. We managed to make R90,000 from that event," said James.
School transport is a problem at many schools across the country and Equal Education has been campaigning for government to make more provision for scholar transport.
"I've tried walking on Ou Kaapse Weg and I didn't get very far. I can only imagine the struggle it must be for those children," said James.
The group of Noordhoek residents is now preparing for another fundraising event to be held at Cape Point Vineyards, on 29 May at 7pm. Tickets are R350 for a three course dinner. To book a table at this event and help raise funds for the school mini bus, email dwills76
mweb.co.za or call Stuart James on 082 325 7028.
Dodgy people are suing us. Please support us by contributing to our legal costs and helping us to publish news that matters.
© 2016 GroundUp.
This article is licensed under a
Creative Commons Attribution-NoDerivatives 4.0 International License
.