Burundians burnt out in Lower Crossroads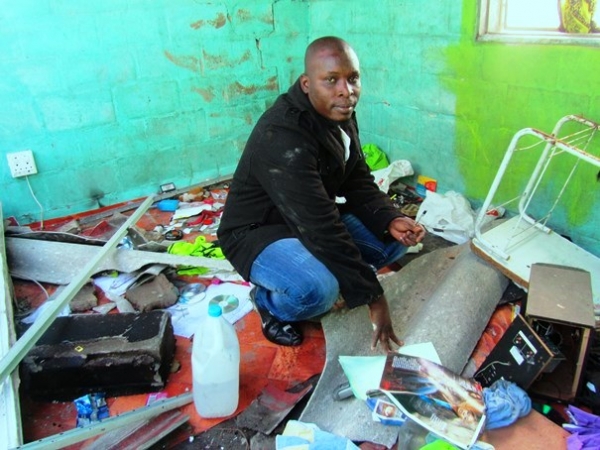 It is almost a week since violence between Marikana and Lower Crossroads residents in Cape Town erupted leaving a trail of destruction. Four Burundians, bystanders caught up in the devastation, are now struggling to pick up their lives.
Violence erupted between Marikana and Lower Crossorads residents as a result of protests around service delivery.
"On 30 May 2015, I arrived here at 9am.There was fire all over my property. I did not know where it was coming from. Eventually, my property was all up in fire," said a distressed Sylvere Nahimana, whose property is at 12060 Mpunzi Crescent, Lower Crossroads. Nahimana is originally from Burundi.
"This is not the first time my property has been vandalised. In February, they came and removed all the shop doors and looted … I had to use my own savings and did all repairs [myself]."
Nahimana came to South Africa in 1997, fleeing the war in Burundi. Back in his country, he specialised in refrigeration.
"I invested R350,000 into this property in 2004. At the moment, I do not know what to do. I do not even have a R1,000 to start anything," said Nahimana. He is currently staying in Elsie's River with his family.
According to Nahimana, the upper floor of the property was used as a home by three tenants who also fled for safety to Lower Crossroads Police station. At the moment, all the tenants are staying at a mosque with their families.

The burned out property at 12060 Mpunzi Crescent, Lower Crossroads. Photo by Bernard Chiguvare.
Issa Vaendakumhna, 36, one of the tenants who rented part of the shop and stayed on the upper floor, says, "I do not know what to do now because this shop was my means of living here in South Africa. Going back to Burundi is not possible because there are more problems at the moment."
Vaendakumhna says he did not manage to take anything out of the shop. Everything in the shop was destroyed in the fire.
GroundUp found refrigerators burned beyond repair.
Another tenant, Juma Ndikumana, 34, also from Burundi, managed to escape the disaster during the violence. In Ndikumana's room, there were burned clothes, tables, kitchenware and books.
"I do not know what to do at the moment. We are still busy with the owner of the house," says Ndikumana, a father of two.
A third tenant, Janvier Impezagire, also a father of two and a teacher by profession, says he is devastated by the violence.
"People told us that there was fire all over our place, but we could not do anything. I only managed to take my family to the Lower Crossroads Police station for safety."
Impezagire says he finds it difficult to get formal employment in South Africa, which is why he decided to run a shop in Lower Crossroads.
On one side of the property was a burned out car and the remains of burned tyres and rolls of wire.
The situation appears to be calm, but police remain, keeping a close watch.

On one side of the property, a burned out car and the remains of burned wires. Photo by Bernard Chiguvare.
© 2016 GroundUp.
This article is licensed under a
Creative Commons Attribution-NoDerivatives 4.0 International License
.