Bringing rugby to the Cape Flats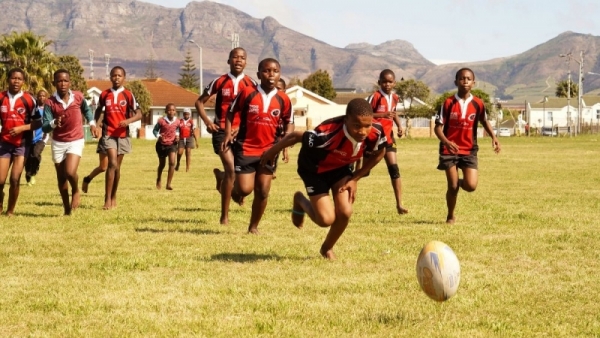 Controversy over the demographic composition of the Springbok team once again shows the need to invest in rugby in black schools. A non-profit organisation is trying to do just that.
In 1990 there were seventeen schools playing rugby in Mitchell's Plain. The fledgling rugby culture benefitted players like Stormers flanker Nizaam Carr, who grew up there. But today only three schools in Cape Town's second largest township offer rugby. A possible reason for this decline is that there has been increasing pressure on teachers to get kids to perform in the classroom, and this is where teachers prefer to invest their spare time, rather than in extra-curricular activities.
CoolPlay is a non-profit organisation trying to get rugby into more South African schools. It is sponsored by the Laureus Sport for Good Foundation, Vuka Rugby, The Learning Trust, and the South African Rugby Legends Association. They now help ten Mitchell's Plain schools play rugby, as well as a bunch of other schools on the Cape Flats. The organisation has developed an after-school programme that combines life-skills and rugby training.
On Heritage Day, Healthfield High hosted an interschool rugby competition that CoolPlay helped organise. Ten schools from across the Cape Flats participated. The players ranged from 11 to 19 years old. Masiphumelele High won the Under-19 competition.
In August some of the Springboks helped the students participating in the programme with their rugby. At the Heritage Day event the students reciprocated by recording a message of good will which was sent to the players in England where they are taking part in the World Cup.
CoolPlay Head Coach Lungelo Payi gives the U13 & U15 boys words of encouragement after the final whistle. Photo by Scott Sloan.
Head Coach Payi Lungelo said, "We are beginning to see our coaching sessions pay off. While the kids are still learning the basics of rugby, they are making big steps in their personal lives. Xolani Mahlulo has done tremendous work at Masiphumele High School where there was no rugby a year ago. The boys engage freely and willingly about issues that are personal to them, or are taking place in their daily lives. One of the kids underwent an operation midway through the season, and the kids talked about visiting the boy. CoolPlay is helping young learners to care for each other and today's event was a defining moment in the season."
One group that couldn't attend the tournament was Bonnytoun Secure Care facility, state centre for young offenders. It's players are serving time, often for violent pasts. Andrew Bantom of Bonnyton said, "The success of CoolPlay lies in the fact that the coaches are there, rain or shine, building the trust and respect required to affect real change amongst our residents. Through the structured rugby programme, they have assisted us in tackling some of the greatest challenges our residents are facing on a daily basis such as disillusionment, inter-personal conflict and frustration."
The author is a volunteer for CoolPlay.
Dodgy people are suing us. Please support us by contributing to our legal costs and helping us to publish news that matters.
© 2016 GroundUp.
This article is licensed under a
Creative Commons Attribution-NoDerivatives 4.0 International License
.