Best friends have scales, wings and tails.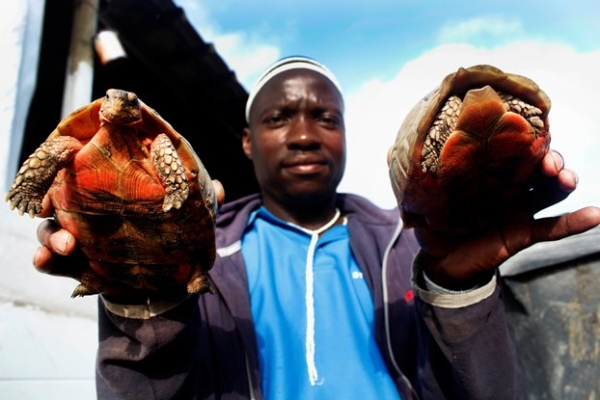 Photographer Masixole Feni has done a series of portraits of people and their pets and animals in Cape Town's townships. He found some surprising friendships.
Lena reunited with her dogs, Lady and Gettis, after the Skandaalkamp eviction. "Die baas het hom so genaam," said Lena of Gettis's odd name.
Richard Solomons serving his pigs dinner on his small scale farm in Mfuleni.
Cow herder Andile Nkonjana at dawn leading his cattle to a grazing field in Mfuleni.
Buyiswa Qebeyi, who brews umgomboti (traditional African beer) also in Mfuleni, with her young cat.
Moses Ndaba, who is homeless, likes to feed pigeons in the parks.
A friendly pit bull terrier puppy out for a walk with his owner in Hangberg, Hout Bay.
The geese of a small scale farmer head home after a day foraging and roaming Mfuleni township.
Arnold and his horse pose for a photo after a long day of collecting scrap from house to house.
Khayelitsha Schoolboy Luthando Getyes spends his school holiday morning playing with his dogs.
Traditional healer Mavusi Gqola, who is wheelchair bound, with his oldest tortoise. He believes the tortoise is 100 years old. He is currently raising ten tortoises.
Dodgy people are suing us. Please support us by contributing to our legal costs and helping us to publish news that matters.
© 2016 GroundUp.
This article is licensed under a
Creative Commons Attribution-NoDerivatives 4.0 International License
.