Annie Lennox speaks out against violence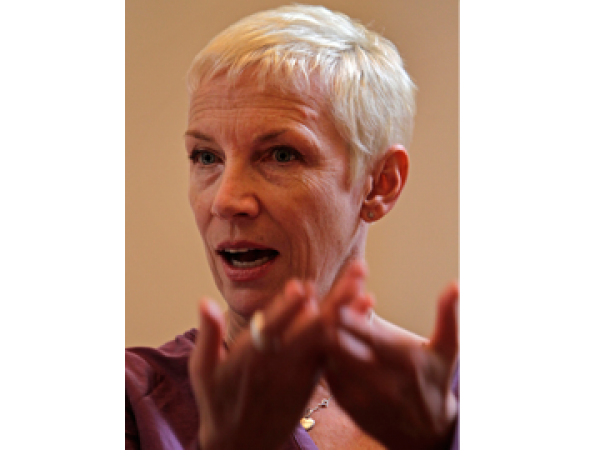 Who is paying the biggest price for South Africa's sexual violence? Scottish singer-songwriter and political activist Annie Lennox wants the world to know as she takes a stand to end violence against women and children through her "Make it Happen" petition launch in Cape Town this week.
2 March 2013: A man rapes a 2-year old in Johannesburg. His victim dies days later in hospital. 3 March: A 15-year-old from Limpopo is raped while sleeping next to her grandmother. 4 March: A pregnant 13-year old girl, also from Limpopo, is raped by a thirty-something year old man. 18 March: A 7-year old girl is found on the Makhado streets. She has been gang raped and dies later in hospital. April 6: Three toddlers are raped in separate incidents in Limpopo. April 11: Three men drug and rape a teenage girl from Joe Slovo Park in the Eastern Cape. Her boyfriend is allegedly one of the perpetrators. April 21: An 18-year old student from the University of the Free State is repeatedly gang raped by her hijackers.
These are just a handful of rape stories involving children under 18 that have appeared in the media over the past two months. In most parts of the world, these reports would have made major headlines. In South Africa however, they were tucked away on less prominent pages, hidden between colourful adverts, although graphically extreme cases like that of 17-year old Anene Booysens did gain attention. The Bredasdorp teen was raped repeatedly by a group of men in February this year, after which her abdomen was cut open. She was left for dead on an empty construction site and later died in a local hospital.
It was cases like these that sparked Annie Lennox's interest in raising awareness of the issue.
"The world doesn't know about Anene Booysen, and the world should know about that, and we should all work to prevent that from happening," Lennox said at at a Cape Town Press Club meeting last Thursday.
The under-reporting of child rape could be blamed on the numbing of our communities from too much exposure to violence, while others point fingers at the large number of already existing unsolved cases surrounding female abuse. Local organisations like Rape Crisis believe it's a powerful combination of little or no trust in the the police, a slow-working justice system, and victims facing stigma in their community, fearing they will be shamed (or even blamed) by outing their violators.
"Across South Africa, victims are blamed for what happens to them," says rape survivor Michelle Solomon from Grahamstown. Solomon is one of the driving forces behind the Silent Protest. The movement, now spreading to other parts of South Africa, is a silent march in support of people who were subjected to rape.
"So many victims are blamed because they were wearing a short skirt or because they were drunk. I see and hear it all the time," she says. "As a result, only few have the courage to come out."
The fact that attackers are often people known to them deters survivors from opening a case. According to the Medical research Council (MRC) 50% of rape cases involving adult women were committed by the victim's intimate partner. In South Africa, many women and their children depend financially on their partner. "It is difficult to report someone you rely on," Solomon says.
"Sexual violence in South Africa is not a balloon that floats above society. It happens deep within and it happens everywhere," says Lennox, who has been campaigning against violence against women and children since the early 2000s.
Recent government crime statistics reveal that 65,000 sexual assaults were reported in SA last year. Of these only 6.5% are successfully prosecuted and less than 1% of perpetrators will serve jail-time.
Human rights activists believe the rape reality is likely much worse, as the vast majority of sexual crimes towards women are not being reported to the police. The figure varies from 1 in 4 to 1 in 9 depending on which organisation you speak to. Similar situations are applicable for child rapes.
"Sexual violence against children is a notoriously difficult issue to tackle. Where child abuse happens in the home, children may not know that what is happening is wrong, or don't know what to do about it if they do," Solomon explains. "Those children who do speak out about it to their parents, teachers, or any other adult may not be believed, or may be silenced due stigma."
An additional problem is the application of "the cautionary rule" by both police members and in the courts. Solomons explains, "The 'cautionary rule' makes the assumption that children are easily manipulated or lie or can't tell the truth between reality and fantasy. Their testimony is therefore not considered as credible as that of an adult. This same cautionary rule was used against women until it was abolished in 1998."
What's even more concerning, however, is the beginning of a "rape culture" that turns previous victims of sexual abuse or violence into perpetrators themselves. Last year, a 22-year old man pleaded how he had been a child rape victim himself and that this past drove him to sexually violating at least two women he recruited via Facebook.
More recently, in February this year, a therapist of St Michaels Home for Abused Teenage Girls in Plumstead, Cape Town blew the whistle on patients molesting. The story was largely ignored by the mainstream media, as opposed to the case of the so-called Facebook Rapist.
According to Lennox, it shows that sex and sexual violence is everywhere in South Africa and that it has become "normal" even in the lives of very small children.
"I was at the hairdresser the other day. He told me how he, a few weeks ago, when he parked his car, a ten year old girl approached him and offered him a blow-job. He was disturbed by it, and notified the car guard that something was wrong with this little girl. The attendant thought it was hilariously funny. It is almost like it is normal, that a ten year old girl approaches an old man and offers him oral sex. That sticks with me, that kind of a reality."
Lennox's refusal to "sit on the sidelines" gave way to creation of the Make It Happen petition earlier this year. The list implores members of civil society, the media, religious leaders and other sympathisers to commit, personally and professionally, to ensure that violence against women and children, rape in particular, is never marginalised again. Among the 100+ signatories already collected are Desmond Tutu, actress Charlize Theron, the Nelson Mandela Foundation and Doctors Without Borders.
"Cape Town is a beautiful city, where nature is marvellous and the people great. There are lots of wonderful things I enjoy about my life here, yet I am very well aware that all around me there are subtexts of extremely dysfunctional human behaviour," Lennox continues.
"We all need to do something against gender-based violence", the singer stresses. "The end of Apartheid in 1994 was just as significant as the 1865 agreement to abolish slavery in America. These events weren't simply miracles that occurred by themselves. The impossible became possible because of continuous collective effort, courage and vision."
That is what is needed to end violence against children and women, she says with fire in her voice, "We have to fight against violence against women and children as hard as we once fought against apartheid and slavery. If you choose to remain silent around the issue of sexual violence against woman and children, then you choose to be part of the problem, not of the solution."
Lennox currently lives in Cape Town with her husband and HIV doctor Mitch Besser. He is the founder of Mothers2Mothers, an NGO that helps mothers living with HIV to protect their babies and children from infection.
Dodgy people are suing us. Please support us by contributing to our legal costs and helping us to publish news that matters.
© 2016 GroundUp.
This article is licensed under a
Creative Commons Attribution-NoDerivatives 4.0 International License
.