Angy Peters case: a trial within a trial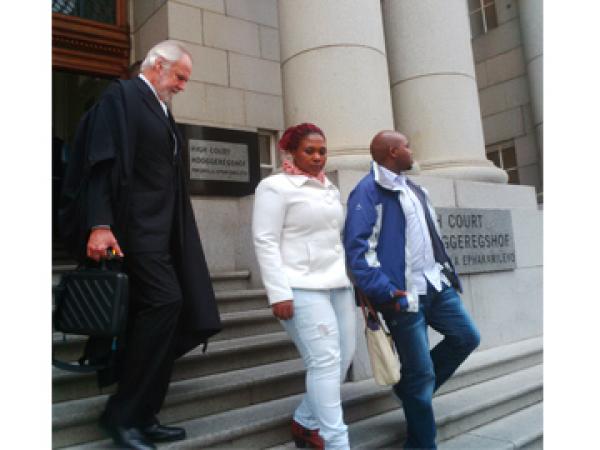 The case against Social Justice Coalition (SJC) activist Angy Peters and three others on trial for the kidnapping and murder of a Mfuleni man 18 months ago, was postponed today.
Peters and her co-accused, husband Isaac Mbadu, Azola Dayimani and Christopher Dina are expected to return to the Western Cape High Court when the matter continues on Monday.
All of the accused are out on R2,000 bail each.
They are accused of murdering Rowan du Preez who is also known as Siphiwo Mbevu. He died after he was necklaced in October 2012.
Judge Robert Henney remanded the matter until 19 May after the state told the court it would not be calling any further witnesses for the trial-within-a trial which has been centred on Du Preez's alleged condition before his death.
According to state witnesses, Du Preez, who died as a result of severe burn wounds, had allegedly named Peters and her husband Mbadu as the people responsible for his assault.
On Monday, defence attorney William King will call a doctor that specialises in burn wounds to testify on the improbability of the state's claims.
Judge Henney also warned the state that he would refuse any future requests for a postponement.
The main trial for the murder and kidnapping of Du Preez will continue once the defence close their case for the merits of the trial-within-a-trial.
Dodgy people are suing us. Please support us by contributing to our legal costs and helping us to publish news that matters.
© 2016 GroundUp.
This article is licensed under a
Creative Commons Attribution-NoDerivatives 4.0 International License
.