Angy Peter trial: Court allows dying man's remarks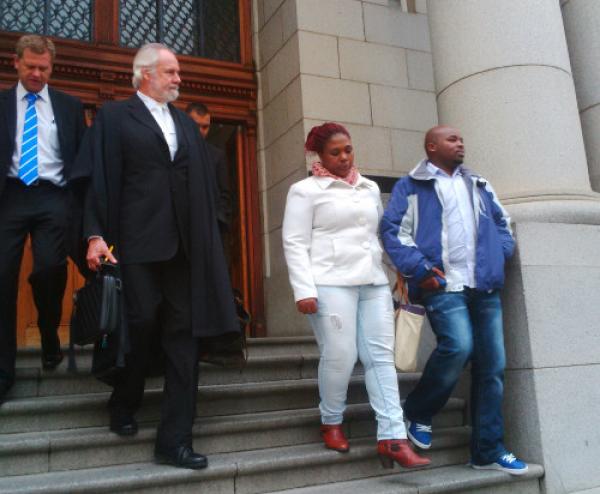 Remarks made by Rowan du Preez accusing accusing activist Angy Peter and her husband of necklacing him, will be admitted into evidence, the Cape High Court ruled this morning.
Peter, her husband Isaac Mbadu, and two others, Azola Dayimani and Christopher Dina, are accused of kidnapping and murdering Du Preez in October 2012. Du Preez died about 20 hours after being necklaced.
State witnesses have testified that when Du Preez was found by police officers he stated his full name, address, and made a dying declaration where he recalled how he was kidnapped and assaulted by Peter and Mbadu.
Defence attorney William King also called witnesses to dismiss the State's claims.
During a previous court appearance, Elmin Steyn, a surgeon who specialises in trauma and critical care, corroborated the defence's argument that as a result of his injuries, Du Preez could not have been coherent.
This morning, Judge Robert Henney made the ruling for the trial-within-a-trial to determine the admissibility of Du Preez's statement.
During the trial, the State had called nine witnesses, which included the three police officers Du Preez is alleged to have spoken to soon after he was found.
"Reasons for the ruling will be given at a later stage. This court rules that the statement made by the deceased in the presence of the police officers is admitted into evidence against the accused," Judge Henney said.
King requested a brief adjournment to prepare for the continuation of the murder trial.
Peter broke down soon after hearing the ruling that allowed evidence which fingered her and her husband for the murder of Du Preez.
She was consoled by friends outside the court.
When the matter resumed after 11:30am, the State closed its case against the accused.
King told the court he would be bringing an application for discharge in term of section 174 of the Criminal Procedures Act.
By bringing an application for discharge, the defence would have to argue why they believe the State has not proven its case against the accused.
"I will need time to draw up my full heads of argument," he said.
Advocate Mduduzi Ndlovu for Dayimani and Dina also asked for a postponement as he too planned on bringing the same application.
Judge Henney remanded the matter until Monday for further trial and for the defence to present their applications.
A correction to this article was made after it was published about a technical legal point.
© 2016 GroundUp.
This article is licensed under a
Creative Commons Attribution-NoDerivatives 4.0 International License
.