Abahlali baseMjondolo relaunches in Western Cape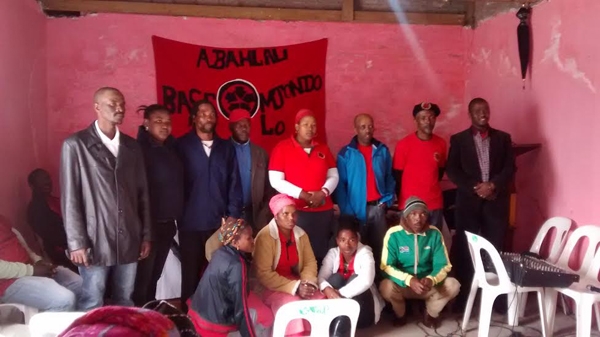 Abahlali baseMjondolo's Western Cape branch relaunched at the Sweethome Farm informal settlement on Saturday. Re-elected chairperson Siyamboleka James spoke to GroundUp about the movement's hopes to expand in the city, to renew negotiations with council for accountable service delivery, and about why there is no prospect of them working with Ses'khona People's Rights Movement.
Siya James, AbM's only branch chairman working in a DA led municipality, this week again reasserted that the movement's decision to endorse the DA nationally, ahead of the elections earlier this year, does not amount to an endorsement of the DA's dominion in the City of Cape Town.
"With this relaunch our members are saying the time has come for a better relationship with our municipality," he said.
"In the Western Cape we did not call for a better relationship with the DA because we, as a chapter, are still not interested in party politics. We are interested in building a democratic structure at the grassroots – where people can have a direct say in government decisions that affect them. The connection and accountability to poor communities from the government that serve them at local level needs to be strengthened."
This is the message with which James will approach Cape Town Mayor Patricia de Lille and other local government politicians, he said. It is also an ethos that negates the possibility of collaboration between AbM and Ses'khona – a movement which has grown in influence among Cape Town's poor, shackdwelling and under-serviced communities in recent months.
AbM's appeal in Marikana informal settlement, the sight of mass evictions in January and August this year, has waned in the light of Ses'khona's lobbying in the area in recent weeks, James said.
"But, unfortunately Ses'khona's decision to endorse the ANC indicates to us that the movement's leadership is in it for promoting a political party by mobilising in poor communities," said James.
"This is not what we feel is needed. No matter who is in charge in the City – the DA or ANC – we have to attempt to negotiate with the people in government."
James admits that the movement has had limited success in sustaining community mobilisation outside of Sweethome Farm — where the Western Cape branch is based.
"The difficulty is that other communities in informal settlements approach us only when there is a problem – evictions or services that are not being implemented," he explains.
"But Abahlali baseMjondolo is not an organisation that just goes out to help people. People have to mobilise among themselves and approach us for advice on becoming members. We have to meet each other halfway, because it is democracy at grassroots and new chapters have to make decisions with a mandate from their members and community. They can look to us for guidance, but we cannot instruct them."
On Monday, AbM's national general secretary Ndabo Mzimela welcomed the Sweethome Farm relaunch as an opportunity for the movement's Durban based national office to link with communities in Cape Town more broadly.
In a national statement accompanying the relaunch, AbM said that non-members have publicly purported to represent the organisation in Cape Town for a number of years:
"In fact, it is clear that some NGOs prefer to work with (these) individuals that are not accountable to democratic membership based structures because (they) are often willing to take instruction from the NGOs. For this reason we need to make it clear that at the moment we only have one branch in good standing in Cape Town and that is Sweethome Farm."
The newly elected Abahlali baseMjondolo Western Cape board are: Siyamboleka James - chairperson Christina Mthandana - deputy chairperson Andiswa Ntisana - secretary Nombulelo Nkqayi - deputy secretary Maphelo Dokoda - treasurer
Dodgy people are suing us. Please support us by contributing to our legal costs and helping us to publish news that matters.
© 2016 GroundUp.
This article is licensed under a
Creative Commons Attribution-NoDerivatives 4.0 International License
.