14-year-old can't find school to finish Grade 2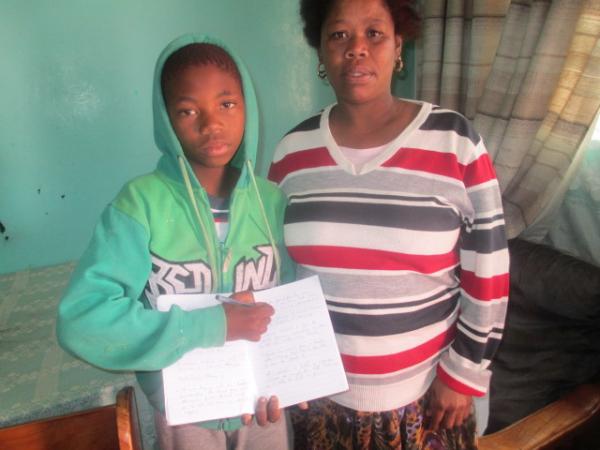 Olwethu is a 14-year-old boy whose dreams have been shattered. Due to his upbringing, Olwethu is only doing Grade 2 now at 14 instead of the usual age of 8.
According to Lulu, his mother, teachers at Welwitschia Primary School in Delft said that because he is very old for his grade he will intimidate other learners. On 13 January the school issued a transfer letter, which means he had to leave and find another school.
Olwethu grew up in Delft with his disabled grandmother and alcoholic grandfather. No one helped him with his school homework. Instead, he was expected to assist his grandparents with house chores after school.
His mother was not available to take care of him because according to her, she had some personal problems. She said the best place to leave her child was with her grandparents. She did not see him regularly and she was not aware of his schooling dilemma or well-being.
Olwethu says that he would like to go to school like any other child, but he did not feel comfortable in school. "There were days when learners from school used to laugh at me and called me names because I was very old and that made me hate school."
According to his teachers, Olwethu is a slow learner and he needs extra attention. The school claims that Olwethu did not attend school regularly and he did not write any examinations.
Lulu said that for months the family was unaware he was not attending school. Neighbours claim they used to see him playing alone under a bridge near the school. Olwethu explained that he did not see the point of going to school if he was to be laughed at and he did not get enough attention from his teachers.
In January, Lulu went to the school to ask for Olwethu's previous results so that she could enrol him elsewhere, but the school refused claiming that he had not written any examinations. A social worker had to write a letter to the school asking the school to assist. But instead they sent her a transfer letter.
Lulu says several schools in the townships have refused him due to his age. Her last hope was shattered when Sivuyile Primary in Gugulethu, which educates learners with learning disabilities couldn't accept him because there was no place for him.
Lulu is afraid that her child will end up a criminal if he continues roaming the streets. "Olwethu is a very soft and shy boy. I do not want him to be exposed to any criminal activities because he has nothing to do all day."
Lulu says Olwethu has an eight-year-old sister currently doing Grade One. She is concerned that Olwethu might become envious.
Currently Lulu is unemployed and ill. She says it is difficult to search for a school and that she can hardly care for her child.
Nomxolisi Tastsi is a social worker in the Department of Social Development in Gugulethu. She said that parental negligence is one reason children end up not having a proper upbringing. "In the case of Olwethu, it is likely that his family did not pay much attention to his needs as a child. Therefore they were not aware that he had problems such as the ones he encountered at school."
Tastsi highlighted the fact that it took the family months before they realised that their child was not attending school. It is also possible that the school tried to reach the family, but there was no response from them.
The family is hoping that one day their little boy will find a good education like other children. His mother said that she will not rest until she finds a school, because she refuses to have a child that might engage in criminal education because of family circumstances.
Dodgy people are suing us. Please support us by contributing to our legal costs and helping us to publish news that matters.
© 2016 GroundUp.
This article is licensed under a
Creative Commons Attribution-NoDerivatives 4.0 International License
.