Township based bands are music to the ears of youth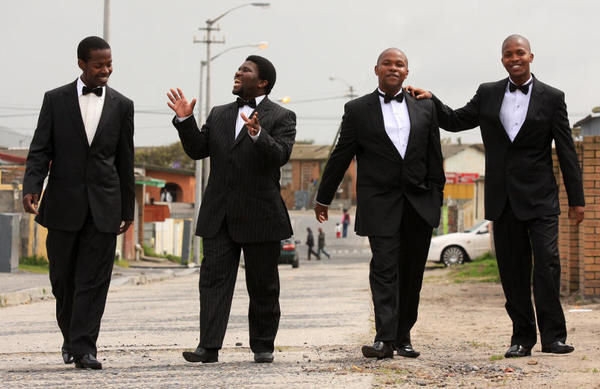 Zethu Gqola looks at four bands from the townships that have gone overseas, released high-selling albums and have come back to inspire their communities, mentoring the youth and getting children back in school.
Abavuki
In 2001, Bongani Ngesi, Benneton Fabrica, Kim Makholeni, Lungiswa Plaatjies, Siyabulela Jiyana, Jackson Kirya, Thando Sishuba and Vuyani Sakabula from Langa came together to form Abavuki, a unique instrumental African jazz group.
"Abavuki means 'wake up, early birds', and it refers to our youth and our philosophy of seizing the moment," says drummer and marimba player Ngesi.
Having developed a love for music from an early age, the group members weave together traditional rhythms and melodies with contemporary synths that are reminiscent of Los Tacos, but with a slightly more Latin American feel.
With a highly developed sense of rhythm, thanks to leading composer Kim Makholeni, Abavuki's sound also features classical and traditional African drum influences. Such a variety of sound can be attributed to the individual members having gone overseas to perform throughout their music careers.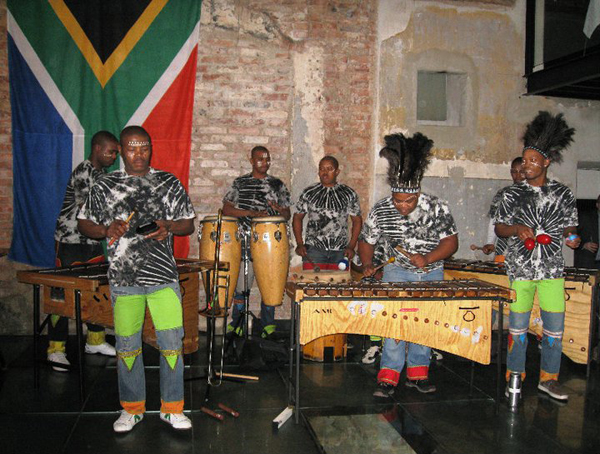 Image courtesy of Abavuki.
"I've performed in Brazil and the Seychelles," says Thando Sishuba, trumpeter and steel pan drummer whose love for music began in high school when he sang for his school choir.
Jackson Kirya, originally from Uganda, is the latest addition to the group, and has livened up the act with his excellent skills on the saxophone.
He recently toured Scandinavia and Germany with a German theatrical group prior to joining Abavuki, with Makholeni and Jiyana having gone to Sweden to perform in both 2012 and 2013. Although some members are well traveled, the group is yet to tour together, but it is something they definitely have on the cards for the near future.
For more info or to book Abavuki for an event email atmusic [at] abavuki.com, call 021 434 2123 or visit their website
The Gugulethu Tenors
This stylish group of young men have been wowing international crowds and doing Gugulethu proud since the release of their debut album in 2011.
Mpendulo Yawa, Siyabulela Gqola, Xolani November and Loyiso Dlova came together after entering a music competition ten years ago. Back then they would never have predicted that they'd open up the first soccer match at the Cape Town stadium during the 2010 FIFA World Cup.
The four vocalists produce Afro-opera pop music, which is opera music with a traditional African and pop aesthetic. They've made this genre their own, and the ethnic elements found within their sound have made these enchanting performers highly sought after for local and international corporate events.
"I'd like to see us perform on bigger stages with many more well known artists, as well as give more back to our community," says Dlova. "What I love about singing is [it's] doing what I love and performing for different people everyday, and touching people's hearts when I'm on stage," he adds.
The tenors have undoubtedly inspired the choirs and youth of Gugulethu.
For more info or to book the Gugulethu Tenors email info.payeyeentertainment [at] gmail.com or call 0728755979.
The Delft Big Band
Composer and conductor Ian Smith joined forces with director Dayna Pearce to create a band in August 2008, now known as the Delft Big Band.
Recruiting young children from high schools located in areas where children are at risk of sinking into a life of crime, the band members are mostly from poor backgrounds in the Delft area.
"The band is the answer to getting these kids off the streets; it is enabling them to turn their lives around through the positive influence of music," says Smith.
Smith and Pearce use music to equip children with valuable life skills. Currently they teach over 100 children how to play various instruments. The band has also been praised and given credit for the higher number of young children re-enrolling in schools in the Delft area, thanks to their involvement with the band.
Beyond teaching kids the value of education and music, the band has also allowed the children to perform on big platforms such as the Sekunjalo EduJazz Concert, the Cape Town Big Band Festival and the Cape Town International Jazz Festival. When the band was launched it partnered with the Department of Social Development and Cape Outdoor Adventure Service and Training, which helped with the purchase of instruments and the rental of practice space.
They have undoubtedly created a safer community as well as a jazz band that's highly sought after throughout the Western Cape.
For more info or to book the Delft Big Band email iansmithmusicproductions [at] gmail.com, ian [at] vjr.co.za, or call 082 4583176.
Khayelitsha United Mambazo(KUM)
If you are a fan of Ladysmith Black Mambazo, then these youngsters are right up your alley. KUM is comprised of six highly talented men who sing a repertoire of famous traditional African songs performed in an Afro-acapella style commonly referred to as isicathamiya.
Having toured the Netherlands and performed extensively throughout South Africa, they're available as both a six-piece or ten-piece choir, although as a six-piece their performances feel a lot more intimate.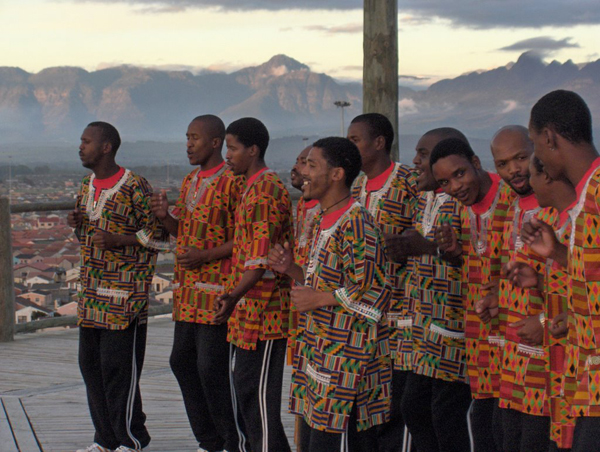 Image courtesy of Khayelitsha United Mambazo.
Having started their music career doing live performances at the V&A Waterfront, they're now regular entertainers at Mama Africa restaurant on Long Street.
2007 saw the group perform at a corporate event in Mexico, and in 2009 they toured the Netherlands for a year. The choir also works quite closely with the youth of Khayelitsha, offering a programme where youngsters are encouraged to start their own acapella groups and are given vocal training. They also hold monthly motivational talks at Langa's Guga S'thebe Theatre, where they encourage young men to stay in school.
For more info or to book visit Khayelitsha United Mambazo email info [at] 5seasons.co.za or call 0860 110 309.
© 2016 GroundUp.
This article is licensed under a
Creative Commons Attribution-NoDerivatives 4.0 International License
.