Seedtime: An Omar Badsha Retrospective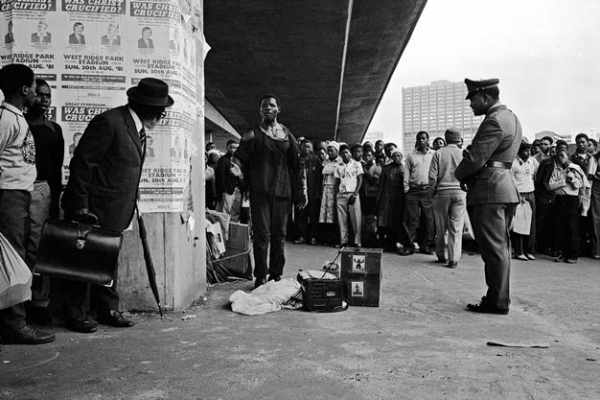 Seedtime is an impressive retrospective exhibition of works by South African artist, photographer and former political activist, Omar Badsha, spanning a period of 50 years.
Central to the exhibition are Badsha's celebrated photographic essays, which provide an opportunity to reflect on the ideas and social concerns of one of the country's most celebrated social documentary photographers.

Easter pageant play, Pondoland, Transkei, 1986. Picture by Omar Badsha.
Badsha, a member of the post-Sharpeville generation of activist artists who, together with his close friend Dumile Feni, wrestled with the challenges that black artists and academics faced in a period of intensive repression during apartheid.
Between 1965 and 1972, Badsha exhibited extensively and was the recipient of a number of awards. His artistic career was suspended for a time when he became involved in the revival of the Natal Indian Congress, and the re-emergence of the non-racial trade union movement in the wake of the 1973 Durban workers strike.
Badsha's work attempts to document the social culture of daily life in apartheid and post-apartheid South Africa, and explores the idea of "seeing and being seen", producing photographs that capture the intimacy, ritual, spaces and multi-layered narratives of the lives of the marginalized. They are people immersed in their everyday lives; people with agency who are portrayed with empathy.

Garment Worker, 1986, Durban. Picture by Omar Badsha.
During the 1990s, Badsha obtained a passport to travel abroad and was able to complete a number of photographic essays in India, Denmark and Ethiopia. The essays were inspired by his work A Letter to Farzanah, first published in 1979 and banned by the apartheid regime.
His work as a community activist in the Inanda squatter community outside Durban was published in the book Imijondolo.
In 2001, Badsha's "The Imperial Ghetto" was published, which features essays on the Grey street area of Durban. He also coordinated the photographic project of the Second Carnegie Inquiry into Poverty, and is the author of the seminal book South Africa: The Cordoned Heart.

Boy on Veranda, Tadkeshwar, 1965. Picture by Omar Badsha.
Omar Badsha was born in Durban in 1945 and grew up in a Gujarati Muslim family. His father, Ebrahim Badsha, was a pioneering artist and a major influence on his son's artistic and political activities.
In 1965, Badsha came under continued harassment by the security forces for his activism and was denied a passport to travel abroad to study. In the same year, he submitted a small wood-cut to the Arts South Africa Today exhibition which was awarded the Sir Basil Shornland Prize. For the next eight years, he exhibited extensively, winning a number of prizes for his works.
Badsha, one of a few artists working outside the commercial white-dominated gallery circuit, refused to exhibit his works at segregated venues and state-sponsored international events. It was during this period that he met and developed a close relationship with renowned artist Dumile Feni, who intermittently lived and worked with Badsha in Durban for eight months before he left for London.

Migrant workers, Dalton Road hostel, Durban, 1986. Picture by Omar Badsha.
Omar Badsha is the founder of the now legendry activist's photographic collective and agency Afrapix, founded in the 1980s. Afrapix was an integral part of the anti-Apartheid media in mobilising international opinion against Apartheid. He is also the founder of South African History Online, the largest independent public history project in the country.
Seedtime: an Omar Badsha retrospective is on at the Iziko South African National Gallery until 2 August 2015.
Dodgy people are suing us. Please support us by contributing to our legal costs and helping us to publish news that matters.
© 2016 GroundUp.
This article is licensed under a
Creative Commons Attribution-NoDerivatives 4.0 International License
.