SASSA beneficiaries still struggling with illegal deductions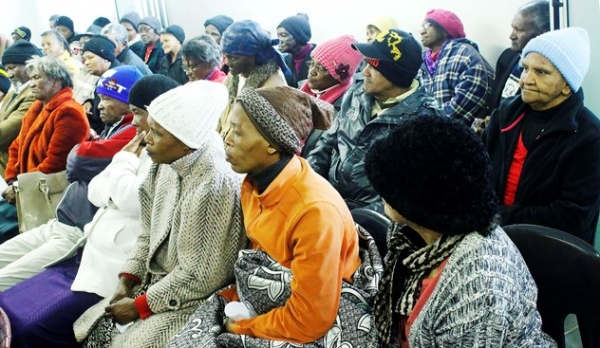 Diena Twala, a 71-year-old grandmother from Mbekweni says illegal deductions for airtime and electricity from her South African Social Security Agency (SASSA) account are still ongoing despite countless attempts to have it stopped.
"Last month, I only got R700 so I can only buy food. I live with my younger sister who works. She helps me, but it's very hard. We are really struggling. I really don't know what I'm going to do next month," she said tearfully.
Twala joined about 50 other beneficiaries from Stellenbosch, Paarl and Franschhoek at a "speak out" hosted by Black Sash at the Franschhoek Valley Community Sport Centre on Monday.
Also attending the event was Department of Social Development (DSD) acting director general Thokozani Magwaza as well as representatives from Emerald Wealth Management, the South African Human Rights Commission and consultant Johan Rousseau of COFFIMSA.
The event formed part of the Black Sash's "Hands off our grants" campaign, started in November 2013. Since then, the Black Sash has logged hundreds of complaints from beneficiaries across the country about illegal deductions for airtime, electricity and water from their SASSA accounts.
Black Sash has attributed the introduction of Cash Paymaster Services (CPS) in 2012 to the overwhelming number of complaints about the illegal transactions received by its partner, the Association for Community Advice Offices in South Africa.

Diena Twala, a 71-year-old grandmother from Mbekweni says illegal deductions for airtime and electricity from her social security account are still ongoing despite countless attempts to have it stopped. Picture by Masixole Feni.
During the meeting, Twala said she first noticed the deductions in November 2013.
"I went to complain at the SASSA office. I told them I haven't made any loans and I don't buy electricity using this card. They shouted at me and told me they couldn't help me because it had nothing to do with them. It continued with different amounts (being deducted) in 2014, but in December (last year) I got nothing, they took everything. I then went to the Paarl Advice Office where I was told about Black Sash," she said.
Twala said every month she fears that more money will be deducted.
"I'm still having the deductions. I don't know what will happen to me when I die because I can't even afford to contribute towards any burial plans. It shouldn't just be our job to run after CPS. I spent so much money calling help lines and travelling into town and still nothing helped," she said.

87-year-old Elsie Ken from Groenheuwel in Strand has had numerous deductions for airtime from her social security account despite not having a phone. Picture by Masixole Feni.
Another pensioner, 87-year-old Elsie Ken from Groenheuwel in Strand, has also had numerous deductions for airtime despite not having a phone. Ken is frail and has poor eyesight. In addition to her pension, her daughter, 66-year-old Jane, is meant to get R300 from SASSA to take care of her mother.
"I don't get that money anymore because so much is taken from her account. As we speak, there is no electricity at home because we don't have money. We make a fire to boil water or to make food. My mother gets sick all the time," Jane said.
One of the Franschhoek residents, Sophia Jack, said her 84-year-old mother-in-law was also coerced into taking an additional 1Life policy by an agent.
In April, GroundUp followed the cases of 18 elderly grant beneficiaries who signed onto the policies after they were allegedly told by the agent that the life cover had been vetted by SASSA. Most of the victims are former farmworkers from Franschhoek. Following numerous requests and the intervention of Black Sash, 1Life has since stopped the deductions and refunded all of the beneficiaries.
However, Jack is still struggling to cancel her mother-in-law's policy.
"When I tried to cancel the policy, I was told that we couldn't because the policy was older than three months. She had to write a letter to say the money will come to me when she dies. We don't even have a copy of the contract. She was wrong to give the agent her ID number when I wasn't there, but she is old and thought it was connected to SASSA," she said.

Sophia Jack says her 84-year-old mother-in-law was coerced into taking an additional 1Life policy by an agent. Picture by Masixole Feni.
Anna Engel, who owns a local creche in the area, spoke of the importance of organising the community to take on these issues at a local level.
Several other beneficiaries also complained about the poor service at local SASSA offices, claiming that the elderly were often ill-treated.
Addressing the group, Magwaza said they were working to stop all deductions from SASSA accounts.
"Social grants are there for basic essentials and to put food on the table for the poor, but our people often want more. We are currently in the process to include policies to remove all deductions. Beneficiaries will no longer have the option to use 10% meant for funeral cover. We are crunching numbers so we can provide a funeral plan for all old age pension beneficiaries," he said.
"Introducing the SASSA mastercard meant people could access their money from anywhere instead of everyone having to queue for hours. While this card is doing good, it also introduced companies having access to your money," he said.
He also announced that free funeral cover could soon be given to all beneficiaries.
"We are being accused of becoming a welfare state. To break the cycle of poverty, we want to start teaching people about saving money so they can one day send their children to higher education. Soon everyone will be contributing towards pension and everyone over the age of 60 will receive a grant," he said.
Commenting on some of the beneficiaries stories, Magwaza said: "I have an financial insurance background so I know that these agents will do anything to sell a policy so they can get paid. It's just not right to sell policies to people you know can't afford it. Yes, some will argue that people have the right to access financial services like these, but not by using grants."
In April this year, the Constitutional Court declared the 2012 contract between SASSA and CPS invalid and ordered a new tender to be issued for the payment of social grants. The new tender documents outlaw electronic fund transfers (EFT), debit and stop order deductions from SASSA accounts.
CPS has been allowed to continue distributing the grants until a new tender is awarded in October this year.
Referring to this specification, Magwaza said he questioned CPS's decision to withdraw its bid after multiple court actions to have the new process stopped.
"Government gives CPS R2 billion a year for their service, but we know that they make billions in a month just from these unexplained deductions. It is possible that they pulled out of the bidding process because they realised that with the new tender specifications, they won't be able to make a profit anymore," he said.
Magwaza said repaying beneficiaries was still an issue and a better system was needed to make sure people got their money back.
Black Sash director Lynette Maart said while there had been a lot of progress to have the deductions stopped, there was still no adequate recourse system in place.
She urged the public to continue reporting any debit deductions and lodge complaints at any Advice Office.
"There are 25 additional cases that we are looking into. We are concerned about the recourse system in place because it's not enough just to stop the deductions, people need to get their money back," she said.
Maart urged DSD and SASSA to investigate companies like 1Life who were listed on their sites as a service provider.
Thebile Mabope, operations manager of Emerald Wealth Management, the company underwritten by 1Life Insurance to sell policies, said the company could not be held responsible for the actions of each of its agents in the field.
"We train our agents well, but we cannot take responsibility for what they do in the field. I'm sorry to hear all these stories. People need to report to us if an agent sold them a policy claiming to be from SASSA," he said.
Mabope said the agent who sold the policies in Franschhoek had been fired and deregistered, which prevents him from working legally in the financial services.
He promised to look into each of the new cases raised by on Monday.
Human Rights Commission advocacy officer Julian Masimila said the deductions were "a gross human rights violation" and challenged the participants at the meeting to learn more about their rights and responsibilities.
© 2016 GroundUp.
This article is licensed under a
Creative Commons Attribution-NoDerivatives 4.0 International License
.