A law journal for the rest of us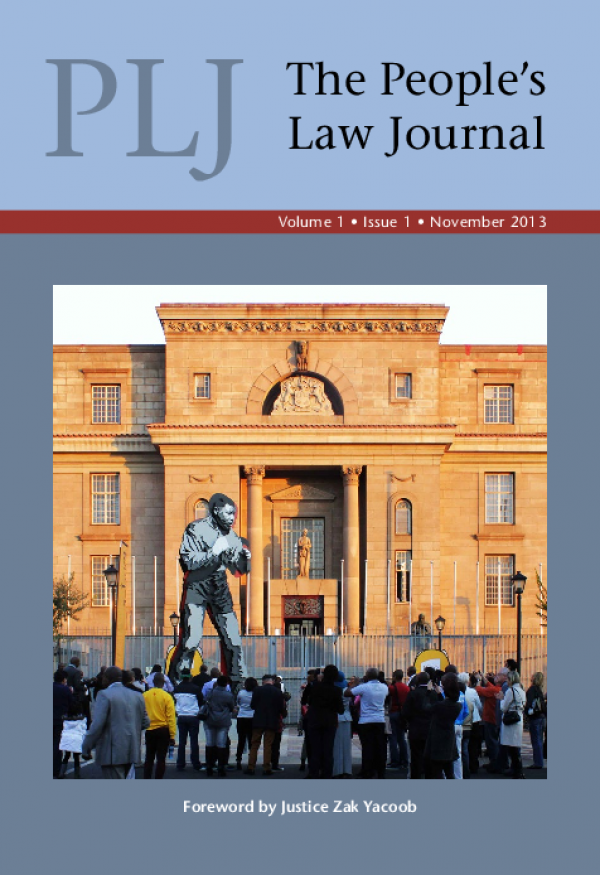 All people are affected by the law but few understand it. Lawyers and judges speak and write using complicated language. Nearly any non-lawyer who picks up a law journal would find it dry and unintelligible. Enter the People's Law Journal, a publication that aims to change this.
The People's Law Journal is published by Ndifuna Ukwazi. The first issue came out in November. Most of the articles are written by non-lawyers and explain interesting historical cases relevant to South African society today.
Editor Jacques Van Heerden says, "The idea is a plain language English law journal that covers social justice and human rights. We want to demystify the language used by the courts. We also want to demystify the history of our laws and show why we need human rights."
There are about ten articles In the first issue. Zackie Achmat, former chairperson of the Treatment Action Campaign, writes about a case brought against two Communist Party of South Africa leaders in the 1930s for an article they published. Edward Roux and Josiah Ngedlane wrote in Umsebenzi, "Who is this King George and why should we celebrate his jubilee? King George is the figure-head of the English and Boer Imperialists whose local representatives are Hertzog and Smuts. These oppressors are robbing and exploiting the poor people and workers of South Africa, in particular the Bantu people. … Workers and oppressed people of Durban: do not be bluffed by this King George nonsense. Do not kiss the boot that kicks you. Refuse to worship King George, he is not our king but the king of our oppressors." It's hard to imagine that the SACP or Umsebenzi of 2013 would publish something so brave and outspoken against our rulers.
The two men were accused of writing words that "scandalously injured and dishonoured 'the dignity and power' of the King and his government." A Durban magistrate sentenced Roux and Ngedlane to hard labour, but they were eventually acquitted on appeal. It was a seminal case for freedom of expression.
Wandisa Phama and Lisa Draga explain the famous 1983 case of Tom Rikhotso that helped destroy the pass system. Rikhotso had lived in Germiston as a migrant worker for 10 years. Yet he was refused permission to have his pass book endorse his stay in Germiston on a permanent basis. So he went to court, represented by Arthur Chaskalson. Both the High Court and the Appeal Court in Bloemfontein agreed that Rikhotso had been dealt with unlawfully and that he could now live permanently in Germiston.
While most articles deal with South African law, Zenande Booi explains how a Nairobi High Court judgment helped improve access to medicines for Kenyans.
The foreword is by retired Constitutional Court Judge Zac Yacoob. He writes, "Some may think this title [People's Law Journal] presumptuous and even a contradiction in terms. They may say that law journals are food of practising and academic lawyers alone. This cannot be true and makes no sense. All people are governed by the law and affected by it in a good and often bad way. All of us need to understand how the law affects us, whether a law is good or bad, and, if it is bad, what we can do about it. This journal is, in my view, a wonderful start to this process."
Van Heerden says, "We want activists as well as law students to read it. But we even hope that a law professor would find interesting articles in each issue."
You can get a hard copy of the first issue of the People's Law Journal from the Ndifuna Ukwazi office at 47 on Strand Street in Cape Town, or you can download an electronic copy.
© 2016 GroundUp.
This article is licensed under a
Creative Commons Attribution-NoDerivatives 4.0 International License
.