Independent moves against Tony Weaver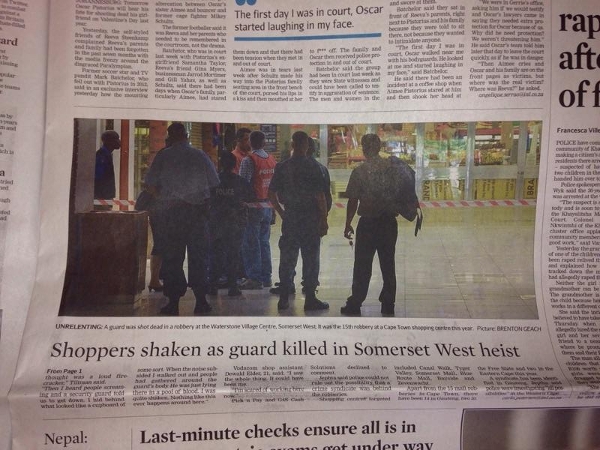 Cape Times opinion page editor and veteran journalist Tony Weaver has been called before a disciplinary hearing after questioning a suggestion to crop out the logo of an advertiser from a news photo of a mall robbery.
On 19 October, at the daily news conference of the Cape Times editorial team to discuss the following day's paper, the issue arose of a photograph that was to be published showing the scene of a robbery at a mall in Somerset West. A Cape Times deputy-editor suggested that the image be cropped, so as to exclude the branding of Pick n Pay, which could be seen in the background. Pick n Pay advertises with the Cape Times, and the argument was that associating its branding with the scene of a crime might be considered bad publicity.
Weighing in on the debate, Weaver voiced concerns over the altering of a news photograph. Weaver subsequently asked for clarity on the Cape Times policy on cropping photographs in future such instances.
The South African Press Code states:
"The press shall not allow commercial, political, personal or other non- professional considerations to influence or slant reporting."
On Friday Weaver received a letter from Independent Newspapers. His lawyer, Matthew Walton, read the letter's contents to GroundUp over the phone.
Weaver has been warned to appear before a disciplinary hearing on 5 November. He is charged with gross "disrespect and insolence". The letter reads that Weaver conducted himself in an "unacceptable manner" in "undermining" the authority of the editor in front of Cape Times staff.
The letter further states, "The alleged misconduct constitutes a breach in your contract of employment. Should the allegations against you be proved, you may be dismissed."
Weaver confirmed receipt of the letter, but declined to comment.
Separately, Cape Times news editor A'eysha Kassiem resigned yesterday.
Several leading journalists have been dismissed or resigned from Independent Newspapers in the past year, following its purchase by a consortium led by Sekunjalo, whose executive chairperson is Dr Iqbal Surve. First to be dismissed from her post was Cape Times editor Alide Dasnois, who has since joined GroundUp.
Others who have left include:
Jonathan Ancer, Training Editor
Martine Barker, Managing Editor, Independent Newspapers Cape
Terry Bell, Columnist, Business Report
Glenn Bownes, Content Editor, Cape Times
Dave Chambers, Head, Independent Production Unit
Cobus Coetzee, Reporter, Cape Times
Ann Crotty, Senior Reporter, Business Report
Peter de Ionno, Deputy Editor, Business Report
Caryn Dolley, Reporter, Cape Times
Tanya Farber, Reporter, Cape Times
Janet Heard, Head of News, Cape Times
Michelle Jones, Reporter, Cape Times
Philani Mgwaba, Editor, The Mercury
Moshoeshoe Monare, Editor, Sunday Independent
Sybrand Mostert, Assistant News Editor, Cape Times
Zara Nicholson, Reporter, Cape Times
Piet Rampedi, Political Bureau
Donald Presley, Senior Reporter, Business Report
Makhudu Sefara, Editor, The Star
Chris Whitfield, Editor in Chief, Independent Newspapers Cape
Ethene Zinn, Copy Taster, Independent Production Unit
We have approached Independent Newspapers for comment. They have requested that we email our request. They had not responded at time of publication but this article will be updated if and when we receive their comment.
This story is being updated as more information becomes available.
Dodgy people are suing us. Please support us by contributing to our legal costs and helping us to publish news that matters.
© 2016 GroundUp.
This article is licensed under a
Creative Commons Attribution-NoDerivatives 4.0 International License
.