NEWS
Game of drones: City tests underway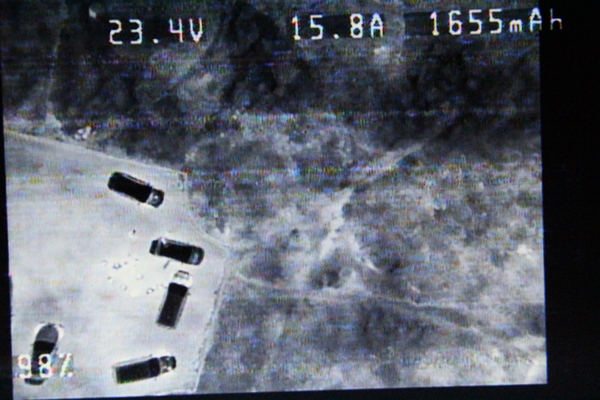 City of Cape Town drone tests are underway, with a new model demonstrated to officials and journalists last week. Critics are uninformed, malicious and have watched "too many movies", officials say.
On Friday evening, United Kingdom-based SkyCap demonstrated its Shadow Rotor drone to officials from various parts of the City administration, including Disaster Management and Safety and Security. The test took place at Rondebosch Common shortly after nightfall. The drone, fitted with an infrared camera, sent a live video feed to a screen on the ground.
This, says JP Smith, Mayco member for Safety and Security, could be useful for tracking poachers and metal thieves who operate under cover of darkness. But law enforcement would only be one of many of the City's potential uses for a drone, says Smith: other, more "mundane" functions such as aerial mapping, surveying disaster areas (like in the aftermath of shack fires) and checking the condition of fire breaks, electricity lines and roads would also be possible.
If the City bought a drone, its use would be managed by the City's corporate photography services under Bruce Sutherland, not by metro police, he says. Other departments would have to book its use with Sutherland and he would operate it, Smith says.
The City hopes that a drone would save money for departments which regularly hire helicopters for aerial photography. The costs of the four drones considered so far range between R50,000 and R600,000 per unit. The tests are designed to enable officials to develop specifications which will underpin a call to tender, possibly during the course of next year.
The Shadow Rotor, the drone tested on Friday, has 60 minute endurance, autopilot capabilities and can have camera fitted for live feed video. It's about a metre long, with a rotor on the four corners of its frame, and is clearly audible when in flight overhead – this was evident from the demonstration on Friday evening.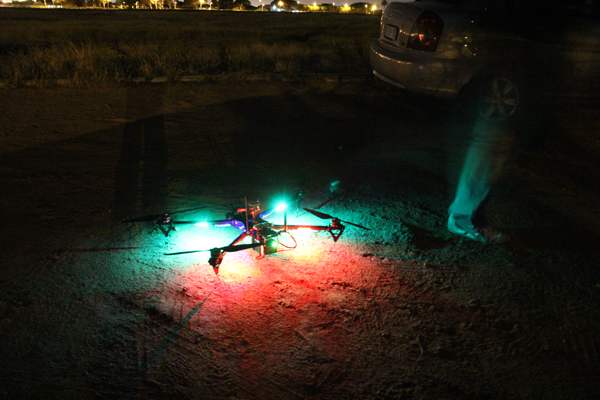 The Shadow Rotor before takeoff at Rondebosch Common on Friday evening. Photo by Daneel Knoetze.
"There's no doubt that drones can be put to extremely important public uses, especially in emergency situations," says Jane Duncan, University of Johannesburg professor and author of the recent book Rise of the Securocrats.
"But as we know, the road to hell is paved with good intentions. It is not unusual for drone proponents to introduce them into a country on the basis of the good that they can do only; this makes public acceptance easier. But, drone deployment is notoriously susceptible to mission creep, where drones are acquired for one set of stated purposes, but their use is gradually extended further down the line."
This "mission creep" was one of the concerns cited by the American Civil Liberties Union in a 2011 report, which contained recommendations for government drone usage that would protect citizens' privacy from surveillance. The report was published at a time when law enforcement and other organs of state were increasingly experimenting with the deployment of drones in the US. Until then, the US government mostly used drones outside the country, especially in Iraq and Afghanistan.
Smith says the City would not want to acquire a drone sophisticated enough for "exotic" surveillance of the type one "sees in movies". He says the use of the drone would be strictly regulated, minimising the potential for abuse.
But even the Shadow Rotor, which can be equipped with an infrared camera and multi-rotors which are good for "hover and stare" functions, has "massively intrusive potential", says Duncan.
She agrees, however, that in certain extreme circumstances, like during disaster management situations, public safety may be temporarily more important than the right to privacy – making the strictly regulated use of drones acceptable.
The City has confirmed that it has tested drones to survey the aftermath of shack fires in Masiphumelele in recent weeks. On a number of other occasions Masiphumelele residents have noticed a device overhead and have been confused by its presence, says community leader and pastor Patrick Diba. On hearing rumours that these were being flown by the City, Diba wrote an email to the City asking for an explanation. He complains that he has not had adequate feedback.
"We would like to know exactly what that device will be used for and what information on our community it will gather," he says.
"If it is going to be used for good purposes, then we would appreciate it if the City makes use of public participation processes to inform us and to get feedback from the community. I have seen this thing flying overhead a few times, and we do not even know what it is. So obviously the community is suspicious."
But Smith says the City is doing no more than private users who have bought drones "off the shelf" and fly them for work or leisure all over Cape Town. The film industry, for instance, has deployed drones over various parts of city for years.
He says the City does not inform communities about the helicopter flights either. Inviting journalists to drone tests, last Friday was designed to help educate the public and promote transparency, he says.
Duncan says this is not enough. She called for drone testing to be stopped until a City policy document on drone usage has been released for public debate.
"Not to do so will set a very dangerous precedent indeed," she said, citing the current "vagueness" of the City's stated arguments for buying a drone.
There are no regulations for drone use at the moment in South Africa. The Civil Aviation Authority (CAA) is drafting regulations, due by March next year, but these will concern only the safety aspects of drone use. Privacy issues are within the domain of the Protection of Personal Information Act.
© 2016 GroundUp.
This article is licensed under a
Creative Commons Attribution-NoDerivatives 4.0 International License
.