Build us proper schools, students tell Education Department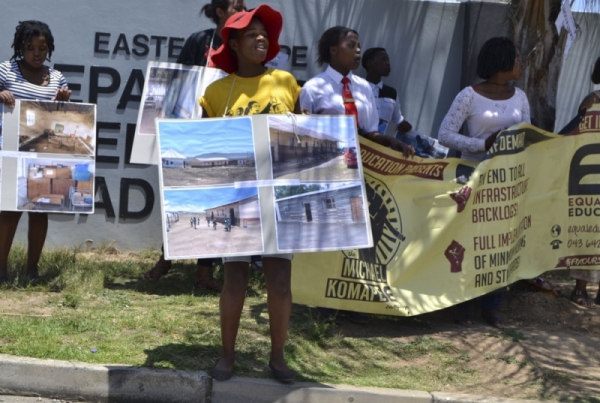 Grade 11 student Achuma Mjikeliso was among a few dozen members of Equal Education protesting outside the Eastern Cape Education Department in King William's Town yesterday. Her main complaint: leaking roofs in her classroom.
In winter, says the 17-year-old, she and other students at Hector Pieterson High School in Zwelitsha have to move around the classroom to get out of the way of the rainwater.
"What we want from the department is to build us proper schools. Yes, my school is not that bad - there are much worse schools around King William's Town. But in my school the problem is with the roof. There's no ceiling, and in winter we have to move around the classroom finding a place to hide our head. Teaching has to stop until we are settled and that disturbs us a lot," she said.
Mjikeliso says her school has a computer and science lab but there are no teachers to staff them.
She also complains about sharing toilets with boys and a lack of teachers.
Minister of Basic Education Angie Motshekga announced the implementation of minimum norms and standards for public schools infrastructure in November 2013, after a campaign by Equal Education.
The Eastern Cape Department of Education (ECDoE) published its own implementation plan in June. The department said close to R122 billion would be needed to bring infrastructure in its 5,500 schools up to the standards laid down by the minister..
The estimated costs of tackling the backlog in infrastructure based on the regulations would be close to R52 billion and if provision was made for rising costs and maintenance, the total funds required would amount to R122 billion over 17 years.
The plans are supposed to cover upgrading of existing schools (renovations, maintenance, rehabilitation, repairs), planning of new schools and provision of water and electricity to schools which do not have them.
According to the plan, less than 20% of schools in the province were rated "good" or "excellent", 60% "fair", and 15% "poor" or "very poor". Conditions even in the schools rated "fair" were "not conducive to effective teaching and learning", the department said. In this category, "accommodation is in average condition, deteriorated surfaces require attention; services are functional, but require attention, backlog maintenance work exists". There was "some risk to health and safety".
In the schools in the "very poor" category, the department said, "accommodation has failed; is not operational and is unfit for occupancy" and there was "immediate high risk to security, health and safety or property".
"The cost of restoring all the schools to an acceptable condition … is conservatively estimated to be in excess of R4 billion," the report said.
The department said there was no reliable asset register for schools on which an accurate calculation of the infrastructure backlog could be made. A survey had been commissioned and data would be available "shortly", the report said.
In the meantime, using updated data from a 2012 survey, the department found "shortages at virtually every school in the province".
"There are exceptionally few schools that do not require any additional facilities to comply with the minimum norms and standards. In fact only a few hundred of the 5,584 schools assessed do not require any intervention."
But Equal Education has taken the department to task about the quality of the plan.
In a letter to MEC for Education Mandla Makupula in September, Equal Education chair Yoliswa Dwane, general secretary Tshepo Motsepe and Eastern Cape head Lumkile Zani expressed concerns over the plan, including among things:
a lack of proper information on infrastructure backlogs and failure to provide an analysis of the backlogs in the Eastern Cape;
gaps and problems in the project list; and
a failure to plan in accordance with the binding deadlines set out in the regulations.
Equal Education said it was not clear which schools would be closed and when, and what the consequences would be for budgets.
The information on backlogs was based on "unreliable" numbers, Equal Education said; some of the project descriptions were "incomprehensible" or unclear; columns in the tables were left empty; and the plan was of very limited value.
The Eastern Cape Department of Education was already "planning not to plan" in accordance with the Norms and Standards deadlines, Dwane and her colleagues said. "It is therefore clear that the ECDoE is already setting out to fail in its obligations".
Yesterday in a statement Equal Education said visits to 44 schools in Mthatha, Matatiele, Maluti, Butterworth, Grahamstown, East London, Dutywa, Libode and Keiskammahoek, and contact with 79 other schools had raised serious problems.
Almost no schools had been informed about the Norms and Standards, and requests from the department and district offices for information about construction and renovation at schools had been ignored, the organisation said. "Meanwhile, thousands of students across the province are suffering."
The organisation demanded that the department correct inaccuracies in its priority list and inform schools and communities, conduct a proper audit of schools, provide details of which schools had been upgraded and give estimates of further construction which had to be completed by November next year.
Department spokesperson Mali Mtima said he could not comment.
© 2016 GroundUp.

This article is licensed under a Creative Commons Attribution-NoDerivatives 4.0 International License.