NEWS
Zimbabwean injured in work accident receives no compensation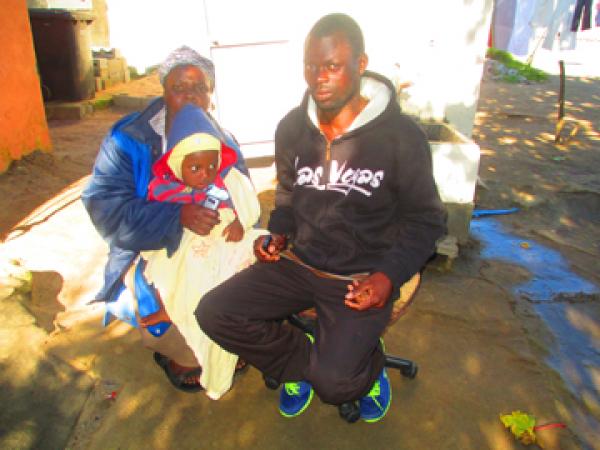 Jabulani Murire is a 38-year-old, married Zimbabwean man with three children. His family is struggling to survive after he became bedridden following a car accident while on duty.
Several organisations, his neighbours and ex-workmates testify that his health worsened after the accident, yet his employer, Zainap Bhayat of NexGen Communications, claims the doctor found nothing seriously wrong when he was examined on 12 November 2012 after the accident.
When GroundUp met Murire for the interview, his face was swollen. He struggled to finish the interview and his wife had to assist him.
Murire explained, "I worked for NexGen Communications since 2008. Zimbabweans constitute 90% of his employees. I used to dig trenches to install boosters for networks such as Cell C, Vodacom and MTN. When I was injured, I had been moved to the optic department which installs fibre to boost the network."
Murire was a passenger in the front seat when the accident occurred. He and the driver were on their way to install and connect boosters. "The driver and I were going to Stellenbosch using the truck. The driver was drunk and speeding, I told him not to speed but he did not listen to me."
Murire said he lost a tooth on the spot, and the rest of his teeth were broken and are now loose. It causes him great pain.
Murire alleges that on the day of the accident, his younger brother was bringing his asylum document to Mediclinic Stellenbosch, but was phoned and told to go back home. According to Murire, the company owner had advised that Murire should not be admitted to the Mediclinic hospital.
In order to claim compensation from the Department of Labour for a medical injury at work, workers WCL2 form must be filled in. This is the the employer's report of the accident. Part of the form must be filled in by a doctor. Murire does not yet have this form and so therefore cannot claim compensation.
Mediclinic manager Carla Hanekom told GroundUp that the WCL2 form was completed by Sumoya Frazenburg, contact person of the employer, and only a copy of the WCL2 form was supplied to them. To get the WCL2 form filled in properly, Murire would have needed to show Mediclinic a passport and valid work permit. "It is unfortunate the patient could not produce a passport with a valid work permit as per South Africa's legislation," said Hanekom.
A further complication is that the company now claims a fire damaged documentation on its premisses and therefore it has recently requested the copy of the WCL2 form it sent to Mediclinic.
Several months have passed and the company owner has still not paid for the dental work that Murire requires. "If the weather is cloudy and cold, my teeth ache and my face becomes swollen. I had a deep cut on my hand which the doctor sewed with six stitches. I still feel leg and chest pains."
NexGen Communications paid Muire R1,660 fortnightly including overtime wages. But, in December, he was paid only R900. The company justified the lower wage by saying he had absconded from work, yet the employer was aware that Murire was injured on duty. He forced himself to return to work for three days until the pain became unbearable and then he stopped working completely.
"I went to the Department of Labour for assistance and they said they wanted my ID even though I had a valid asylum document. Then I went to Zimbabwe to get an ID. I borrowed transport money for the journey to Zimbabwe. The food I ate on my way to Zimbabwe and the other monies I used to return to South Africa were donated by preschool teachers in my community and the members of the Divine Caring Hands (DCH) migrant women's support group," Murire said.
"I lost lots of money trying to pursue this case because I need someone to accompany me all the time. Sometimes the pain becomes too unbearable and I fail to talk. I should pay for bus fare and lunch for the person who accompanies me."
"When I went to the Department of Labour for assistance, they wanted an examination record from the doctor. The doctor refused to give me the needed forms and wrote me a letter with inadequate information. The Divine Caring Hands organisation followed the case on my behalf but could not get far because I do not have the medical records needed by the compensation fund," he said.
The founder of the DCH Migrant Women's Support Group, Evelyn Handiseni, has assisted Murire and his family, providing food parcels, travelling costs to hospitals, and at times some rent money. With the support of the women in the group, Murire's family usually gets donations. Murire's wife, Nelta, who is a member of the group, takes part-time jobs to clean and do laundry in the houses of other group members.
Handiseni cites communication barriers as one of the potential reasons that Murire's employer has been so unsupportive. She also assumes that other personnel, especially those from public hospitals, might be getting impatient with Murire's language barrier too. Murire hardly speaks English and has a hard time responding to feedback. When she has visited him at home, he has had a swollen head or mouth and struggled to talk at times because of serious chest pains.
Because of lack of resources at the DCH, Handiseni referred Murire to the Scalabrini Centre for social assistance and legal advice. Murire was advised to go to the public hospital in Bellville South, the nearest one to where he lives, so that he could get official medical results.
Handiseni said she brought the case to his employer's attention who urged Murire to return to work. But he is unable to work. Handiseni believes the initial medical report given to Murire was not a proper examination and he should be re-examined.
In an emailed response to GroundUp, Bhayat denied Murire's claims that the company has been uncooperative. He said that NexGen was informed that following the accident Murire was taken to the Stellenbosch MediClinic, where he was met by NexGen Communications' project manager, Graham Dodgen. "Mr. Dodgen went to the clinic with a completed employer's report on accident form (WCL2) to be completed by the clinic. The lady at the reception advised that due to Murire being a foreign national, they could not complete the form and treatment would have to be paid for in cash. The owner of the company, then gave the go ahead for Murire to be treated by the doctors and the company settled the bills in full. We have all receipts for these payments."
"The doctor who attended to Murire then discharged him as they found nothing seriously wrong with him and Mr. Dodgen signed the release note and took Jabulani home with medication prescribed for pain by the doctor."
Bhayat says that Murire's dental bill for a visit on 16 November was also paid "in full" and that receipts for this payment exist. He says Murire was paid during his time away from work as well, "excluding weekends" and that "he was paid at his normal rate". Moreover, Bhayat claims that "the doctor who attended to Murire discharged him as being fit to resume his duties because he only had an injury to his mouth, yet he stayed away and was still compensated for the month of November."
Murire finally returned to work in December, according to Bhayat, for which he was compensated for three days. The offices closed then for a break, and though Murire returned to work in January, "that was the last time he reported for duty."
Bhayat denies reducing Murire's wages or dismissing him. He says that Murire absconded from the company and he also never returned for his follow up visits to the dentist.
In an email, Hanekom, said, "Murire visited our Emergency Centre and was treated by Dr Potgieter. Our records state that the patient was complaining about his left arm, legs and lip. The laceration to his left forearm was sutured and Murire was advised that because he did not have all the correct documentation, we could unfortunately not send him to our independently owned radiology department (Drs van Wageningen and Partners) as they would also require all relevant documentation to be correct."
Hanekom explained that Dr Potgieter provided the patient with a handwritten letter of reference and instruction for him to be treated at a public hospital. Dr Potgieter told Murire that he would need to have x-rays taken and see a doctor for a follow up consultation. The handwritten letter and reference was not intended for the Labour Department as it would be of no use to them. It was solely intended as instruction to Murire.
She concluded, "The WCL4 form was completed by Dr Potgieter. The WCL4 form is still in the patient file as it could not be used for the normal claiming procedure because of the lack of vital documentation. Murire is welcome to request the document from us. Unfortunately Mediclinic hospital cannot comment on Mr Murire's current claims regarding chest and leg pains as well as his swollen face as nine months has passed since his treatment and they have no record or proof of any possible further injuries that may have occurred during this period."
© 2016 GroundUp.
This article is licensed under a
Creative Commons Attribution-NoDerivatives 4.0 International License
.