Young man behind Limpopo computer training centre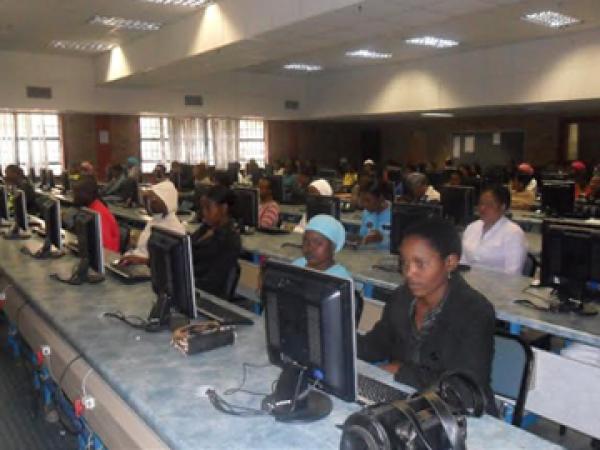 William Makgaba is an example of a young South African who is actively involved in developing his community.
I interviewed William at a meeting of 300 young leaders hosted by an organisation called Activate!. The meeting is called Innovation Showcase and is an opportunity for young people making a difference in their communities to meet, talk about their projects and exchange ideas. William told me how a project he started is changing the lives of people. Hailing from Mmadiga Ga-Dikgale, just outside Mankweng in Polokwane, William was laughed at during his first year at university when he could not open Microsoft Word to type an assignment. He realised that improving access to information technology for poor people can make economic and social benefits flow to them. William found himself very aware of the need to develop the social capabilities that could harness the power of Information Technology. It was quite a leap for a young man who had once imagined himself as a rich medical doctor with a family. William realised people had a need for tools and training to help them access basic information such as where their local municipality was situated to seeking opportunities for further studies and employment. He believes that a major contributing factor to the chronic poverty and disempowerment surrounding him was as a direct result of what he describes as a "serious lack of access to information". People's circumstances remained unchanged, because they couldn't access information about bursaries, scholarships, internships and other opportunities. Armed with one computer and seven educators, William started a project in his community teaching people basic computer skills. Within a few years, Netday donated 49 computers to his community after which he received financial and material support from both the P.E.A.C.E foundation and Siyafunda CTC.
William was once laughed at when he could not open Word to type an assignment. Today he runs a computer training centre.
Today, William has a fully fledged centre running in his community - the Vexospark Community Technology Centre (VCTC). Community members are taught how to use computers and also introduced to various computer programmes as well as the internet. The organisation's programme has been accredited and the P.E.A.C.E Foundation has also offered some students internships. According to William, "60% of those who have gone through the programme are now employed." The organisation has since expanded its programmes, one of which is assisting rural learners with some of their learning areas, especially Maths, Science and English. VCTC has also partnered with UNISA to help students in rural communities have access to their study activities. They can download learning material, and submit assignments free of charge via the centre. People like William are showing how youth can make a positive difference to South Africa's development.
Dodgy people are suing us. Please support us by contributing to our legal costs and helping us to publish news that matters.
© 2016 GroundUp.
This article is licensed under a
Creative Commons Attribution-NoDerivatives 4.0 International License
.